President Donald Trump said "he won" Sunday, referring to Democrat Joe Biden's projected win in the 2020 presidential election for the first time since the race was called.
"He won because the election was rigged," Trump wrote in a tweet, which was later flagged.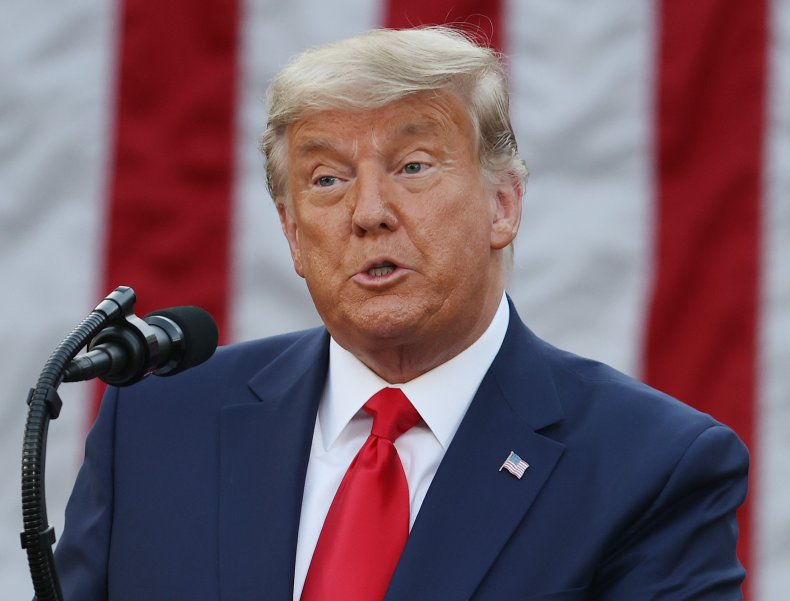 However, the president's tweet continued to note that Biden's win was a result of a rigged election.
"No vote watchers or observers allowed, vote tabulation by radical left privately owned company, Dominion, with a bad reputation and bum equipment that couldn't even qualify for Texas (which I won by a lot!), the Fake and Silent Media, and more," Trump alleged.
Trump was replying to a tweet by Watters' World, the Twitter account of Fox News host Jesse Watters' show, that suggested that Biden "didn't earn" the election win.
Following the president's tweet, many people took to social media to say the president is caving in, although the tweet is not an official concession.
"Trump, who says a lot of things about the election here that even his own administration has rejected, acknowledges Biden won for the first time," wrote Kaitlan Collins, CNN White House correspondent, in a tweet on Sunday.
Author Grant Stern said that the president has both hired and fired people over social media during his four-year term: "If he's finally admitting "He won" then it's time for the Tweeter-In-Chief to start the transition for President-Elect@JoeBiden so he can save this country from the GOP's worst president ever."
"Trump just conceded. 'He won, Biden," wrote Xeni Jardin on Twitter.
"Trump about Biden: 'He Won' as good as a concession," wrote Twitter user Ken Lindblom. "It's over. If he can fire people by tweet, he can concede by tweet. Begin the official transition."
"He won..." certainly seems like an acknowledgment...(even a concession)...of Biden's victory," tweeted journalist Jim Roberts.
The president's niece, Mary Trump, also took to social media to call out her uncle by editing Trump's original tweet to say only "he won."
"Fixed it for you," wrote Mary.
Others have also whited out portions of the president's original tweet to say only "he won the election by a lot."
The president later responded to his earlier comment on Twitter, claiming his tweet was not a concession.
"He only won in the eyes of the FAKE NEWS MEDIA," he wrote. "I concede NOTHING! We have a long way to go. This was a RIGGED ELECTION!"
The Associated Press, alongside major television networks, called the election for Biden last week after he was projected to win Pennsylvania. With the state's 20 electoral votes, Biden surpassed the 270 needed to secure the White House.
Since then, the president has been targeting major media networks since the election was called in Biden's favor, accusing Democrats of unfairly deciding the election.
Trump's re-election campaign has also filed lawsuits in several states alleging that thousands of voters were fraudulently included in final vote counts and should be thrown out. The legal challenges seek resolution before each state certifies its election results in December.
Election officials have said there is no evidence of electoral fraud or irregularities, and Trump's team have yet to provide any evidence to suggest otherwise.
Updated 9:43 AM ET, with updated information and the president's latest tweet saying he is not conceding.
Correction 3:25 PM ET: An earlier version of this story contained a misspelling of Fox News host Jesse Watters' last name. We apologize for this error.