Trump Administration Argues LGBT Discrimination Is Legal Because Gay Men and Gay Women Are Treated Equally Poorly
The Trump administration filed a brief with the Supreme Court on Friday arguing that employers should be allowed to discriminate against, or even fire, their lesbian, gay and bisexual employees simply due to their sexual orientation.
The Justice Department intervened in one of two matters before the high court set to address LGBTQ employment discrimination during the court's next term. At issue is Title VII of the Civil Rights Act of 1964, which makes it a crime for employers "to fail or refuse to hire" or otherwise discriminate against a prospective or actual employee "because of such individual's... sex."
While the Supreme Court has held that discrimination on the basis of sex encompasses actions taken or beliefs held by an employer that subject an employee to gender stereotypes, the court has never ruled on whether sex-based discrimination necessarily extends to sexual orientation.
In fact, appellate courts have traditionally held that sexual orientation is not a protected characteristic under Title VII, with one noted exception. In 2017, a federal appellate court reversed a prior holding to declare that discrimination against one's sexual orientation does violate the law.
With its brief on Friday, the Department of Justice is trying to impel the Supreme Court to issue a precedent-setting ruling that would give the green light to employers nationwide who are not encumbered by state anti-discrimination ordinances.
Just last week, the Justice Department filed a similar brief in a different case dealing with anti-transgender discrimination, arguing along the same lines that federal civil rights law does not protect transgender employees from losing their jobs.
Remarkably, the department argued in its memorandum that the reason anti-gay discrimination is not unlawful under the ban on sex-based discrimination is because, in cases of adverse treatment by an employer, both gay men and gay women would be addressed equally poorly.
Upon experiencing discrimination from an employer, both men and women in same-sex relationships "would be similarly situated — and they would be treated the same," the department argued, negating a claim under Title VII's sex-based protections.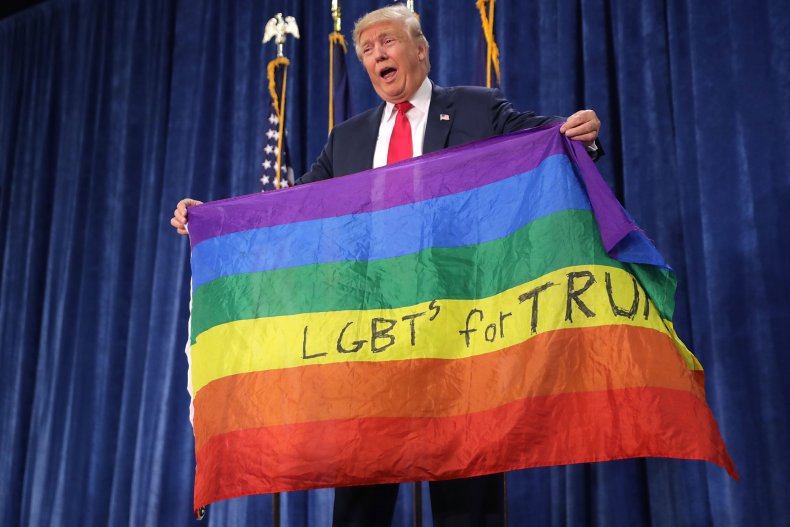 The Trump administration has taken previous steps to remove protections and privileges for the LGBTQ community from both federal case law and departmental policy.
In a high-profile LGBTQ discrimination case involving a Colorado baker and a gay customer, the Trump administration filed a brief with the Supreme Court arguing that the baker's religious beliefs should be respected and that Colorado law shouldn't require him to bake a cake for the customer's same-sex wedding.
The administration has also rescinded Obama-era guidance interpreting another federal civil rights statute as protecting transgender students who want to use the bathroom corresponding with their gender identity.
In perhaps the most harmful anti-LGBTQ policy to date, President Donald Trump announced a ban on transgender soldiers from serving openly in the U.S. military. The ban went into effect in April as several legal challenges to the rule work their way through the courts. The Supreme Court lifted pre-emptive rulings which had halted the policy until federal judges were able to hear the many cases challenging the administration.
Despite the overwhelming number of actions the Trump administration has taken which undermine the standing of LGBTQ Americans, Trump recently said that "I've done very well" with the LGBTQ community.