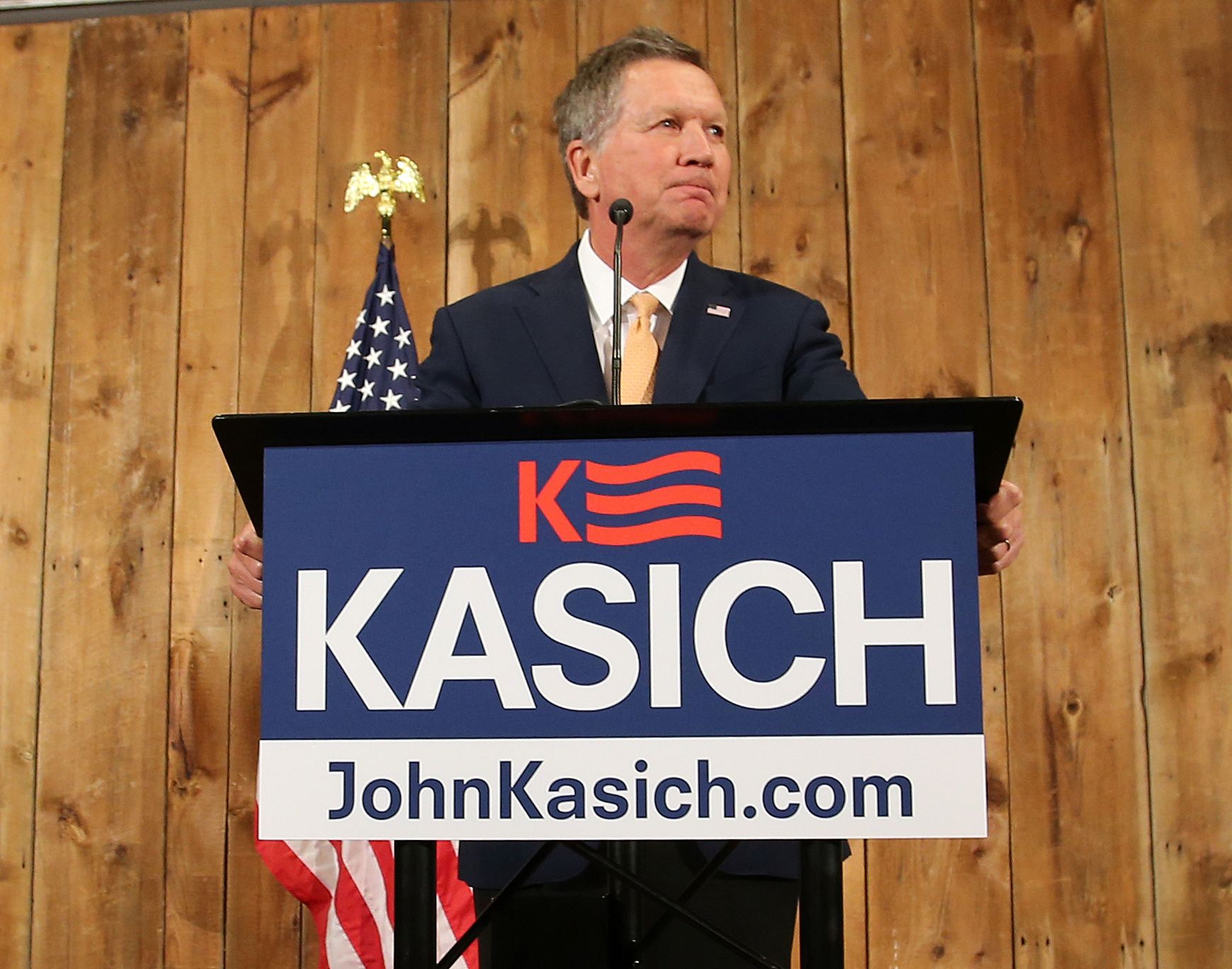 Ohio Republicans are fiercely loyal to their governor, John Kasich. But when it comes to the presidential race, they don't seem to be following his lead.
Kasich remains resolutely opposed to Donald Trump, even as Republicans from across the country have converged on his state to nominate the brash New York businessman for president. The popular second-term governor, who was the last man standing against Trump in the GOP primary, is attending a bevy of events this week surrounding the convention. He had four public engagements on Tuesday alone, including a speech at the Michigan delegation's breakfast and a Q&A with the head of the U.S. Hispanic Chamber of Commerce.
But Kasich is conspicuously absent from the convention hall at Quicken Loans Arena—a virtually unprecedented display of party dis-unity in the modern convention era. Ohio's importance as a swing state makes it all the more stunning. And the Trump campaign is not suffering the slight in silence. On Monday morning, the campaign chairman, Paul Manafort, went so far as to label Kasich "petulant" for refusing to endorse Trump, adding, "He's embarrassing his party in Ohio." Trump later rubbed salt in the wound, noting in a Fox News interview that Kasich "lost very, very badly" in the primary (he won only Ohio). "Maybe if I were in his position I wouldn't show up, either," Trump said.
The bad blood between the two men doesn't seem to have fazed Ohio's GOP delegates, however. They showed up in droves to a reception on Tuesday afternoon at Cleveland's Rock and Roll Hall of Fame to honor Kasich and his failed presidential bid. But all of the delegates Newsweek spoke to there said they were ready to unify behind Trump. "I love him," Fulton County Recorder Sandra Barber, 69, said of Kasich on Tuesday. "He has been a great governor of Ohio" and "he would have made a great president." But Barber, who lives in Wauseon, Ohio, said that once the convention is over, "we'll go to work and this party will be unified" behind Trump. Barber said she'd only heard a little bit about the back-and-forth between Manafort and Kasich political adviser John Weaver in the press, but wasn't too concerned about it.
"If we want to win this election, unity is very important," agreed Republican Congressman Steve Chabot, who represents the southwestern corner of Ohio, including Cincinnati. Chabot served with Kasich in the House of Representatives, but stayed out of the presidential primary. Now, like most of Ohio's members of Congress, he has lined up behind the Trump campaign. Chabot said Tuesday he hoped the party would "get together and pull in the same direction" coming out of the convention.
That includes Kasich himself, said Teri Morgan, a member of the state Republican Central Committee from Powell, Ohio. "We admire Governor Kasich and his integrity, but we also feel like it's now time for all of us, including John, to get behind the presidential candidate," Morgan said.
The governor, however, showed no signs of budging in his public remarks on Tuesday. While he declined to go after Trump directly, he took several not-so-subtle swipes at the real estate tycoon. Kasich repudiated Trump's brand of shoot-from-the-hip politics in his remarks at the Rock and Roll Hall of Fame, an event that had the distinct feel of a campaign stop. Framed by large navy blue banners that read, "Kasich: Always for Us," the governor lamented: "A lot of time in politics…people think the message of a campaign is nothing more than rhetoric. The message to me is never about rhetoric. These are the things I deeply believe in."
Later Tuesday, Kasich reiterated that theme. As delegates were casting their votes to nominate Trump at the arena less than a mile away, the Ohio governor told U.S. Hispanic Chamber of Commerce supporters, "I'm not here to disrupt." But he explained that he can't bring himself to attend the convention because "it's not where I think I need to be in terms of what I have stood for through the presidential campaign."
As for media speculation that the timing of the Chamber event—during Trump's nomination vote—was a calculated snub, Kasich replied, "the press, you know, they think real deep thoughts."
Still, the swirl of media attention around the Kasich-Trump feud is genuine cause for Republican concern. Like most recent presidential elections, Ohio is likely to be pivotal in determining who wins the White House—and it is likely to be decided by the thinnest of margins. Polls in the Buckeye State show Trump and Democrat Hillary Clinton running neck-and-neck, but Clinton is well ahead when it comes to field organizing. An Associated Press report from earlier this month found that the Republican National Committee, which Trump is relying on for much of his so-called ground game, had only 50 staffers by May, far less than planned. Clinton's campaign had roughly double that.
To make up for that disadvantage, Trump needs to win the enthusiasm race, exciting Ohio Republicans enough that they show up at the polls en masse in November. The party's most dedicated members appear ready to do that. But Trump will need the state's less committed Republicans to turn out if he hopes to eke out a victory. And that's where picking a fight with Ohio's Republican governor—who has an 80 percent approval rating among GOP voters and 58 percent overall in the state—could backfire.
Asked about Kasich's influence in the state, Morgan replied, "He's huge." That, she says, is why she wants him "to rally Ohio, I want him to come back to us in the grassroots and say, OK, you've got to help the candidate."