Trump Visit Divides Kenosha Officials As City Braces for Fresh Unrest
Authorities in the Wisconsin city rocked by violence after the police shooting of Jacob Blake are split over the visit by President Donald Trump on Tuesday, amid concerns of further unrest.
Some officials in Kenosha have taken exception to Trump's tweet on Monday, in which he said if he had not activated the National Guard, "there would be no Kenosha right now."
Kenosha County Executive Jim Kreuser described Trump's sentiment as "a false statement," telling a news conference that this was a "strong community" that was "going to come back regardless."
"For someone to say that we wouldn't exist but for their actions, I believe it to be false," Kreuser added.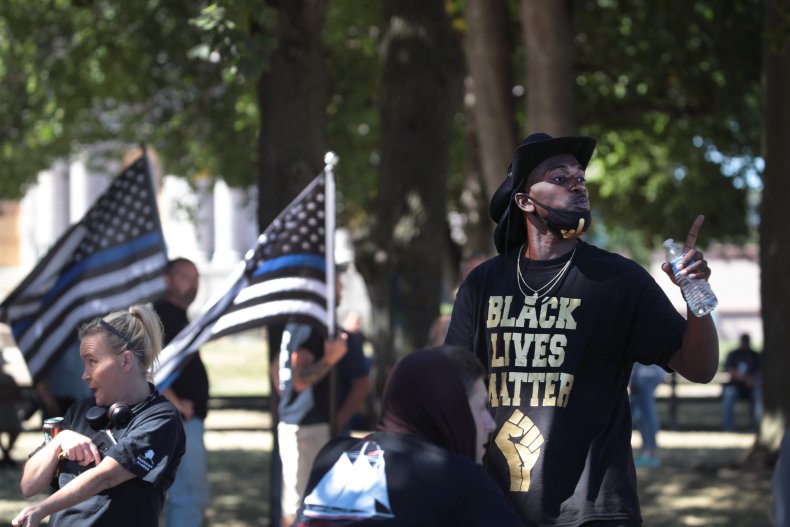 Maj. Gen. Paul Knapp, adjutant general of the Wisconsin National Guard, would not comment on Trump's tweet but did confirm that Gov. Tony Evers had activated the National Guard early on August 24, hours after video of the Blake shooting had been widely circulated on social media.
Meanwhile, Kenosha Mayor John Antaramian questioned the wisdom of such a presidential visit to a community that was trying to recover from trauma, saying: "The timing on this we felt was not good. We did make a request for him to do it at a different time."
"There are so many things that have gone on in this community, and it just seemed to me, and I think to others, that it would be better for us to be able to pull together and let the community get together and heal up from what has been going on," he added.
Evers also wants Trump to reconsider his visit, which would include trips to areas in the city damaged by the violence and meeting with law enforcement. The family of Blake said in a statement that "we don't need more pain and division from a president set on advancing his campaign at the expense of our city."
However, the president's visit did the backing of a group of Kenosha County Board supervisors, who signed a letter urging Trump to come because "Kenoshans are hurting and looking for leadership, and your leadership in this time of crisis is greatly appreciated by those devastated by the violence in Kenosha."
"Many Kenoshans are very grateful for the federal assistance that your administration provided.
"The relief was felt countywide once federal and local law enforcement agencies were able to take the proactive steps to prevent additional crime, instead of being outnumbered and spread too thin," the letter signed by seven officials said.
Demonstrators are calling for the officer who shot Blake, leaving him paralyzed, to be fired and face attempted murder charges. During the ensuing chaos after the August 23 incident, two people were shot dead. The 17-year-old Kyle Rittenhouse has been charged with their murders.
White House press secretary Kayleigh McEnany said the president had no immediate plans to meet with Blake's family during his visit. Newsweek has contacted the White House for comment.