Trump and Kim Jong Un Are Terrifying South Koreans With Their Tough Nuclear Talk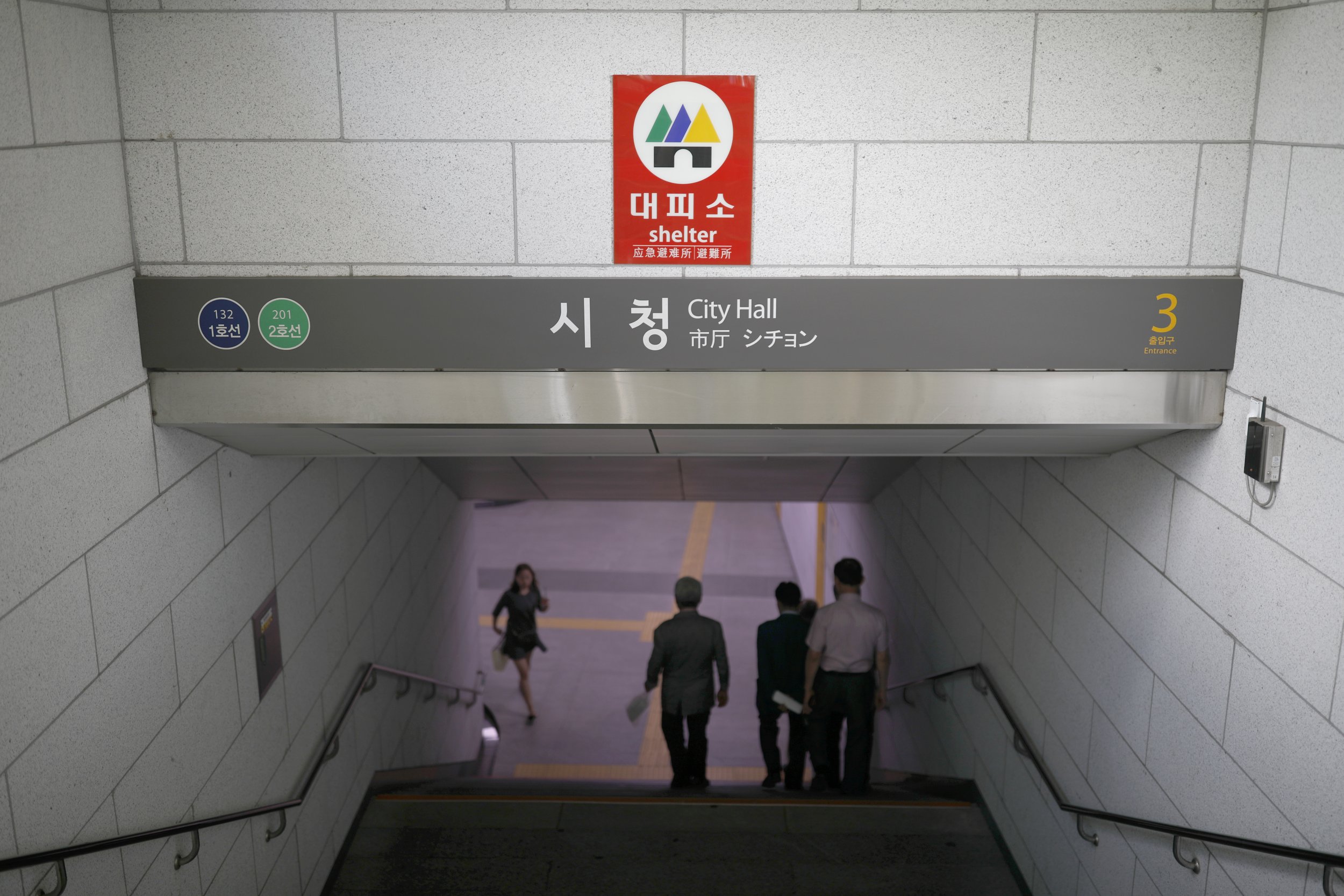 As President Donald Trump and North Korea trade barbs and posture over potential military attacks, many around the world are fretful about another war, or a even nuclear fallout. Especially South Koreans.
Trump's most recent tweet Friday morning may only deepen fears, and is likely to result in another warning from North Korean leader Kim Jong Un.
"Military solutions are now fully in place, locked and loaded, should North Korea act unwisely. Hopefully Kim Jong Un will find another path! ," Trump stated, following up with a retweet of the U.S. Pacific Command's official account that showed B-1B Lancer bombers in Guam ready to be deployed if necessary.
The nation caught smack in the middle of Trump's tweets and the North's state-run media arm is reportedly purchasing more "ready-to-eat meals" and plans to hold more civil defense drills this month, Reuters reported Friday.
And South Korean President Moon Jae-in, who previously increased U.S. military presence and called for more diplomacy rather than instigation, has appeared to change course after ordering the THAAD anti-missile system to be placed in his country following the North's latest missile test on July 28.
Moon also reportedly spoke to Trump Monday and said the South wants to build a nuclear-powered submarine.
One company that makes the quick meals said sales had actually increased by 50 percent in the last week, compared to its regular sales. Two other companies stationed in Seoul, the South's capital, also said sales of such rations have jumped of late.
"Since 2006, when North Korea first conducted its nuclear test, there wasn't this much response, as people became immune to frequent missile launches and nuclear tests," Yoon Hee-yeul, chief executive at Combat Ration, told Reuters. "I feel it's different this time."
Potentially so different that Seoul officials also have decided to expand a planned civil defense drill, scheduled for August 23, to include all 25 of the city's districts. Previously, only five districts participated.
The North has most recently been incensed by Trump's threat Tuesday and by the United Nations Security Council, which unanimously voted to place new economic sanctions on the authoritarian government that would cost it some $1 billion annually—a massive hit to an economy that largely relies on exports to sustain itself.
But, given the South has dealt with the North's aggressions, tests and tough talk for nearly seven decades since the Korean War, South Koreans have built up a sort of tolerance to its neighbor's wild rhetoric.
"Ever since I served [in the] military ten years ago, [the North Korean threat] has been continuing, and South Korean men who served in the military have developed an understanding about North Korean provocations, so we get used to it," a South Korean resident told VOA News.
Trump and Kim Jong Un Are Terrifying South Koreans With Their Tough Nuclear Talk | World