Trump and Kim Jong Un 'Unite' on Dennis Rodman's Holiday Sweater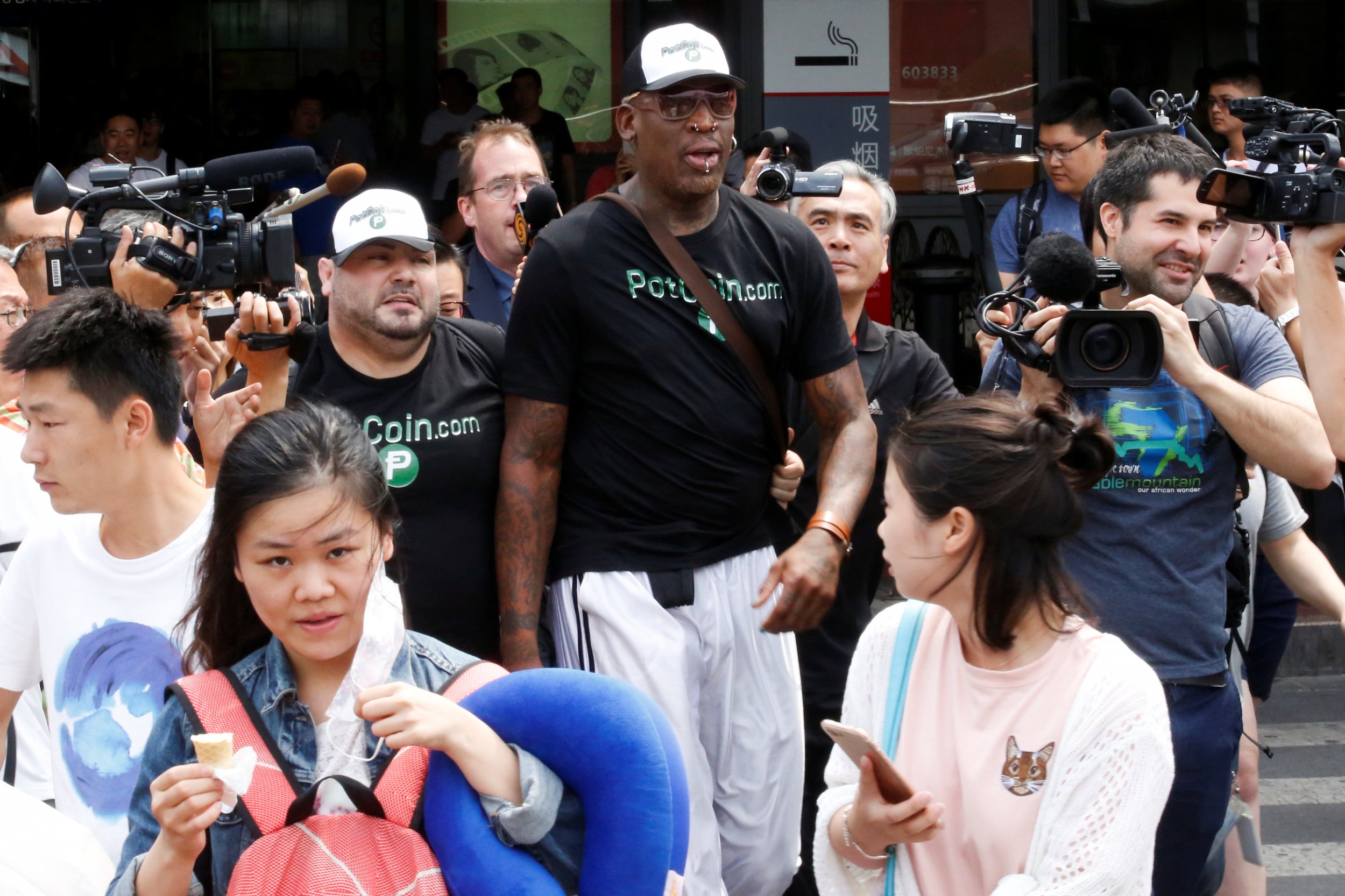 Former NBA player Dennis Rodman sent out a promotional tweet for his latest holiday sweater on Friday, The Hill reported. The ostentatious holiday sweater of Rodman's own design features U.S. President Donald Trump, North Korean leader Kim Jong Un and Rodman himself. The holiday message? "Unite" in bold green letters.
Proceeds from the sale of the sweater, which is being marked down from $85 to $65, will benefit the Wounded Warriors Project, Rodman tweeted. But he hasn't specified how much of the profits will go toward injured veterans.
Rodman and company RageOn also are selling a t-shirt with the "Unite" logo without the holiday decorations, as he displayed in another tweet on Friday.
The 56-year-old former rebounding king considers himself to be a friend of both Trump and Kim. Rodman developed a friendship with Kim in 2013 and paid his fifth visit to North Korea in June 2017, the Chicago Tribune reported in June.
Rodman told the news service AFP that he doesn't see the possibility of war between the U.S. and North Korea and that Trump's and Kim's threats are merely "entertainment." Rodman stated in the same interview that Trump and Kim "are pretty much the same people," adding the assertion that, "Ain't nobody got no finger on the button."
North Korea has tested 23 missiles in 16 different tests from February to early December, CNN reported on December 3. A November 29 test involved a missile that flew a farther distance and to a greater height than any of the earlier missiles tested.
"Most Americans don't realise how close we are to this war," senator and Iraq War veteran Tammy Duckworth said in an interview with Vox earlier this month. She added that Trump "seems eager, in [her] opinion, to launch a first strike."
While Rodman is unique in being an American with an amicable relationship with Kim, he is not the only person comparing the two leaders. Both have a love of trucks and use a similar rhetoric in their threats to one another, Newsweek reported in September. Trump has referred to Kim as "Little Rocket Man," and Kim has called Trump a "dotard," a word for a senile, elderly person.
Rodman's sweater calls for the U.S. government and the North Korean governments to unite, but recent events have led most Americans to feel this isn't a likely outcome.