Trump: Kim Jong Un Meeting Could Happen in June, 'People Don't Realize Korean War Has Not Ended'
President Donald Trump in a joint press conference with Japanese Prime Minister Shinzo Abe at his Mar-a-Lago resort on Tuesday announced that he planned to meet with North Korean leader Kim Jong Un "very soon," in early June or possibly before that.
Related: Trump Expected to Golf at Mar-a-Lago as His Presidency and the World Erupts in Crisis
"We will probably, depending on various meetings and conversations, will be having meetings with Kim Jong Un very soon, that will be taking place probably in early June or a little before that, assuming things go well," Trump said. "It's possible things won't go well and we won't have meetings and we'll just continue to go along this very strong path that we've taken."
Trump added that the U.S. has started talking to North Korea "directly" ahead of a summit between the two countries.
"We have had direct talks at very high levels, extremely high levels with North Korea," he said.
Trump also commented on recent reports that South Korea was in talks with the North to discuss a peace treaty.
"North Korea is coming along," Trump said. "South Korea is meeting and has plans to meet with North Korea to see if they can end the war and they have my blessing on that."
The Korean War, which began in 1950, was only suspended in 1953 by the signing of a truce, a fact Trump suggested was unknown to most people.
"People don't realize the Korean War has not ended," he said. "It's going on right now."
Trump spoke warmly of his relationship with Abe and added that "Japan and ourselves are locked and we are very unified on the subject of North Korea."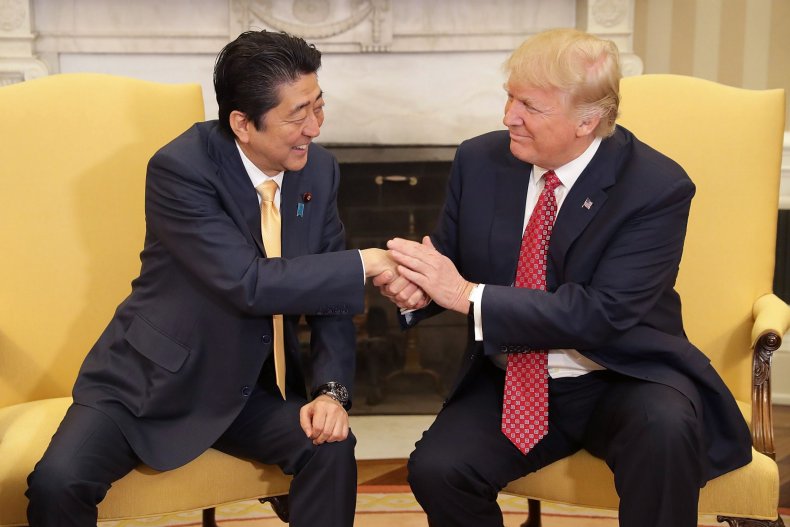 Abe, who sat next to Trump, praised the president's "courage" to attempt to meet with Kim and said he felt privileged to "talk about collaborations between Japan and the U.S."
The summit, if it transpires, would signal a significant shift away from a heated exchange of personal attacks between Trump and Kim for the better part of last year that put the world on edge with fears of potential nuclear warfare.