Trump Focused on Kim Jong Un Meeting 'Pageantry' Rather than North Korea's Nuclear Weapons Program: Report
President Donald Trump has reportedly been more concerned with the optics surrounding his potential summit with North Korean leader Kim Jong Un rather than the details and inner workings of the totalitarian regime's nuclear weapons program.
The summit, which Trump announced earlier this month, is still scheduled to take place June 12 in Singapore, even as Kim and the North Koreans took complete denuclearization off the negotiating table last week.
But it is the "pageantry" surrounding the proposed meeting that Trump is most concerned about, the Associated Press reported Tuesday, citing unnamed senior administration officials.
The report notes that Trump, who used his wealth and business success as key selling points along the campaign trail, has long prided himself as a great negotiator, but he's yet to fully outline what he hopes to accomplish during what could be a historic summit with one of the world's most reclusive leaders.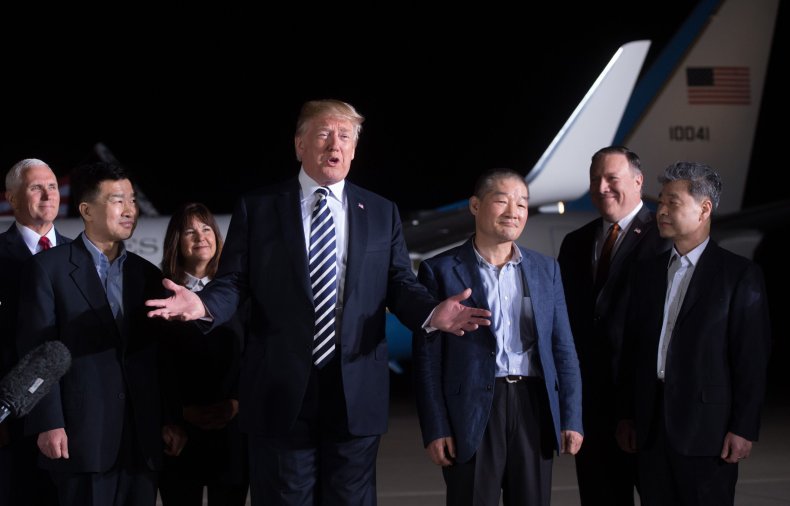 Indeed, three people familiar with the matter told the AP that Trump had yet to invest himself fully in "briefing materials" on the North's nuclear program.
One example of Trump's focus on appearance rather than policy may be the commemorative coin the U.S. made ahead of the summit and revealed to the public Monday. One side depicts Air Force One flying over the White House and the other shows Trump and Kim engaged in an apparent staredown with the U.S. and North Korea flags behind the respective leaders.
Such coins have been made by previous administrations, including President Barack Obama's, yet Trump's was released despite the North last week threatening to pull out of the summit.
Vice President Mike Pence on Monday insisted Trump was not concerned about "public relations" and warned Kim and his regime not to "play" with the president.
"I don't think President Trump is thinking about public relations—he's thinking about peace," Pence told Fox News, adding there was "no question" Trump would walk away.
Trump is scheduled to meet with South Korean President Moon Jae-in Tuesday in Washington to discuss the summit, negotiations and whether Moon believes Kim is serious about scaling back his nuclear ambitions.
Trump's meeting with Moon was set well before the North proclaimed it would not denuclearize, and prior to Kim's regime pulling out of talks with the South after taking umbrage with a joint military drill conducted by the U.S. and the South. In both North and South Korea, Trump's new national security adviser John Bolton has been cited as the individual responsible for complicating the planned summit.