Donald Trump's Meeting with Kim Jong Un Was Supported by Most South Koreans, Polls Show
President Donald Trump's latest meeting with North Korean supreme leader Kim Jong Un was supported by the majority of South Koreans, two recent polls showed.
Following their appearances at the G20 summit in the Japanese city of Osaka, Trump and South Korean President Moon Jae-in flew back to Seoul for talks and then made the unprecedented step Sunday of traveling to the heavily-fortified border separating the two Koreas in order to meet with Kim. Trump even went as far as to cross the boundary, making him the first sitting U.S. president to do so delving his North Korea diplomacy further into uncharted territory⁠—a feat Moon and his people largely welcomed.
Seoul-based polling agency Realmeter released the results of a survey Wednesday showing 62.7 percent of South Koreans felt positive about the last-minute talks between the three leaders, who gathered together for the first time ever at the truce village of Panmunjom. At the same time, 29 percent of those surveyed felt negative and 8.3 percent offered no opinion.
A separate poll conducted by South Korea's official National Unification Advisory Council reported that 66.4 percent of its respondents believed Trump, Kim and Moon's meeting had a "positive impact." In this survey, 29.4 percent felt disagreed with this and 4.2 percent did not say.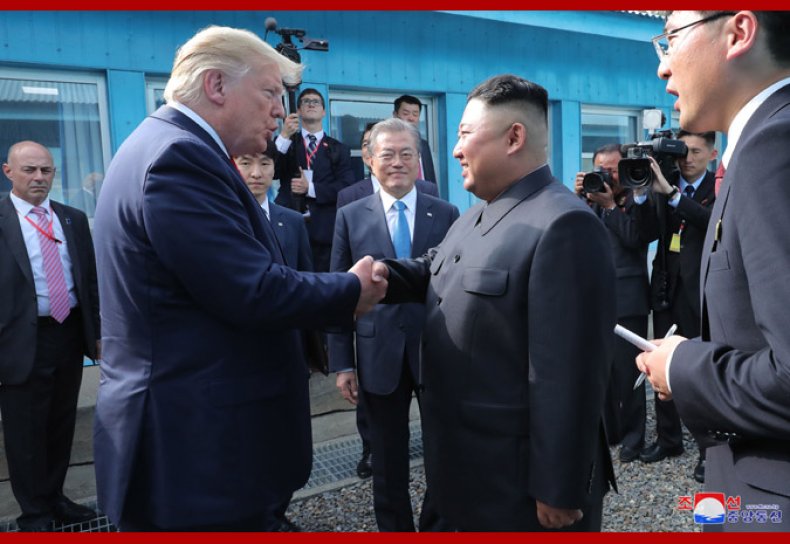 Moon has emerged as a champion for South Korea's progressives who seek better ties with their longtime rival neighbor, but his enthusiastic diplomacy with Kim has earned him overwhelming criticism from the country's conservatives. Trump's own historically-unmatched appetite for talks the North Korean ruler has given further legs to Moon's efforts, though he has at times needed to weather the ebb and flow of the fragile U.S.-North Korea dialogue.
As recently as 2017, Trump and Kim were issuing threats on a semi-regular basis, causing serious anxieties for South Korea, which would almost surely be caught up in a conflict between the two. Following the post-World War II division of the Korean Peninsula, the U.S. and its allies backed South Korea against North Korea and its Sino-Soviet sponsors in a war that technically remains ongoing.
Officially ending this conflict has been a goal of both Koreas and, though Moon said Tuesday that Trump and Kim "declared a de facto end to hostilities and the full-fledged beginning of a new era of peace" through their latest meeting, no such document was signed. The U.S. has maintained that the "complete, verifiable, irreversible denuclearization" of the Korean Peninsula without conditions was necessary before any deals for peace or sanctions relief.
So far, after two top-level summits, Washington and Pyongyang have yet to establish sufficient common ground to come up with any agreements. Though Trump and Kim have continued to praise one another's efforts toward peace, the former has been met with domestic skepticism.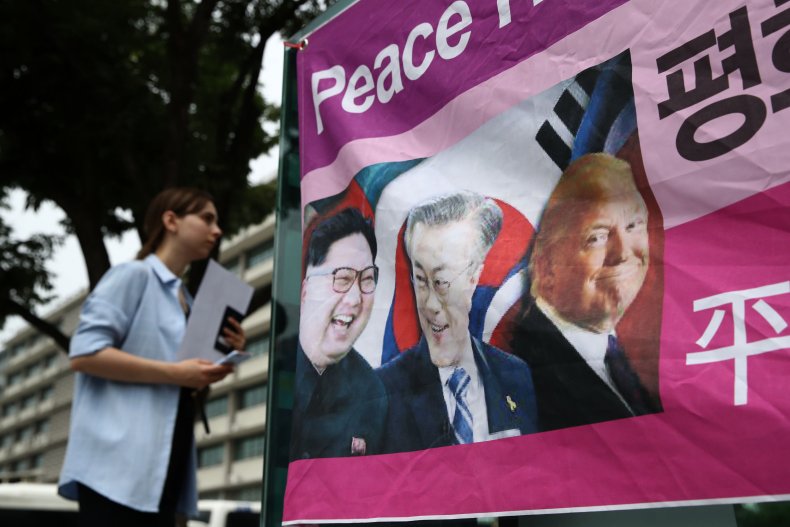 Trump's attempted rapprochement has exposed partisan divides at home. Senate Minority Leader Chuck Schumer called Trump and Kim's encounter at the demilitarized zone "one of the worst few days in American foreign policy," arguing to CNN that the president gave "Kim Jong Un what he wanted, calling him a friend, patting him on the back, and getting nothing, absolutely nothing in return."
White House counselor Kellyanne Conway dismissed these remarks the following day, telling Fox & Friends that Trump "is on his way" to earning himself a Nobel Peace Prize.
CNN published a poll that same day showing that only 40 percent in the U.S. supported Trump's handling of North Korea. On Wednesday, Rasmussen Reports found that "42% of Likely U.S. Voters think Trump's weekend meeting with Kim was a step toward peace," while half say instead "that it was just political posturing that will have no long-term benefit for the United States."
While many experts and even Russia and China back Trump's handling of North Korea, decades of hostility between the two countries have hardened some sentiments among the U.S. public, whose views have often overshadowed those of their South Korean counterparts in the media. One study featured last week by the Bulletin for the Atomic Scientists in the U.S. showed that "33 percent preferred" a pre-emptive, nuclear U.S. strike against North Korea should tensions worsen even if it would kill "1.1 million, including 1 million civilians" there.