Trump Says Kim Apologized for Previous Missile Tests, Though North Korea Launched More Missles Hours Later
On Saturday morning, President Donald Trump celebrated a letter he claims to have received from North Korean dictator Kim Jong-Un indicating a possible desire to meet after the U.S. is finished conducting joint military exercises with South Korea.
Trump wrote in a tweet that Kim "very nicely" said in a letter that he "would like to meet" once the drills were finished. The joint exercises between U.S. servicemembers in the region and South Korean forces began on Monday but were reportedly less conspicuous than past drills, occurring mainly through tactical simulations.
South Korean media reported early Saturday that North Korea launched two short-range ballistic missiles into the sea, the country's latest act of defiance in protest of the drills, which the country has always objected to.
The president wrote that Kim's letter included "a small apology for testing short range missiles" and a promise that these tests would stop once the exercises were concluded. Trump first announced the letter on Friday, only to have Kim follow up on his apologies with Saturday's missile launches.
Saturday's tweet did not appear to reference the latest round of missile launches, despite the notation of Kim's alleged "apology" just the day prior for previous tests.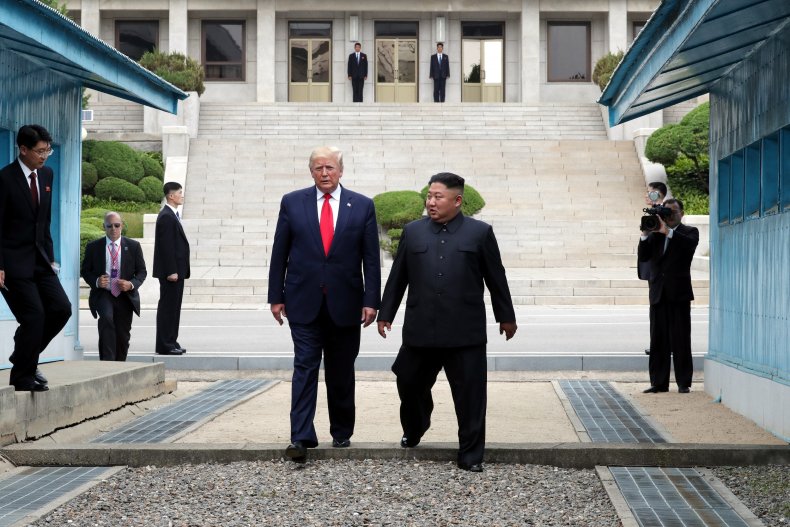 In a rebuke to the military, Trump's tweet derided the "ridiculous and very expensive exercises," which are conducted annually between U.S. and South Korean forces on the Peninsula as a show of strength, to prepare troops for a possible escalation of conflict and to deter aggression from the north.
South Korean military leaders said that they were "monitoring the situation in case of additional launches while maintaining a readiness posture."
Saturday's provocations mark the fifth series of missile tests in two weeks times. Kim has called the tests a "solemn warning" to the U.S. over the joint exercises.
Trump and Kim met most recently at the border between South Korea and North Korea, the third such summit between the pair and the first time a sitting U.S. president has crossed the Demilitarized Zone into North Korea.
Talks about Kim's nuclear program were reportedly set to resume following the meeting on June 30, but no known guarantees or agreements have been reported.
On Friday, Trump appeared to sympathize with the North Korean position on the joint exercises.
"He wasn't happy with the war games," he said. "I've never liked it either. I've never been a fan. And you know why? I don't like paying for it."
Saturday's tweet included a suggestion, though lacking a specific commitment, that the two leaders would meet once more to resolve longstanding nuclear tensions.
"I look forward to seeing Kim Jong Un in the not too distant future," Trump wrote. "A nuclear free North Korea will lead to one of the most successful countries in the world!"
Trump Says Kim Apologized for Previous Missile Tests, Though North Korea Launched More Missles Hours Later | World