Trump-Kim Summit: Key Moments in North Korea-U.S. Relations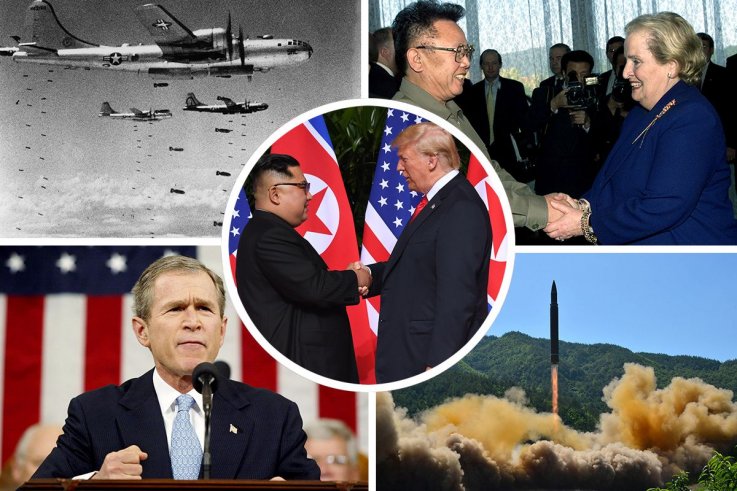 After Donald Trump's historic meeting with Kim Jong Un, which culminated in a pledge to work towards a complete denuclearization of the Korean peninsula, we look back on North Korean-U.S. tensions via images that tell the story of their fraught relationship.
In 1948, a few years after being freed from Japanese colonial rule in 1945, two separate and opposing governments were established on the Korean peninsula—a communist one in the North and a democratic one in the South.
In 1950, when Communist North Korean troops launched a surprise attack across the 38th parallel into South Korea, war broke out. U.S.-led United Nations forces battled Chinese- and Soviet-backed North Korea, in a three-year conflcit that killed three million and displaced five million more.
Though an armistice was signed on July 27, 1953, and troops on each side withdrew to form a Demilitarised Zone (DMZ), the two countries remain technically at war to this day.
North Korea calls July 27 its "Day of Victory in the Great Fatherland Liberation War" and blames U.S. military presence in the South for confrontation on the peninsula. The DMZ remains the world's most heavily-fortified frontier.
Since December 2011, the country has been ruled by Kim Jong Un, the son of late leader Kim Jong Il and grandson of North Korea's founder Kim Il Sung.
Donald Trump and Kim Jong Un's Historic Summit in Singapore: In Pictures
In late 2017, he said the North had successfully tested a powerful new intercontinental ballistic missile (ICBM) that put the entire U.S. mainland within range of its nuclear weapons.
But North Korea's ties with the outside world then seemed to take a sharp turn for the better. In early 2018, inter-Korean relations began improving. In May, North Korea said it had dismantled its nuclear testing site at Punggye-ri.
—Reuters contributed to this report