Trump-Kim Summit 'Not A Failure,' John Bolton Insists, While Acknowledging North Korea Remains a Threat
National Security Adviser John Bolton insisted President Donald Trump's recent Hanoi summit with Kim Jong Un was a "success," even while acknowledging that North Korea remains a growing threat.
The former U.S. ambassador to the United Nations under George W. Bush told CBS' Face the Nation Sunday Trump's view is he "gave nothing away" to North Korean Supreme Leader Kim Jong Un, but Bolton implied Trump doesn't always listen to the advice of his advisers during such negotiations -- suggesting rifts between the president and his administration. Bolton reiterated the ultimate goal is the full denuclearization of North Korea, although he acknowledged fears that in the meantime, the North Korean dictator has been potentially legitimized internationally by Trump's meetings and that the country is actively developing nuclear fuel.
"The president's view is he gave nothing away. That's- that's what matters, not my view. As I've said before, I guess I can't get people to listen so I'll try it one more time, I'm the national security advisor. I'm not the national security decision maker," Bolton said, hinting at a distance between his personal opinions and those of the president on dealing with North Korea.
Bolton's interview with CNN on Sunday also expressed distance from the president on Otto Warmbier, with Bolton saying Trump's views are solely his views and not necessarily that of his advisers.
For a second time, Bolton called himself the "national security adviser," not the "national security decision maker."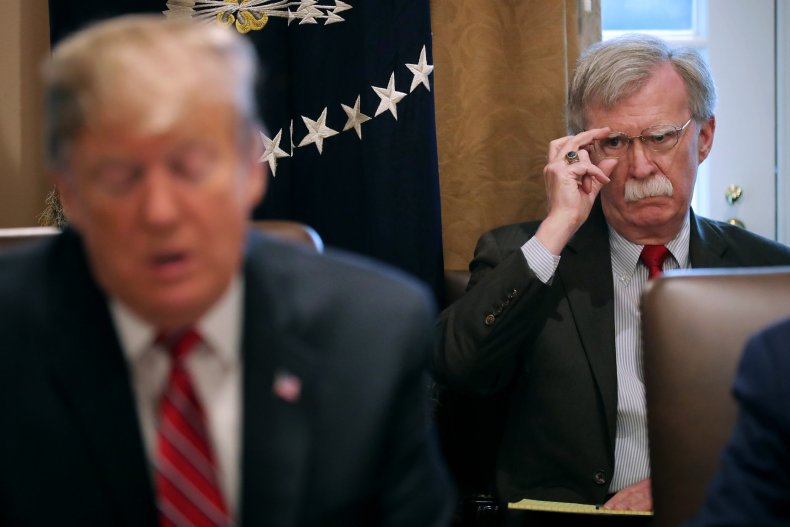 Bolton repeatedly said he simply does not know what the North Korean government will do next, but that Trump "opened the door" for them in Singapore eight months ago despite failing to reach a deal even last week. Trump's national security adviser told CBS's Margaret Brennan Sunday Trump's so-called successes in Vietnam are not yet tangible and are still a work in progress.
"I don't consider the summit a failure," said Bolton. "I consider it a success defined as the president protecting and advancing American national interest. Extensive discussions between the president and Kim Jong Un and- and the issue really was whether North Korea was prepared to accept what the president called "the big deal," which is denuclearize entirely under a definition the president handed to Kim Jong Un ... the president held firm to his view. He deepened his relationship with Kim Jong Un. I don't view it as a failure at all when American national interests are protected."
"But to be clear, North Korea still has not agreed to denuclearize as the U.S. defines it," Brennan pushed back.
"Not as we have defined it although they have committed in public in prior regimes in North Korea-- four or five times in writing to denuclearize and that's something ... we expect them to do if they reach an agreement with us."
Bolton conceded North Korea's three-mile Yongbyon complex and other plutonium and nuclear enriching sites are currently still active due to Trump's walking away from Kim Jong Un last week without a deal. But Bolton, who previously dealt with the North Koreans in 2002 negotiations, said Trump is "optimistic" about working something out in the future without giving them too much with nothing in return.
CBS's Brennan noted that after Trump left Hanoi, Kim Jong Un remained there and was "walking around touring hot spots in Vietnam." Brennan pondered if the dictator's status as no longer being an interntional "pariah" was something he gained from the Trump talks.
"Are you expecting North Korea to come back with a [counter] offer?" Brennan asked. "I don't know what they're going to do. I think the president himself said that he expects they'll want to go back and re-evaluate what happened certainly we will- we'll look at continuing the economic sanctions against North Korea which brought them to the table in the first place. We'll see what happens next."
"But in the meantime, North Korea can still produce nuclear fuel?" asked Brennan.
"And they have been doing it. Yes, they have. That's exactly correct," Bolton replied.
Bolton added there is "no expiration date" or window of negotiation with the North Korean denuclearization talks moving forward. And although later even declining to refer to the Hanoi talks as a success rather than "not a failure," Bolton said the biggest accomplishment was the U.S. made no concessions.
"[Trump] didn't walk away with a failure," Bolton continued. "Unless you're prepared to say that it would be better to accept a bad deal than to walk away from no deal, to me that's a success."