Trump Knew Before His Inauguration Putin Probably Ordered Cyberattacks on U.S. Election: Report
Before he was even inaugurated as president, Donald Trump was shown intelligence suggesting Russia's Vladimir Putin personally ordered cyberattacks designed to influence the U.S. election, a new report in The New York Times claims.
Yet the president has repeatedly signaled doubt about the unanimous conclusion of his own intelligence community, which was reached before he took office and has been bolstered with fresh information since.
At a press conference with Putin after their summit in Helsinki, Finland, Trump appeared to believe the Russian president's denial of election interference over the assessment of his own intelligence agencies. Trump later walked back his Helsinki comments after public outcry and accusations of treason.
Trump was presented with the evidence on January 6, 2017, by his most senior intelligence officials at a meeting in New York City's Trump Tower. It included communications between Russian military officers and information provided by a source close to Putin himself.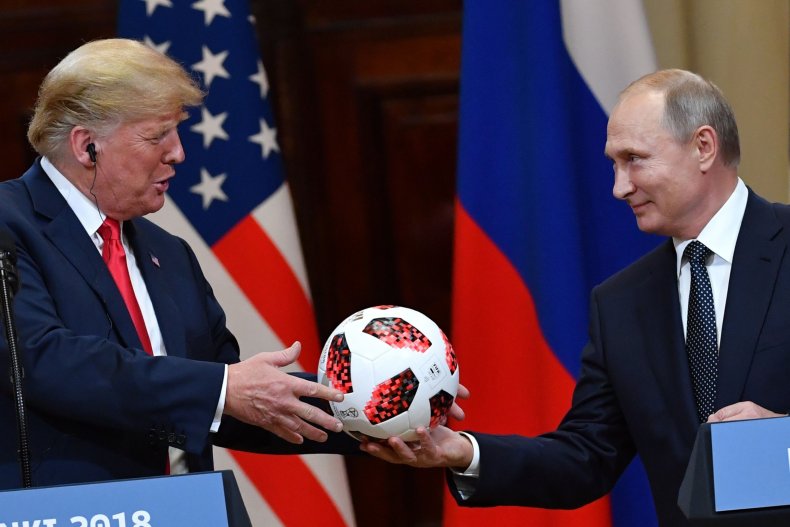 That is according to The New York Times, citing almost a dozen unnamed sources either at that meeting or briefed on it. Trump was reportedly "grudgingly convinced" by what he was shown.
At that meeting were John Brennan, the former CIA director; James Clapper, the former director of national intelligence; Admiral Michael Rogers, the former director of the National Security Agency and the commander of United States Cyber Command; and James Comey, the former director of the FBI.
The White House did not respond to a request for comment.
Reacting to Trump's performance at Helsinki, Brennan, who left the CIA a few days after the meeting, tweeted that the president's comments were "nothing short of treasonous. Not only were Trump's comments imbecilic, he is wholly in the pocket of Putin."
Clapper told CNN's Don Lemon on Wednesday night, "The biggest fear I have now, I think because of Trump's performance at Helsinki, [is] Vladimir Putin's got a pass.
"He can do just about anything he wants to do, internationally and certainly in our country. And he will continue to do what he's done, unfortunately successfully, which is undermine the very pillars of this country. And he just got a pass from our president," Clapper said.
Trump was asked in Helsinki if he raised the issue of electoral interference with Putin.
"I have President Putin; he just said it's not Russia," Trump told reporters after the pair met. "I will say this: I don't see any reason why it would be…. I have great confidence in my intelligence people, but I will tell you that President Putin was extremely strong and powerful in his denial today."
After a strong bipartisan backlash to his comments, Trump subsequently claimed he misspoke and meant to say "would not." He and his team took over a day to correct the purported error.
In an interview with CBS News that aired on Wednesday night, Trump finally blamed Putin personally for interfering in the 2016 U.S. election, though under the guise of accountability as a president, not for directing or authorizing the cyberattacks as the intelligence services believe.
"Certainly, as the leader of a country you would have to hold him responsible, yeah," Trump said.
Asked if Putin lied, Trump said, "I don't want to get into whether or not he's lying. I can only say I have confidence in our intelligence agencies as currently constituted."
Trump also said he accepts the assessment of Dan Coats, the current director of national intelligence, that the threat from Russian interference is "ongoing," another U-turn after he previously said the opposite.
"I accept it. He's an expert. This is what he does," Trump said. "He's been doing a very good job. I have tremendous faith in Dan Coats. And if he says that, I would accept that. I will tell you, though: It better not be. It better not be."