Trump and Kushner Slammed for Benefitting From Saudi Funds
Former President Donald Trump and his son-in-law Jared Kushner are being criticized for reportedly benefiting from Saudi funds in exchange for the international standing of Saudi Crown Prince Mohammed bin Salman.
A Saturday report by The Washington Post detailed new information about Trump's and Kushner's ties with Saudi Arabia, citing recently published memoirs, accounts in congressional testimony, and interviews with former senior White House officials.
The newspaper highlighted new details that raised concern that the former president and his son-in-law used their positions in the past to set themselves up to profit from their ties with Saudi Arabia even after Trump left office. The report cited Kushner's written account of convincing Trump to make Saudi Arabia a priority despite objections from top advisers, according to the Post.
"I think it was an obvious opportunity for them to build their Rolodexes," John Bolton, who served as Trump's national security adviser, told the newspaper. "And I think they were probably hard at work at it, particularly Jared."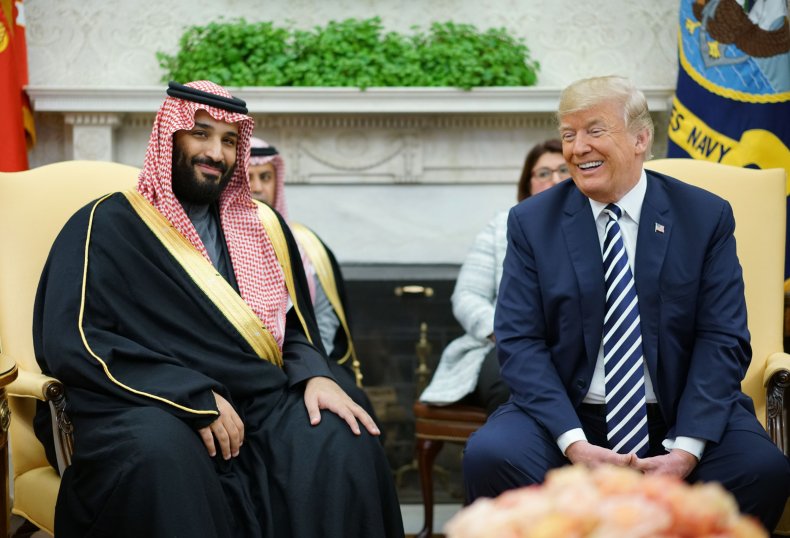 "Why should Jared be worried about the Middle East?" Bolton asked. "It's a perfectly logical inference was that had something to do with business."
Meanwhile, it was revealed last month during court proceedings that the Saudi Arabia Public Investment Fund (PIF), a sovereign wealth fund led by Salman, owns 93 percent of LIV Golf and pays 100 percent of the costs associated with its events. A year after he left office, Trump's golf courses began hosting tournaments for LIV.
"Congress isn't investigating the actual crime family. — After helping prince's rise, Trump and Kushner benefit from Saudi funds," political consultant Fred Wellman wrote on Twitter on Saturday.
"Is LIV Golf part of a money laundering operation that funnels funds to Jared Kushner? Some people in this Wash Post piece are wondering," Twitter user Kevin Van Valkenburg said on Sunday.
Agreements between Salman and the Trump family included providing Kushner's Affinity Fund with a $2 billion investment and $1 billion for Trump's former Treasury Secretary Steven Mnuchin's Liberty Strategic Capital firm. Those were deals that the Democracy for the Arab World Now (DAWN) called "favors" between Trump, Kushner, and Saudi Arabia.
"This merits much more attention especially the LIV Saudi Golf connection w/ Trump for which he is likely to be receiving many millions every year. Also, the $2B to Jared," Richard Signorelli, former Assistant U.S. Attorney for the Southern District of New York, tweeted on Sunday.
The exchange of support between Saudi Arabia, Trump, and Kushner also took different forms, with the Post reporting that Trump "saved" Salman in the wake of the CIA's investigation that revealed that the crown prince ordered the murder of the Post's contributing writer and journalist Jamal Khashoggi in 2018.
Saudi human rights violations have long been among the top U.S. concerns, despite President Joe Biden scaling back on holding the Kingdom accountable for such abuses. However, experts told the Post that if Trump was reelected as president in 2024, it might be less likely that he would confront Saudi Arabia in future crises because of his financial involvement with them.
Although ethics laws required retired military personnel to gain approval to work for foreign governments, this doesn't apply to Trump or Kushner. This means that they both are not required to disclose whether they have financial entanglements to foreign governments, according to former acting director of the Office of Government Ethics, Don Fox who said those rules should be reworked in Congress.
"I think the Congress had a certain vision in mind for what the post-presidency looks like, such as creating a library and museum and some speaking and writing a memoir," Fox told the newspaper. "I don't think it ever occurred to the drafters of these ethics laws that a former president would actually try to cash in on his years of office this way."
Separately, the Trump Organization also reached an agreement last November with a Saudi real estate company to build a Trump hotel as part of a $4 billion gold resort in Oman.
"Trump and Kushner is trending because everyone outside of the MAGA cult is pointing out the usual hypocrisy of the Republican Party. I'm so sick and tired of hearing about Hunter Biden's laptop or rent payments," said David Weissman on Sunday, who identifies as a former Republican, on Twitter.
Last June, the House Oversight Committee launched an investigation into the $2 billion investment given to Kushner's firm after he left the White House, according to NBC News.
Senator Ron Wyden, an Oregon Democrat who chairs the Senate Finance Committee and has been investigating various ties between the Saudis, Trump, and Kushner, told the Post on Saturday that those financial connections raise "very serious issues."
"The financial links between the Saudi royal family and the Trump family raise very serious issues," he said. "And when you factor in Jared Kushner's financial interests, you are looking right at the cat's cradle of financial entanglements."
Newsweek reached out to Trump's office for comment.