Donald Trump's Long History of Offensive Remarks About Those Who Served as Someone Who Did Not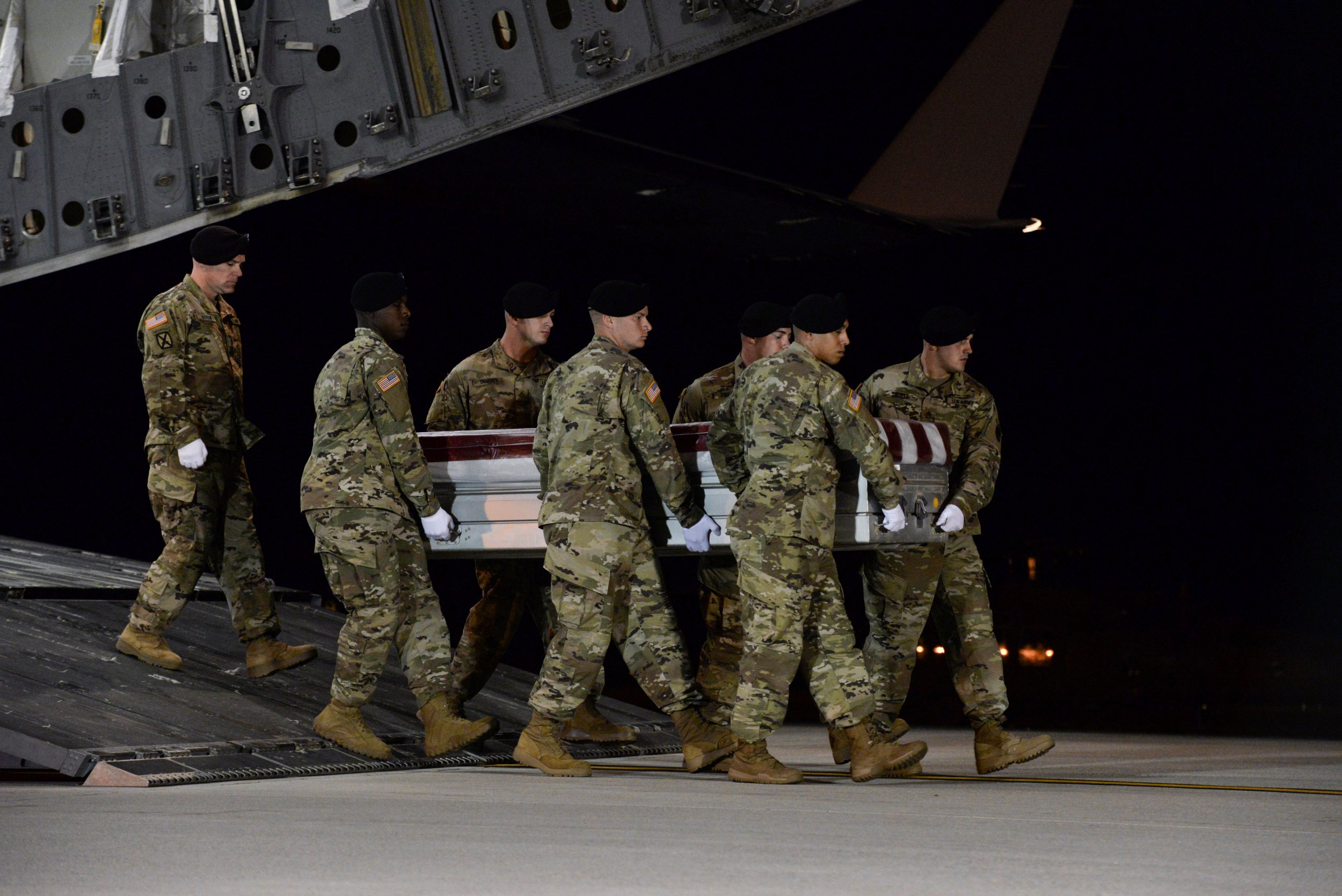 Updated | "He knew what he signed up for."
Those were, reportedly, the words of consolation offered by President Donald J. Trump to the widow of Sgt. La David Johnson, a Green Beret who was killed in an ambush in Niger on October 4. American special forces are in the West African country to root out Islamist radicals. Three other American service members were killed in the raid along with Johnson.
Johnson's body returned to South Florida in a flag-draped casket on Tuesday, where his pregnant widow, Myeshia Johnson, and his two young children greeted it.
Rep. Frederica S. Wilson, Democrat of Florida, described Trump's call to Johnson. She said she was listening on speakerphone.
"He knew what he signed up for... but when it happens, it hurts anyway," Trump said to Johnson, according to Wilson's description of the call to a South Florida ABC affiliate. "It's so insensitive," the congresswoman added. "He should have not have said that. He shouldn't have said it."
Trump was quickly—and harshly—condemned on social media for his remarks, which the White House would not confirm. However, Trump tweeted that Wilson "totally fabricated" his comments to the widow, and said he had "proof," without specifying exactly what that consisted of.
For someone with a lifelong reverence for the military, Trump seems to frequently find himself offending members of the armed services. That's perhaps because he expresses his reverence in ways that may charitably be called unorthodox.
His most notorious insult came at the expense of one of the nation's most famous veterans: Sen. John McCain, who endured more than five years of captivity and torture in North Vietnam.
"He was a war hero because he was captured," Trump said at a 2015 event early in the presidential primary season. "I like people who weren't captured." The cruel remark came in response to McCain's remark that Trump's campaign had "fired up the crazies."
Some thought the unseemly remarks would doom the unlikely candidate's surprising prominence in the crowded Republican field. That did not prove to be the case.
A year later at the Democratic National Convention, Gold Star parents Khizr and Ghazala Khan—who lost their son Humayun in Iraq—became the unlikely stars of the event when Khizr Khan asked Trump from the stage, "Have you even read the United States Constitution?"
"Go look at the graves of brave patriots who died defending the United States of America, You will see all faiths, genders and ethnicities. You have sacrificed nothing and no one," Khan said.
The charge that Trump had "sacrificed nothing" hints at the five deferments Trump received from the military draft during the Vietnam War. Trump has called avoiding sexually transmitted disease his "personal Vietnam."
Trump responded to the Khans by telling George Stephanopoulos of ABC that he had, indeed, made personal sacrifices by creating "thousands and thousands of jobs" and erecting "great structures." He also suggested that Ghazala Khan had been silent while her husband spoke because, as a Muslim woman, she had been forbidden from speaking. There was no evidence to support this claim.
Showing little contrition, Trump continued his spat with the Khans on Twitter:
Again, many thought that Trump's insults against members of the military would doom his candidacy. But, as in the case of the McCain broadside, this proved incorrect.
The day after the above tweet was sent, Trump held a rally in Ashburton, Virginia. There, a veteran who supported his candidacy gave Trump his Purple Heart medal.
"I always wanted to get the Purple Heart. This was much easier," Trump said.
CNN exit polling showed that about 60 percent of veterans chose Trump over Clinton on Election Day. During the campaign, he vowed more money for the military, a promise fulfilled with the recent $700 billion military budget passed by the Senate. And he has surrounded himself with decorated officers, including Chief of Staff Gen. John F. Kelly, National Security Adviser H.R. McMaster and Defense Secretary Gen. James N. Mattis. They are frequently depicted as the most influential and level-headed members of the Trump administration.
The remarks to Sgt. Johnson's widow are not Trump's only military-related controversy this week. On Monday, Trump falsely claimed that President Barack Obama did not call the families of men and women killed in the line of duty. The assertion was met with widespread condemnation. As is frequently the case, Trump refused to back down, telling Brian Kilmeade of Fox News the next day that Obama had never called Gen. Kelly after his son, 1st Lt. Robert M. Kelly, was killed in Afghanistan in 2010.
Kelly and his wife were cleared to attend a White House event for Gold Star families in 2011.
"There is no sacred ground for this president," said Leon E. Panetta, who was Defense Secretary under Obama.
This article has been updated to include a tweet from Donald Trump responding to Frederica S. Wilson's comment.