President Donald Trump skipped the White House Correspondents Dinner on Saturday and instead held a rally in Michigan, during which he skewered the media, his political opponents and immigration supporters.
Much like his presidential campaign rallies, the president brought up his prized border wall and fury over illegal immigration. At one point, the president said he would "close down the country" if "we don't get border security" and riffed that a "vote for a Democrat in November is a vote for open borders."
His comments came shortly before a migrant caravan carrying asylum seekers arrived at the Mexico-California border from Central America. The group of migrants, including women, men and children, has become a flashpoint for the immigration debate, with Trump tweeting that he wouldn't let them through.
Approximately 1,500 people left the Mexico southern border city of Tapachula on March 25, although that number has dwindled to an estimated several hundred. Many told media and immigration rights activists that they were fleeing gang violence and drug wars.
"Are you watching that mess that's going on right now with the caravan coming up? Are you watching this and our laws are so weak, they're so pathetic. Given to us by Democrats," Trump told the raucous crowd on Saturday. Trump eventually suggested that Democrats only rallied behind immigrants as a political power play meant to expand the left's voter base.
"One of the reasons [Democrats support immigrants and sanctuary cities] is because the Democrats actually feel—and they are probably right—that all of these people pouring across are going to vote for Democrats," Trump said. "Not for Republicans."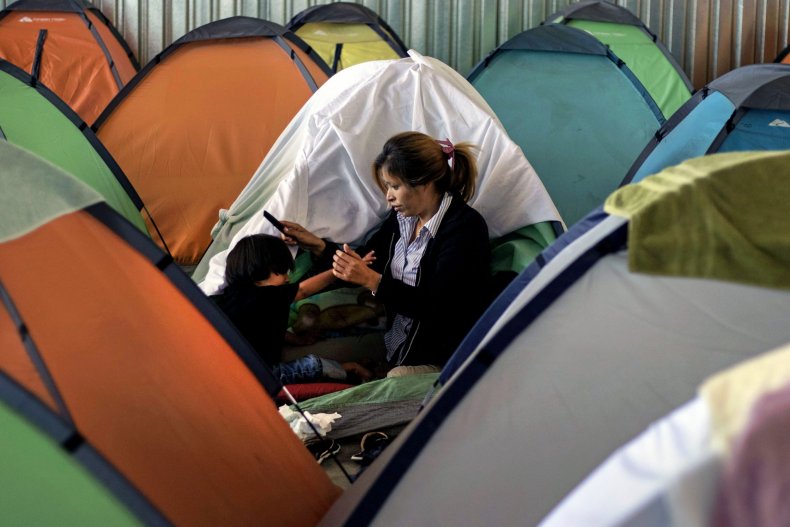 On April 3, Trump tweeted that the caravan should be stopped from moving any further toward the U.S. border.
"The big Caravan of People from Honduras, now coming to Mexico and heading to our 'Weak Laws' Border, had better be stopped before it gets there," Trump tweeted. "Cash cow NAFTA is in play, as is foreign aid to Honduras and the countries that allow this to happen. Congress MUST ACT NOW!"
On April 23, he reiterated the statement, shining a spotlight on the caravan aided by Pueblo Sin Fronteras, a nonprofit group.
"Despite the Democrat inspired laws on Sanctuary Cities and the Border being so bad and one sided, I have instructed the Secretary of Homeland Security not to let these large Caravans of people into our Country," Trump wrote. "It is a disgrace. We are the only Country in the World so naive! WALL!"
Elected on a wave of fiery rhetoric about immigration, Trump has continued to make closing the southern border a priority in his administration's plans. Much to his ire, Congress has yet to approve funding needed for the "big, beautiful" wall he touted during stump speeches in 2016.
Nevertheless, his allies have also attempted to use the caravan to drum up support for Trump's re-election campaign in 2020. Mirroring the president's tweets, a fundraising email sent out in April touted Trump's orders to "STOP the caravan of illegal immigrants trying to cross our WIDE-OPEN BORDER."