Trump Lands in the Bunker at his Florida Golf Club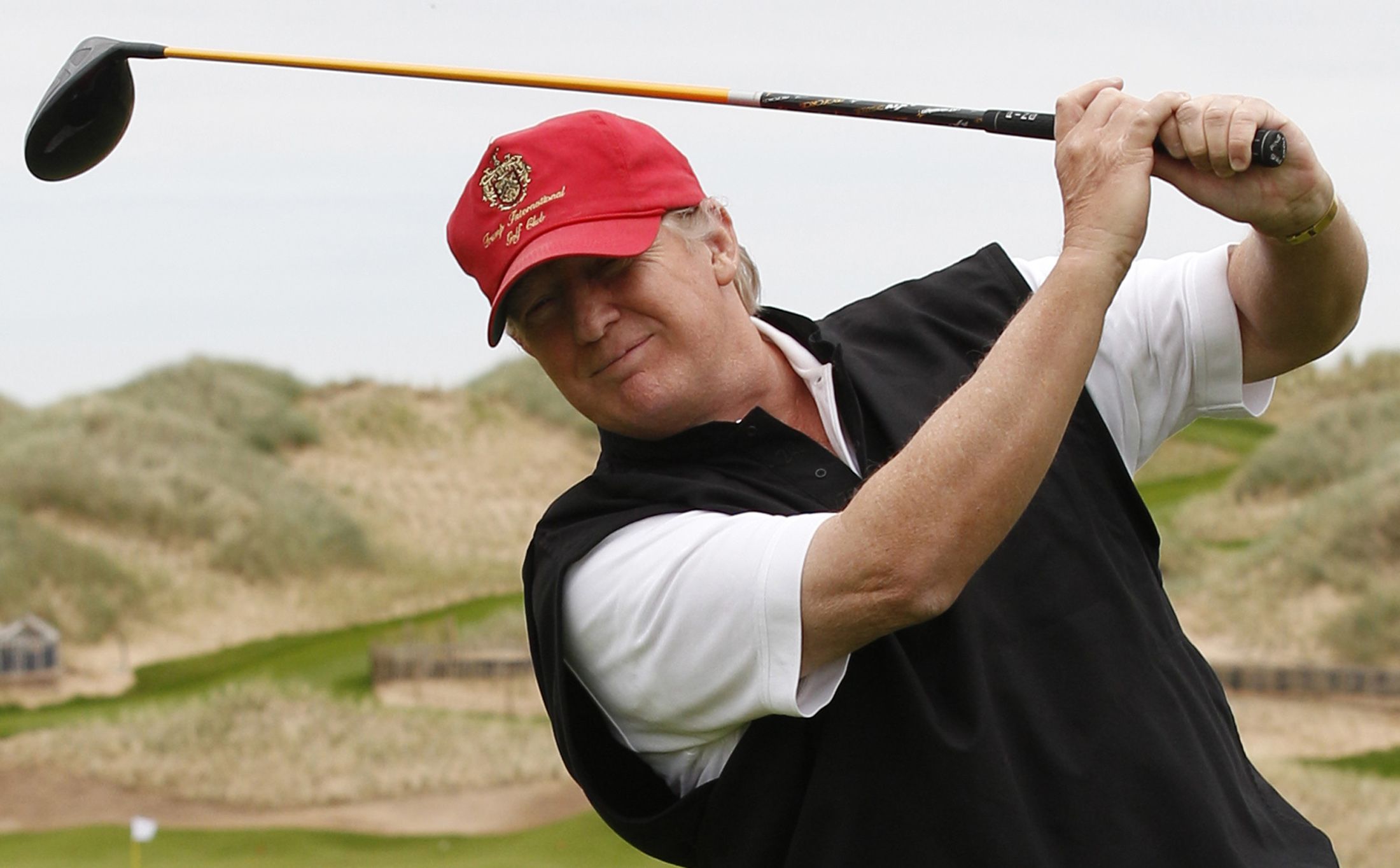 This article first appeared in The Washington Spectator.
Donald Trump often says he was "getting into golf when everyone else was getting out."
"Golf is a large part of the portfolio of the Trump organization," Trump's associate corporate counsel observed in a West Palm Beach courtroom in August. Trump had added to that portfolio in 2011, buying his 18th course, in south Florida.
By 2012, a group of the club's members sued him. They wanted out, but the Trump family was not going to make their departure easy.
Because Trump brands what he buys, as soon as the ink was dry on the contract the "Ritz-Carlton Golf Club and Spa, Jupiter" became "Trump National Golf Club, Jupiter." (The "newly renovated childcare facility" was renamed "Trumpeteers.")
For $5 million cash, an 18-hole course, driving range, clubhouse, tennis courts and swimming pool seemed like a steal. But Ritz-Carlton had mismanaged the property, according to Eric Trump: "Amazing people. Really truly high-quality people, but they were never consistent in what they did." And $25 million was needed to bring the club up to Trump standards.
A more costly problem was a $41 million cash liability owed to members who had paid refundable initiation fees ranging from $40,000 to $210,000, to be repaid after they resigned their memberships. The author of The Art of the Deal had paid $5 million for a property that was $41 million underwater.
To make the club profitable, the Trumps had to shed the membership liability, and when Donald and Eric Trump appeared to stiff club members waiting to get their deposits back, they all ended up in federal court.
Lawsuits can be revealing: they put defendants under oath, on the stand, and under pressure. Norman Hirsh, et al. v. Jupiter Golf Course isn't the most potentially damaging lawsuit ever filed against a Trump enterprise.
And while District Judge Kenneth A. Marra has yet to rule, what lawyers call "the fact situation" already provides a revealing portrait of Trump père et fils, and the Trump corporate family. (Think Chaim Soutiene, or Francis Bacon. Or Lucien Freud's scandalous portrait of Queen Elizabeth. Not a flattering representation.)
Donald Trump is a showman, so the story and the lawsuit begin with a show.
Within weeks of taking title to the golf club, Donald and Eric Trump invited members to a "town hall meeting" at Trump National's banquet hall. According to Donald Trump, he described his plan to turn Jupiter into an "ultra luxurious…ultra-prestigious club…one of the finest clubs in the world!"
"They all loved us," he said in a deposition.
The meeting was the first step in a scheme to shed as much of the $41 million membership debt as possible. At the meeting, Trump offered club members three options.
They could "opt-in" and give up their claim to their refundable initiation fees (as much as $210,000) in exchange for a 10 percent reduction in dues for three years and access to Trump's Mar-a-Lago and Doral courses.
They could "opt out," retain their right to refunds, and have dues increased by 20 percent.
Or, if they chose to remain on the resignation list waiting for refunds, as Trump wrote in a letter recapping the town hall gathering, "You're out." "As the owner of the club, I do not want them to utilize the club nor do I want their dues."
There is an old lawyer's adage: "If the law is on your side, pound them with the law. If the facts are on your side, pound the facts. When neither is on your side, pound the table."
The Trumps pound the table. And their chests.
In court, Trump's Associate Corporate Counsel David Cohen hectored, lectured and demeaned the plaintiffs' attorney Bradley Edwards. Eric Trump argued at great length, dismissed plaintiffs as "no longer willing to fork over $16,000 or $17,000 [in annual dues] to become a member of a golf club."
He summarized his vita in two sentences: "I'm not at 30,000 feet, but I'm not at five feet. I run 18 of these."
Donald Trump didn't take the stand, but in a video deposition he dismissed the lawsuit: "I didn't even know this was going on," he said.
When the plaintiffs' attorney asked if he was the CEO of the "Trump parent company," a "yes" wasn't adequate.
"Otherwise we have a big story," he responded. "Front page news."
In his deposition, Trump insisted that no club member on the resignation list would be expected to pay dues: "We're not saying pay your dues and by the way, you're out.… They're not paying dues."
Except that they were. Annual dues at Trump's new club are $20,000 for a golf membership. Plus an $1,800-per-year food and beverage minimum.
At the town hall meeting, and in the letter over Trump's signature that followed it, Donald Trump had made it clear that resigning members would pay no dues.
Sometime between the December town hall meeting and mid-January, Eric Trump decided that members on the resignation list would be required to pay full dues and the $1,800 food-and-beverage minimum—while they were shut out of the club.
That's what landed the Trumps in federal court.
The response of plaintiff Richard William Slawson to questioning by Trump's attorney illustrated the absurd situation in which exiting members found themselves. Slawson had testified that he'd been on the resignation list since before the Trumps bought the golf course, and the previous owners allowed him to pay dues and continue to use the club until he got off the list.
For some reason, Trump attorney Herman J. Russomanno wanted to make the point that the Trumps had made the club better.
Q. Okay. And now that Mr. Trump has taken over the club, would you agree with me that there's been tremendous improvements to the club since Mr. Trump took over.

A. I couldn't tell you one way or the other since I wasn't allowed to come to the club. You might be right, but not from my personal knowledge, I wasn't allowed in.
Trump's Jupiter, Florida, golf club, it turns out, is like the Eagles' "Hotel California": "You can check out any time you like, but you can never leave."
Almost never leave. Members remain on the resignation list until the club enlists five new members for each departing member. With hundreds wanting out, it can take up to 10 years to recoup initiation deposits.
In cross-examination, Bradley Edwards pressed Eric Trump about compelling a member even at the lowest category of membership (social/non-golf) to pay $8,000 in annual dues for 10 years to redeem a $40,000 deposit, while being denied use of the club facilities. (That member would also pay an $1,800 food-and-beverage minimum while barred from the clubhouse.)
"Everybody jumped ship at one time," Trump said. The club would not be profitable if exiting members were not paying their dues.
And the Trump organization wasn't compelling them to pay. When they joined, members "signed on the dotted line" that indicated that "until you come off the refund list, you are going to continue to pay your dues."
"That's the bill of goods that these people bought into," he said.
But there was also this: In his deposition, taken more than a year before the trial, Eric Trump said while under oath that no one on the resignation list was denied access to the club unless they "weren't current in their dues."
Q. Were club members who remained on the resignation list after December 17, 2012, allowed access to the club?"

A. Yes, I believe they were.… But I run a lot of clubs, and I can tell you, if somebody is current on their dues, you do not deny them access. It's just a fundamental principle of life."
Asked in court about the contradiction between the practice of collecting dues from members leaving the club and his "fundamental principle of life" statement, Trump offered a novel defense. "If you look above that, I said 'I believe,' you know that's a very important word, 'I believe.'"
That is, what Eric Trump said in his deposition might not be true because it was qualified by the words "I believe." Then he further parsed his own statement. "I used the words 'I believe.' But yes, I am the first person to have enough hubris to say when you're wrong, and I was wrong, and that's why I put the 'I believe' in there."
Eric Trump also explained Donald Trump's letter telling individuals leaving the club that they would pay no dues. "This is a letter from a passionate person, you know. This is not a legal document. This is how he expresses himself."
And Donald Trump is a passionate guy. In his testimony, Eric describes the purchase of the club.
"At 11:59, as I mentioned before, you're not running an asset. At 12:01 the next morning, you know, you're fully responsible for that asset." Was it somewhere after 12:01 that Eric Trump evidently realized the numbers didn't work?
The letter Donald Trump wrote to club members came from "a place of passion" inflamed by the acquisition of another property. But the prudence required to make an enterprise profitable prevailed. There was a deficit. Someone had to cover it.
The law, at least contractual law, might provide an advantage for the Trumps. "These people," as Eric Trump said, had years earlier "signed on the dotted line" and bought a "bill of goods."
The facts revealed in discovery seem to work against them.
Judge Marra ordered both sides to submit final briefs by September 15. His ruling might not be handed down until after the club is renamed "President Trump National, Jupiter."
Lou Dubose is the editor of the The Washington Spectator.