Trump Rally in Las Vegas, Nevada, Live Stream: How to Watch President's 2020 Campaign Stop
Before heading back to Washington, D.C., President Donald Trump will hold the third and final rally of his West Coast tour in Las Vegas on Friday.
Unlike most of Trump's rallies, his campaign event in Las Vegas will be a daytime affair and begin at 12 p.m. PT, the equivalent of 3 p.m. ET. Those supporters of the president who can't make it to the rally in person can tune in to his remarks on their televisions and computers through C-SPAN. Viewers will be required to login with their television provider to access content, though.
Those who don't have cable or valid login credentials can still watch Trump's rally by going to his YouTube page.
Trump has held a rally each of the past three days and the Las Vegas Review-Journal reported Trump's supporters formed a line that stretched nearly a quarter-mile around the Las Vegas Convention Center on Friday. One woman, Megan Heaps, told the outlet that she attended Trump's rally in Phoenix on Wednesday before making the 300-mile drive to Las Vegas.
"Nevada voters should know that it doesn't matter which Democrat becomes their party's nominee, because the big government socialist agenda will be front and center no matter who it is," Trump 2020 national press secretary Kayleigh McEnany said in a statement to the Las Vegas Review-Journal.
During the 2016 election, Trump won all but two counties, according to the New York Times, but lost the state, which leans Democratic, to Democratic candidate Hillary Clinton 47.9 percent to 45.5 percent.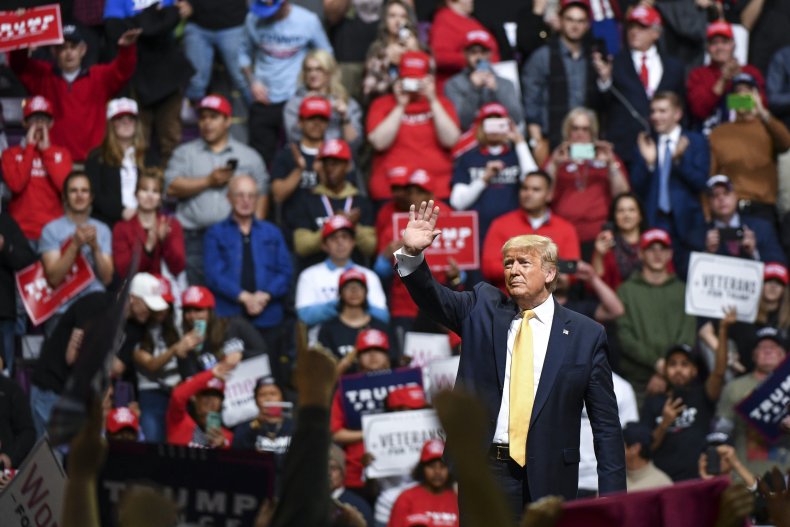 As has been the case with previous Trump rallies, attendees were required to register for tickets on Trump's campaign website ahead of the event. Registering for tickets doesn't guarantee admission, though, as it is granted on a first-come, first-serve basis.
Given the number of people that attend the rallies and the security issues that come with the president's presence, Metro Undersheriff Kevin McMahill told KLAS that it would be helpful if people could avoid the convention center area. McMahill expected thousands of people to attend the rally that's expected to conclude at 4:30 p.m. ET.
While Trump rallies his supporters in Las Vegas, Vice President Mike Pence is scheduled to appear at a rally in Reno, about 440 miles northwest. The event was slated to start at 1:15 p.m. PT and those who wanted to see Pence speak could register for tickets on Trump's campaign website.