Trump Lashes Out at Bookies for Predicting 97% Chance He'd Win Election
President Donald Trump continued to claim that the fix was in on the presidential election on Wednesday by calling out gambling oddsmakers that believed Trump would obtain a second term.
Trump has refused to concede the election to President-elect Joe Biden and baselessly alleged widespread voter fraud on behalf of U.S. Democrats. Attorneys for Trump have filed multiple lawsuits in swing states attempting to overturn election results, many of which have failed. Trump has stated that he believed he was winning the race on election night, only to find out the next day that he had fallen behind. On Tuesday, Trump pointed to early betting odds as backing for his unsubstantiated claims of voter fraud.
"At 10:00 P.M. on Election Evening, we were at 97% win with the so-called 'bookies'," Trump tweeted.
Trump did not specify in his tweet which bookmakers he was referencing. However, betting sites did note a shift in the odds away from Trump towards Biden as ballot counting continued.
According to odds from the European betting site Betfair on election day, Trump was barely ahead of Biden. Trump was favored to win by 51 percent to Biden's 49 percent. Odds that Biden would win the election increased after media outlets projected victory for Biden in some states.
Action Network, which tracks betting analytics, gave Trump a 74.2 percent chance of winning the election at 10:00 p.m. EST on election night. By 6:15 a.m. EST the following morning, Trump's odds of winning had decreased 38.5 percent while Biden's chances increased to 61.5 percent.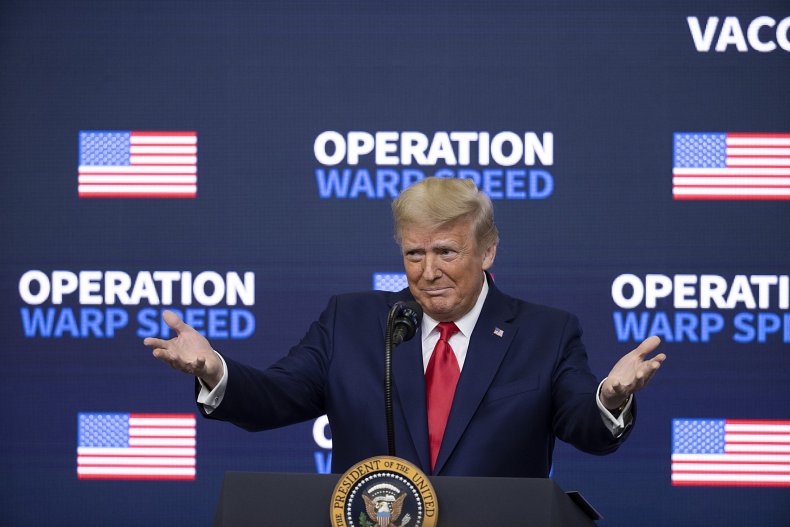 Biden's growing chances as election night wore on may be attributed to the overnight counting of mail-in ballots. Trump had encouraged his supporters to vote for him in person at public polling places on election day. Biden had urged Democrats to use mail-in ballots as a way to avoid coming into contact with individuals who could potentially spread COVID-19. In most states, in-person ballots were counted before mail-in and absentee ballots.
Trump cried foul about the voting process during a November speech in which he alleged that votes against him had been counted without being observed poll watchers. "We were winning in all the key locations by a lot, actually," Trump said. "And then our number started miraculously getting whittled away in secret, and they wouldn't allow legally permissible observers."
As of December 9, all 50 states and the District of Columbia have officially certified their election results, paving the way for the Electoral College to cast their ballots on December 14. Biden is projected to win 306 electoral votes to Trump's projected tally of 232. For a presidential candidate to move forward in the confirmation process, they must receive 270 or more electoral votes.
On Tuesday, Texas Attorney General Ken Paxton filed a lawsuit directly with the U.S. Supreme Court against the states of Pennsylvania, Georgia, Michigan and Wisconsin which seeks to prevent those states electors from casting their ballots. Biden carried all 4 of those states. At least 14 other states have filed amicus briefs in support of the litigation.
Newsweek reached out to the Biden transition team for comment.