Trump Lashes Out at Liz Cheney After She Says Jan 6 Should 'Disqualify' Some GOPers
Former President Donald Trump lashed out at Rep. Liz Cheney (R-Wyo.) on Tuesday after months of disputes between Cheney and Trump loyalists over her criticism of the ex-president.
Cheney was one of 10 House Republicans who voted in favor of Trump's historic second impeachment on January 13. Her continued criticism of Trump, for allegedly inciting the Capitol insurrection on January 6 and his behavior since then, has rankled pro-Trump Republicans and motivated some to campaign against her.
Tensions were further inflamed when Cheney told The New York Post on Monday that she was not ruling out a presidential run of her own, something Trump insisted would "embarrass her family."
"Liz Cheney is polling sooo low in Wyoming, and has sooo little support, even from the Wyoming Republican Party, that she is looking for a way out of her Congressional race," Trump said in a statement.
"She'll either be yet another lobbyist or maybe embarrass her family by running for President, in order to save face. This warmongering fool wants to stay in the Middle East and Afghanistan for another 19 years, but doesn't consider the big picture—Russia and China!"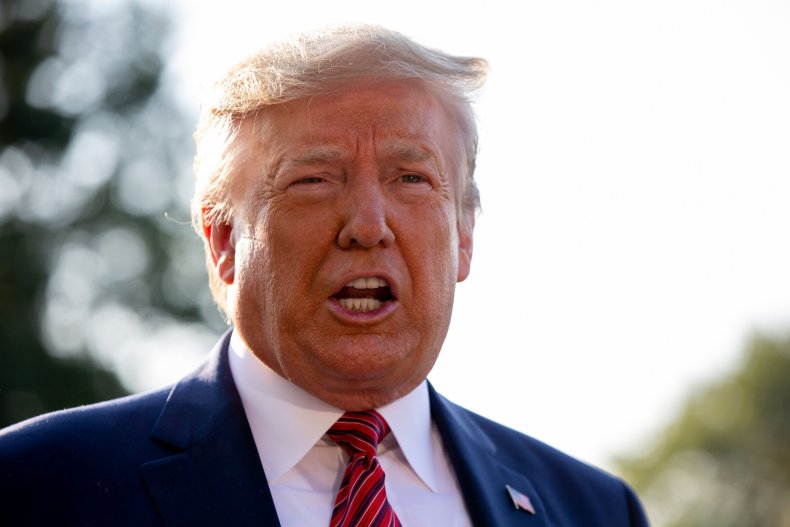 Trump's statement came as House GOP leadership sparred over his role in the party during an annual policy retreat in Orlando, Florida, according to The Wall Street Journal. Cheney was said to be leading the charge among those lobbying for the party to distance itself from Trump, while House Minority Leader Kevin McCarthy (R-Calif.) favored the former president continuing in a central role. Trump was not invited to the gathering.
An NBC News poll released Tuesday showed that Trump's influence over Republicans could be waning almost 100 days after he left the White House.
The poll found that 50 percent of Republicans voters supported the Republican Party over Trump, the highest number seen since the question was first asked. Another 44 percent said they supported Trump over the party.
The former president's son Donald Trump Jr. predicted in a Tweet on Monday that Cheney would run for president in 2024 as a Democratic candidate backed by The Lincoln Project, a group of former Republicans that launched a prolific ad campaign aimed at taking down Trump in 2020.
Cheney, the third-most powerful Republican in the House, was censured by the Wyoming Republican Party over the vote and has remained a target for refusing to soften her stance on the former president since he left office.
Earlier this month, a video clip showing Cheney bluntly saying that she "would not" support Trump if he becomes the 2024 presidential nominee went viral. In the Post article, she also suggested that those who supported efforts to block the certification of President Joe Biden's 2020 win should be disqualified as Republican candidates in the next election.
Cheney said that senators who "led the charge" and promoted false claims of widespread voter fraud by objecting to the valid election results had taken actions that were "disqualifying" to their potential candidacy.
Sen. Ted Cruz (R-Texas) and Sen. Josh Hawley (R-Mo.) were the only senators to raise objections, doing so both before and after a violent mob of Trump supporters breach the Capitol.
Newsweek reached out to Cheney's office for comment.