Trump Launches Attack Ad on Kamala Harris Mere Minutes After VP Announcement
Minutes after Democratic Senator Kamala Harris was named as Democratic Presidential nominee Joe Biden's running mate, Republican President Donald Trump released a 30-second video slamming her and highlighting tensions between Harris and Biden in the primary.
The ad tries to paint both candidates as embracing the so-called "radical left" and gives both candidates nicknames that Trump is likely to use, considering his habit of giving memorable but insulting nicknames to political rivals.
"Kamala Harris ran for president by rushing to the radical left, embracing Bernie's plan for socialized medicine, calling for trillions in new taxes, attacking Joe Biden for racist policies," the ad begins. "Voters rejected Harris, they smartly spotted a phony. But not Joe Biden—he's not that smart."
"Biden calls himself a transition candidate," the ad continues. "He is handing over the reins to Kamala while they jointly embrace the radical left."
It concludes, "Slow Joe and Phony Kamala. Perfect together. Wrong for America."
The ad's claim of Harris attacking Biden over "racist" policies likely comes from a moment at the June 27, 2019 debate in which she criticized Biden for touting his work with Democratic Mississippi Senator James Eastland and Democratic Georgia Senator Herman Talmadge—both opposed civil rights legislation and integration efforts including bussing which helped integrate predominantly white schools.
"You also worked with [those segregationist senators] to oppose busing," Harris said during the debate. "And there was a little girl in California who was part of the second class to integrate her public schools and she was bused to school every day. And that little girl was me."
Biden later apologized for praising the senators and eventually got Harris to admit her view on bussing is similar to his. She doesn't support federally-mandated mandatory bussing for all schools but would support it if local governments hinder integration efforts.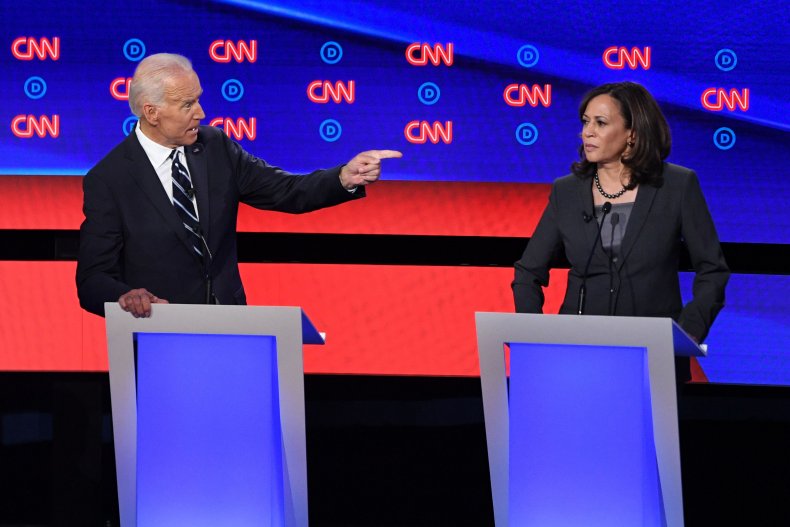 It's also inaccurate to say that Harris embraces the exact same Medicare-for-all plan as Democratic Vermont Senator Bernie Sanders.
Though they both proposed creating a government-run system where private insurers could still offer plans, Harris' plan actually differs from Sanders' plan in three key ways: Harris wanted to phase in the system over 10 years instead of Sanders' four, hers would allow insurers to offer more plans than Sanders envisioned and her plan wouldn't impose an additional tax on middle-class families, funding the plan with taxes on money made on Wall Street.
As far as calling for trillions in new taxes, that seems to be correct.
While Harris has called for a repeal of Trump's 2017 Tax Cuts and Jobs Act (TCJA) which cut taxes for nine out of 10 people while reducing the tax rate for the richest U.S. citizens, Harris outlined her vision for taxes in her 2018 LIFT the Middle Class Act.
The LIFT Act would generate $2.7 trillion in taxes over ten years, nearly doubling the taxes created by the TCJA, according to Forbes. The plan borrows heavily from Sanders' plan to tax higher-income earners, but her plan leaves some details unanswered as far as who will be taxed.
Regardless, Biden will be running on his own tax plan which will likely be beset by record deficits and a recession if he beats Trump in November.
Newsweek contacted Harris' campaign for comment.