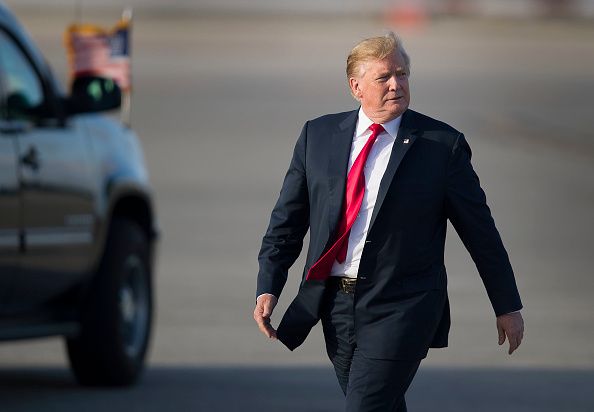 President Donald Trump sued Democratic congressman Elijah Cummings on Monday in an attempt to block a congressional subpoena for nearly a decade's worth of his financial records, but it is unclear if the lawsuit is going to stick, legal experts tell Newsweek.
"Chairman Cummings set forth a series of legitimate congressional avenues of investigation that justify the subpoena he issued for the president's financial records. The records should be turned over to the Oversight Committee. Whether they will is another story," said Michael J. Stern, a former federal prosecutor.
Trump's lawsuit alleges that the Democratic Party has "declared all-out political war" since taking over control of the House of Representatives in January and is using subpoenas as "their weapon of choice."
Cummings, the target of the lawsuit, is the chairman of the House Oversight and Reform Committee. Last week, he issued a subpoena to Mazars USA, the president's accounting company, for eight years of financial records, including Trump's highly sought after tax returns. The company said it would "respect the legal process and fully comply with its legal obligations."
In issuing the subpoena, Cummings said that the testimony of Trump's former personal attorney Michael Cohen and other corroborating evidence raised "grave questions about whether the president has been accurate in his financial reporting."
But Trump and his attorneys contend that the request overstepped the constitutional limits placed on Congress' investigative authority. They claim that lawmakers have oversight power only as it relates to producing legislation—an argument that experts say just isn't valid.
"It's simply not true that all oversight activity has to have some nexus to legislation," said Elliot Williams, a former deputy assistant attorney general for legislative affairs at the Department of Justice. He added that Trump's lawsuit is nothing more than a stunt to undermine congressional oversight power.
"Congress has a critical oversight function to play in order for the federal government to function properly. Subjecting every oversight action congress takes to litigation is going to force courts to second-guess congressional intent and that goes far beyond what the judiciary's role should be," Williams said.
One constitutional defense of the subpoena is the suspicion that Trump may have violated the Constitution's emoluments clause, which forbids the president from accepting benefits from a foreign power, like money, without the approval of Congress.
"The fact that he's president means that he is not supposed to be violating the emoluments clause. It means that the U.S. House can investigate his finances that may have a bearing on whether or not there's an issue of impeachment," said Nick Akerman, a former assistant special prosecutor in the Watergate scandal.
In terms of possible legislative reasons to subpoena Trump's financial records, Akerman said, Congress has a right to determine whether there should be more restrictions on potential conflicts of interest within the executive branch.
"The bottom line is that we live in a system of checks and balances, and Congress has an important role to play here both from the constitutional standpoint and a legislative standpoint," Akerman said.
Even so, experts note that Trump's judicial appointments—especially two conservative Supreme Court justices—may help him shut down the House Oversight Committee's subpoena.
"This battle is going to be decided in the courts," Stern said. "If Attorney General Bill Barr's partisan handling of the Mueller investigation taught us anything, it is that Trump appointees are prone to fits of gratitude that cut in the president's favor."