Trump Lawyer Alan Dershowitz Compares Lincoln Demanding Civil War Troops be Released to Vote For Him to Ukraine Quid Pro Quo
Alan Dershowitz, a lawyer who is a member of President Donald Trump's impeachment defense team, told The View watchers Wednesday that Trump's "quid pro quo" deal with Ukraine was comparable to a strategy employed by Abraham Lincoln to win votes during the American Civil War.
Dershowitz, a former professor at Harvard Law School who was also part of the team that represented O.J. Simpson in his famous murder trial, made the comparison after one of the hosts, Sunny Hostin, challenged him on his argument that Trump did not commit a crime by threatening to withhold aid from Ukraine. Dershowitz countered that the president has "complete authority" as chief executive to conduct foreign policy—including withholding funds from foreign countries as he sees fit.
"You know, you have to go back in history," Dershowitz said. "Impeachment doesn't change since the time of the Constitution. Abraham Lincoln demanded that soldiers be released from battle in the Civil War to vote in Indiana for his party. That is so common—presidents making foreign policy decisions that benefit them politically."
He referred to Lincoln's bid for a second term in the Election of 1864, which took place during the Civil War. To maintain the presidency and win the war, Lincoln would have to win re-election.
Lincoln asked General William Sherman to allow soldiers from Indiana to return home so that they could contribute to their state's votes for the Republican Party in the election.
Lincoln did this to benefit his own political gain, even though fewer soldiers at the frontlines would mean that the other soldiers could be in more danger. This, Dershowitz argued, was analogous to the deal Trump tried to make with Ukraine.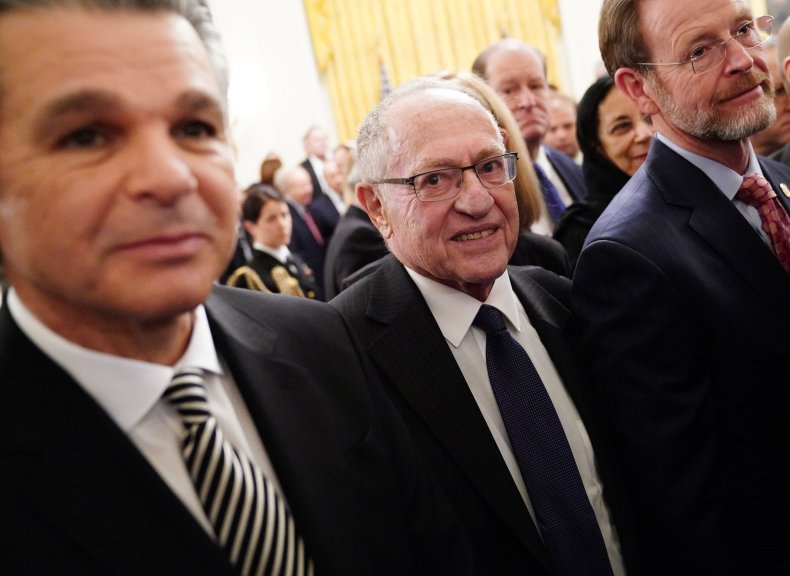 Dershowitz, citing constitutional law scholar Josh Blackman, referred to this instance during the impeachment trial.
"Professor Blackman drew the following relevant conclusion from this and other historical events," Dershowitz said, according to a transcript of his defense. "He said, 'Politicians routinely promote their understanding of the general welfare while in the back of their minds considering how these actions will affect their popularity. Often the two concepts overlap. What's good for the country is good for the official's reelection. All politicians,' he said, 'understand that dynamic.'"
Trump was impeached in December for abuse of power and obstruction of Congress after threatening to withhold aid from Ukraine unless that country's government promised to announce an investigation into Trump's political rival, former Vice President Joe Biden—and also for not fully cooperating with the impeachment process.