On Monday afternoon, Joe diGenova, a lawyer for the re-election campaign of President Donald Trump said that Chris Krebs, the now-former director of Cybersecurity and Infrastructure Security Agency (CISA) who was in charge of maintaining election security, "should be drawn and quartered, taken out at dawn and shot."
diGenova made his comments while being interviewed by Howie Carr, a conservative host whose show simulcasts on the conservative channel Newsmax. Carr asked diGenova about the Trump campaign's allegations of widespread voter fraud that, it claims, swung the 2020 election in favor of President-elect Joe Biden.
"Mail in balloting is inherently corrupt and this election proved it," diGenova told Carr. "This was not a coincidence, this was all planned. Anybody who thinks that this election went well like that idiot Krebs, who used to be the—"
Carr interjected, "Oh yeah, the guy that was on 60 Minutes last night," referring to Krebs' Sunday night interview with the CBS News program.
"That guy is a class A moron," diGenova said. "He should be drawn and quartered, taken out at dawn and shot." In response, Carr hesitated and then laughed before changing the subject to the legal team's next focus.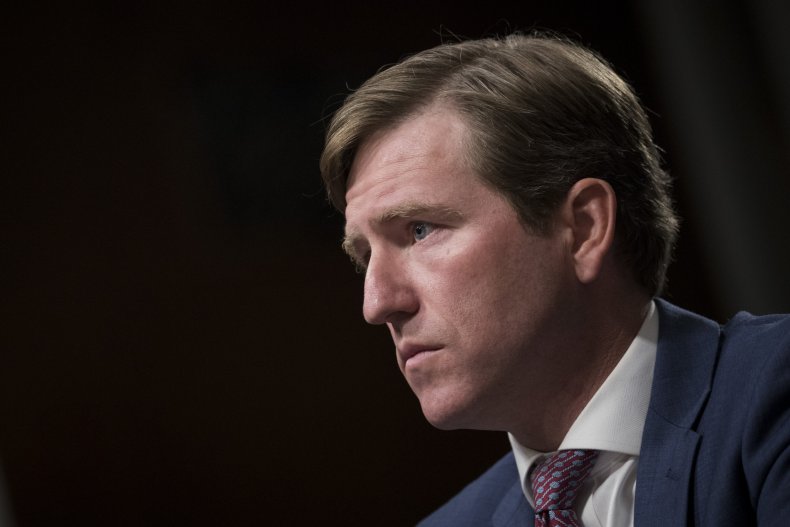 "Drawn and quartered" refers to a medieval punishment in which a person's body was dragged behind a horse and "drawn" to the place of execution. There, the person's genitals were cut off and their intestines pulled out of their body cavity while still alive. Afterward, the executioner would cut off the person's head and then "quarter" the body into four pieces, each containing one of the major limbs.
This particular style of public execution was typically reserved as a punishment for high treason and attacks on the monarchy. It was carried out in public, with the victim's body parts publicly displayed afterward, as a warning for other people who would dare challenge a king or queen's power.
The second reference to being shot at dawn refers to executions by firing squad, a method of capital punishment that was particularly common in the military and in times of war but which the Trump Administration is seeking to bring back on the federal level, according to CNN. Some military traditions required firing squads to carry out such executions at dawn. Often the shooters were instructed to aim at a person's heart or brain, ensuring a quick, efficient death.
diGenova likely called for Krebs' execution because Trump's legal team strongly disagrees with his repeated claims that the 2020 election was free of widespread fraud. Trump's legal team has repeatedly claimed otherwise in numerous swing states in an attempt to invalidate the outcome and put the election's results in Trump's favor.
Newsweek contacted diGenova's law firm for comment.
Trump fired Krebs, a lifelong Republican, via Twitter on November 17 after publicly disagreeing with Krebs' November 12 statement, issued via CISA, which called the election "the most secure in American history." The CISA statement proclaimed, "There is no evidence that any voting system deleted or lost votes, changed votes, or was in any way compromised."
In Trump's tweet firing Krebs, Trump called Krebs' statement "highly inaccurate."
"There were massive improprieties and fraud—including dead people voting, Poll Watchers not allowed into polling locations, 'glitches' in the voting machines which changed... votes from Trump to Biden, late voting, and many more," Trump wrote in his tweet.
In the rest of his interview with Carr, diGenova claimed that "circuit breakers" had shut down election night polling places in multiple states and that millions of fraudulent votes had shown up in unmarked vehicles to be counted in secret. He didn't offer any evidence to back up these claims.
He also said state legislatures should have the "cojones" to overturn their election results, something that would disenfranchise millions of voters regardless of political party and put the holders of numerous state offices into question as each prepares to transition into the next legislative year.
As of November 30, 39 out of 40 Trump campaign lawsuits to overturn the vote in key swing states have failed, been dismissed or withdrawn, largely due to lack of evidence.