Former Trump lawyer Jenna Ellis has claimed that there is enough evidence to "decertify" the 2020 presidential election in at least five states.
Ellis, one of several lawyers involved in failed legal efforts to reverse former President Donald Trump's loss to President Joe Biden last November, made the remarks during an interview on former Trump official Sebastian Gorka's Newsmax show The Gorka Reality Check on Monday. Ellis did not specify what evidence exists that could lead to a supposed decertification process, No credible evidence of massive election fraud has been publicly presented in any state.
"We know already that the election results in at least five of the swing states were irredeemably compromised," Ellis said. "We already have sufficient evidence for these states to decertify their electoral results. So, what this means is that the state legislatures would pass a resolution through both chambers that essentially say that the secretary of state's certification that was sent to Congress was based on false or faulty information."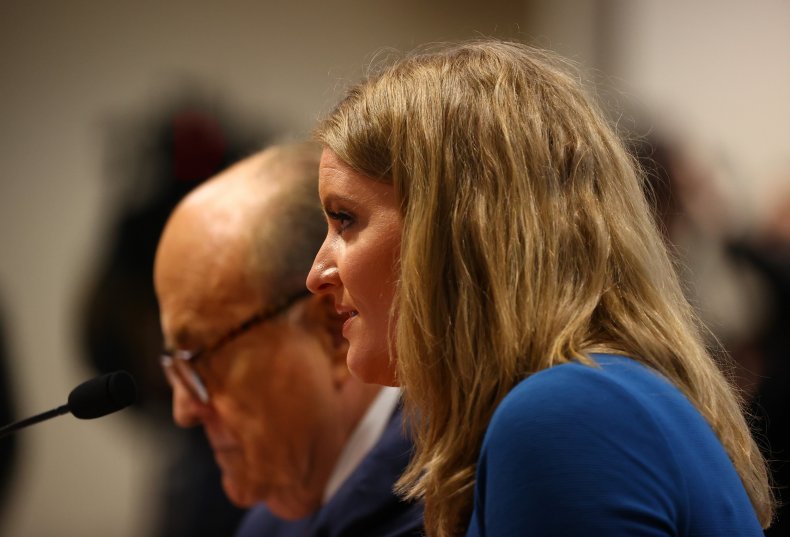 "And that then would trigger kind of a chain reaction," she added. "Because if at least three states do that and Joe Biden's Electoral count drops below the requisite 270 count, then Congress is going to have to deal with that. Decertification is incredibly important for the record and to make sure that we are dealing with every legal vote counting and counting accurately."
Ellis did not indicate how Congress would then "deal with" the scenario. There would be no basis to certify a new set of 2020 election results under the constitution, which clearly lays out the already completed process for electing a president. She suggested that a new election could be ordered before 2024 and cited a seemingly irrelevant section of the constitution concerning the removal of a president in circumstances such as death, disability or resignation.
The 2020 presidential election was legally over when the Electoral College voted for Biden on December 14, 2020. The results were certified and finalized by Congress on January 6 and 7, after a brief interruption by Trump supporters who violently breached the Capitol. Barring the fast ratification of constitutional amendments or an illegal process such as a military coup, Trump has no chance of regaining the presidency until at least January 20, 2025—when the winner of the 2024 election takes office.
Even if there were a legal process for reversing the results of an election after they have been certified and a new president has taken office, there is no evidence to credibly call into question the 2020 results. Biden defeated Trump by 74 votes in the Electoral College and over 7 million popular votes. Audits and reviews in a host of states have repeatedly failed to uncover any evidence of massive fraud.
Newsweek reached out to the White House and the office of Trump for comment.