Ex-Trump Lawyer Michael Cohen Appears to Endorse Andrew Gillum, Who the President Labels a 'Thief'
He was once one of President Donald Trump's fiercest protectors and closest confidants, and once even siad he would "take a bullet" for Trump. But now Michael Cohen seems to have offered his support to the Florida Democrat Trump called a "thief."
On Friday morning, Trump's former lawyer seemed to subtly endorse the Florida Democratic gubernatorial candidate, retweeting Andrew Gillum and urging people to "GetOutAndVote."
The race between Gillum and his GOP opponent, former Representative Ron DeSantis, has grown increasingly divisive and personal as Tuesday's election looms near.
Receiving longtime support from Trump, DeSantis and the president this week have labeled Gillum a "thief," provoking a crowd at a Trump rally in Fort Myers to begin chanting "lock him up."
Although he has not been charged with any crime, Gillum faces an ongoing state ethics investigation. He has pushed back against the "thief" label and accused DeSantis of dog-whistling racist messages, saying even the "racists believe he's a racist." In network interviews over his response to the recent Trump-DeSantis insults, Gillum said his grandmother told him to "never wrestle with a pig."
Gillum has maintained a slight lead over DeSantis heading into next week's election.
The move by Cohen to subtly back the Florida Democrat who strongly opposes Trump may not be all that surprising considering his recent actions, which include making a "declaration of independence" from the president, striking a plea deal with prosecutors and changing his voter registration from Republican to Democrat.
"The #MidtermElections2018 might be the most important vote in our lifetime," Cohen tweeted in October. "#GetOutAndVote #VoteNovember6th."
What may now seem like a lifetime ago to the man who was once considered the president's "fixer," Cohen said in September 2017 that he would be the one to take a bullet for Trump.
"I'm the guy who stops the leaks. I'm the guy who protects the president and the family," Cohen told Vanity Fair at the time. "I'm the guy who would take a bullet for the president."
That mindset would soon change as Cohen became entangled in special counsel Robert Mueller's investigation of the Trump campaign and alleged Russian interference in the 2016 presidential election. His declaration of independence from the president came in July after it appeared that Trump had all but abandoned Cohen.
"My wife, my daughter and my son have my first loyalty and always will," Cohen told ABC News at the time. "I put family and country first."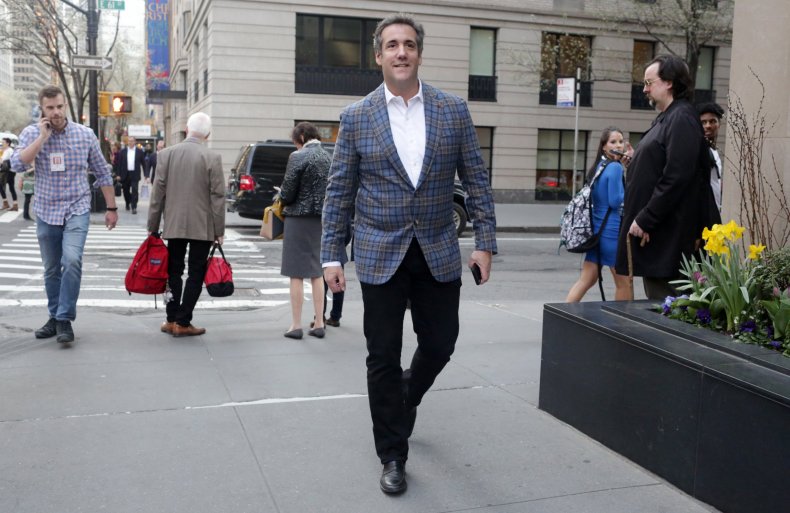 Through his attorney, Cohen also told The Hill that month that he would "not be a punching bag as part of somebody else's defense strategy."
Cohen's plea deal with federal prosecutors came in August. He pleaded guilty to eight charges, including unlawful campaign contributions and tax and bank fraud. As part of his plea deal, Cohen appeared to implicate Trump in campaign finance violations, stating that the then-candidate directed him to make hush-money payments to two women over their alleged affairs with Trump in years previously.
Recently, Cohen offered grim warnings to Americans who choose to sit out this election.
"Listen, here's my recommendation," Cohen told CNN last month. "Grab your family, grab your friends, grab your neighbors, and get to the poll, because if not, you are going to have another two or another six years of this craziness."