Did Trump's Lawyer Plan to Pardon Away the Mueller Probe?
President Donald Trump's former lawyer reportedly discussed the possibility of pardons for two of the president's former associates who have been charged in the special counsel Robert Mueller's probe.
John Dowd discussed potential pardons for Michael Flynn and Paul Manafort with their lawyers, The New York Times reported Wednesday. Flynn, Trump's former national security adviser, pleaded guilty in the special counsel probe to lying to federal agents. The special counsel also charged Manafort, Trump's former campaign chairman, with financial crimes including money laundering. He has pleaded not guilty. Dowd resigned as Trump's lawyer last week.
Related: Trump should pardon Flynn, who took 'the biggest fall,' family says
Dowd spoke about a pardon with Manafort's lawyer, Reginald Brown, before Manafort was indicted last October, according to the Times. The Times report did not specify exactly when Dowd spoke about a pardon with Flynn's lawyer, Robert Kelner. Dowd joined Trump's legal team last summer, and Flynn pleaded guilty in December.
Brown, who no longer represents Manafort, was not immediately available to comment to Newsweek. Kelner and a spokesman for Manafort also were not immediately available.
In comments to the Times, Dowd denied that he talked about pardons with the lawyers, saying, "There were no discussions. Period…. As far as I know, no discussions."
Trump's lawyers Jay Sekulow and Ty Cobb also denied to the Times that they had been involved in any talks about pardons.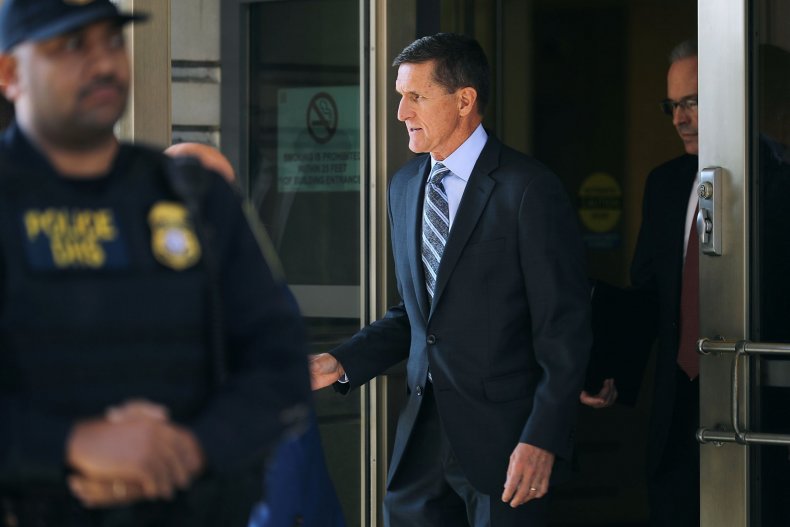 Last year, The Washington Post reported that Trump had asked the White House Counsel's Office about his authority to grant pardons, including whether he could issue one for himself. No United States president has ever done so but governors have.
And in comments to reporters in December, Trump hinted at the possibility that he might pardon Flynn. Responding to a question on that subject, he told reporters, "I don't want to talk about pardons for Michael Flynn yet. We'll see what happens. Let's see."
Less than two weeks later, Flynn's brother, Joseph Flynn, tweeted at Trump, "About time you pardoned General Flynn who has taken the biggest fall for all of you given the illegitimacy of this confessed crime in the wake of all this corruption."
He soon deleted the tweet but told Newsweek, "I stand by my tweet. This is all my personal opinion, and I stand by it."
Hours later, Flynn's brother posted a new tweet saying, "Mr. President, I personally believe that a pardon is due to General Flynn, given the apparent and obvious illegitimacy of the manner in which the so called 'crimes' he plead (sic) guilty to were extracted from him." He added, "I ask for quick action on this. Thank you and keep up the good work!"
Last August, the president pardoned controversial former Arizona Sheriff Joe Arpaio, which analysts speculated was to signal that he was willing to do so in the special counsel probe.