Trump Lawyer Rudy Giuliani Says Riots Were 'Impossible' With Him as Mayor, Blames Democrats for 'Mob Rule'
Rudy Giuliani, one of President Donald Trump's attorneys, criticized Democratic mayors for failing to curb violent protests in the wake of George Floyd's death and claimed the unrest would not have occurred while he was New York City's mayor.
On Monday morning, Giuliani posted on Twitter that seven days of "mob-rule" in cities with "mostly Democratic mayors" made it "obvious that these mayors are incapable of protecting their citizens." The unrest could be "prevented," according to Giuliani, who wrote that "a riot was impossible when I was mayor."
Floyd's May 25 death following a Minneapolis Police Department officer kneeling on his neck prompted nationwide outrage. Amid peaceful protests for justice and an end to police brutality, demonstrations in cities nationwide turned violent with the looting of businesses, burning of vehicles and vandalism of buildings.
Minnesota Governor Tim Walz pleaded for an end to the violence during a Friday press conference, and local officials in dozens of cities, including Minneapolis, Philadelphia, Los Angeles and Reno, Nevada, implemented curfews. In announcing the curfew, San Francisco Mayor London Breed tweeted that people, including herself, are angry and that police will support peaceful protests. But, she added, "we can't tolerate violence and vandalism."
Minneapolis Mayor Jacob Frey ordered police officers to evacuate the Third Precinct as demonstrators breached the perimeter and started a fire last Thursday. Giuliani didn't mention Frey by name but said mayors "enable the rioters" when they abandon "police precincts for burning."
On Saturday, Giuliani criticized New York City Mayor Bill de Blasio for being "more agitated about social distancing" than police officers "being violently attacked, police cars burning and rioting."
In response to Giuliani's criticism, Freddi Goldstein, de Blasio's press secretary, told Newsweek the former mayor "isn't living in reality." Goldstein encouraged people to look at de Blasio's comments from the last few days.
"He's incredibly concerned about violence against our officers, violence by against protestors, and continuing the spread of a global pandemic that has killed tens of thousands," she said. "He can be concerned about and focused on it all. That's leadership."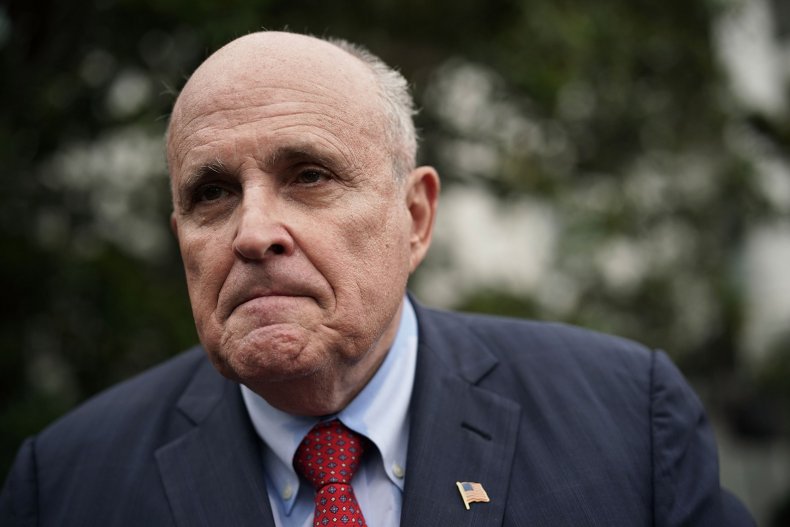 Giuliani wrote on Twitter that he prevented riots when he was mayor of New York City. During his tenure, from 1994 to 2001, widespread protests against police brutality erupted after the 1999 death of Amadou Diallo.
Four police officers shot Diallo, a 22-year-old immigrant from Guinea, after he reached for an object they thought was a gun but turned out to be a wallet. He was hit 19 times in the shooting. The officers involved—Sean Carroll, Edward McMellon, Kenneth Boss and Richard Murphy—were acquitted.
Giuliani said he kept protests against police brutality "lawful." While demonstrations in 1999 and 2000 were different from what broke out after Floyd's death, there were a number of arrests. About 1,200 people were arrested during weeks of protests outside One Police Plaza, the headquarters for the New York City Police Department, the New York Daily News reported in 2019.
Among those who were arrested was Giuliani's predecessor, former Mayor David Dinkins. Lynda Hamilton, who responded on Dinkins' behalf, told Newsweek that he was "deeply pained" by Diallo's killing and served as chair of the Amadou Diallo Foundation. She declined to comment on Giuliani's tweet.
After the verdict was read in February 2000, police in New York City arrested about 95 people on charges of disorderly conduct, and two were charged with inciting to riot, according to The New York Times.
''They effectively took us for a walk,'' a senior police official told the Times. ''They obeyed the law, and when they didn't obey the law, they were arrested.''
Newsweek reached out to Rudy Giuliani for comment but did not hear back before publication.
Giuliani tweeted on Sunday that the "rioting mob" and the "brutal officers" are "equally devastating to a lawful and just America." Both must be prosecuted to the full extent of the law to deter more attacks, the former mayor said.
This article has been updated to include comment from Freddi Goldstein, Mayor Bill de Blasio's press secretary.