Trump Lawyer Rudy Giuliani Plans Trip to Ukraine to Push For Probes Into Democrats: 'We're Not Meddling in An Election'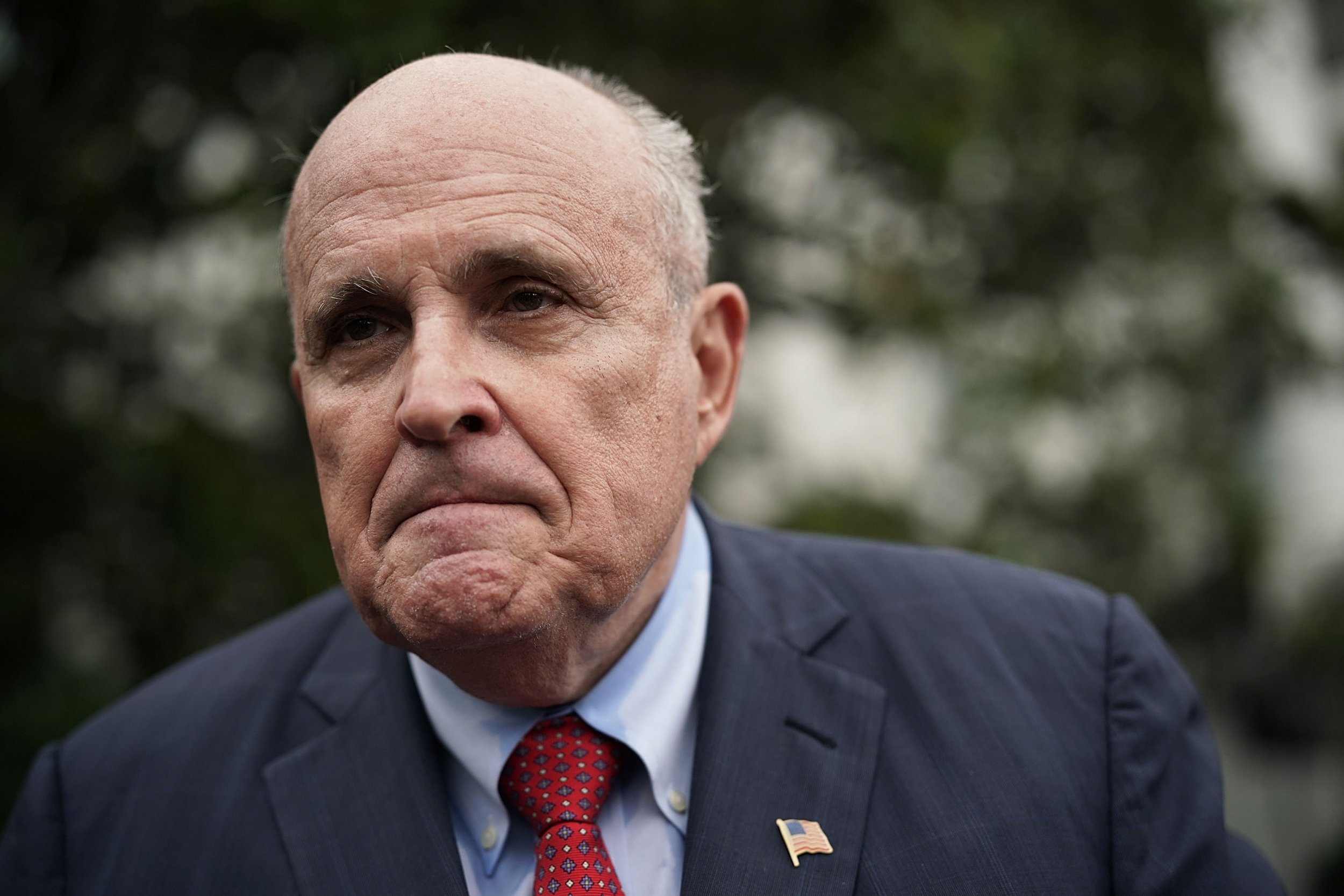 President Donald Trump's lawyer Rudy Giuliani is planning a trip to Ukraine in the coming days to push for probes into Democrats that would benefit the president, according to a report.
Giuliani on Thursday told The New York Times of his intentions to meet with Ukraine's President-elect Volodymyr Zelensky in Kiev in an attempt to convince him to continue pursuing investigations into former Vice President Joe Biden, who announced his 2020 presidential bid last month, and his past dealings with the country, as well as the origins of special counsel Robert Mueller's Russia investigation.
"We're not meddling in an election; we're meddling in an investigation, which we have a right to do," Trump's attorney said, adding, "There's nothing illegal about it."
"Somebody could say it's improper," Giuliani explained. "And this isn't foreign policy—I'm asking them to do an investigation that they're doing already and that other people are telling them to stop. And I'm going to give them reasons why they shouldn't stop it, because that information will be very, very helpful to my client, and may turn out to be helpful to my government."
Giuliani revealed he had been planning for weeks to deliver a paid speech to a Jewish group in Kiev, but said that his meeting with Zelensky was "not confirmed yet."
"I am going to tell him what I know about the people that are surrounding him and how important it is to do a full, complete and fair investigation," said the former New York mayor.
When asked whether Trump knew his intentions to meet with Zelensky, Giuliani told the Times, "He basically knows what I'm doing, sure, as his lawyer."
Giuliani's plans come after Zelensky, a former comedian, beat Ukraine's President Petro Poroshenko in the country's election last month. Zelensky will take office June 3.
Prosecutors under Poroshenko's administration had already commenced such investigations. But following his win last month, Zelensky indicated he may replace Ukraine's prosecutor, General Yuriy Lutsenko.
Giuliani's "motivation is to try to discredit the special counsel's investigation; undermine the case against Paul Manafort, Mr. Trump's imprisoned former campaign chairman; and potentially to damage Mr. Biden, the early front-runner for the 2020 Democratic presidential nomination," the Times wrote, noting that Giuliani's potential meeting would come after Trump has spent more than half of his presidency scrutinized over allegations his 2016 campaign conspired with a foreign power.
The White House did not immediately respond to Newsweek's request for comment.
After The New York Times reported last week of an alleged conflict of interest issue with Ukraine that could leave Biden open to review, Giuliani called for an investigation into the 2020 candidate, who is currently leading in Democratic primary polls by a considerable margin. "Biden conflicts are too apparent to be ignored and should be investigated quickly and expeditiously. But the more important question is, how deep and how high did the alleged Ukraine conspiracy go?" Giuliani tweeted.
While serving as vice president under former President Barack Obama, Biden reportedly threatened to withhold $1 billion in loan guarantees if Ukraine didn't remove the country's lead prosecutor in 2016, According to the Times, the prosecutor, who was later voted out, was looking into an energy company that had Biden's second son, Robert Hunter Biden, on its board.