Trump Lays Into Sessions: 'What Kind of a Man Is This?'
President Donald Trump laid into U.S. Attorney General Jeff Sessions on Thursday over his decision to recuse himself from special counsel Robert Mueller's investigation into Russian interference in the 2016 election.
After being asked whether he would consider firing Sessions during a wide-ranging interview with Fox & Friends co-host Ainsley Earhardt, the president pointed out that Sessions "recused himself, which he shouldn't have done. Or, he should have told me."
"Even my enemies say that Jeff Sessions should have told you that he was going to recuse himself and then you wouldn't have put him in," Trump continued. "He took the job and then he said I'm going to recuse myself. I said, 'what kind of a man is this?'"
The president then said that Sessions was only given a spot on the U.S. leader's 2016 campaign team because of Sessions' "loyalty" to him.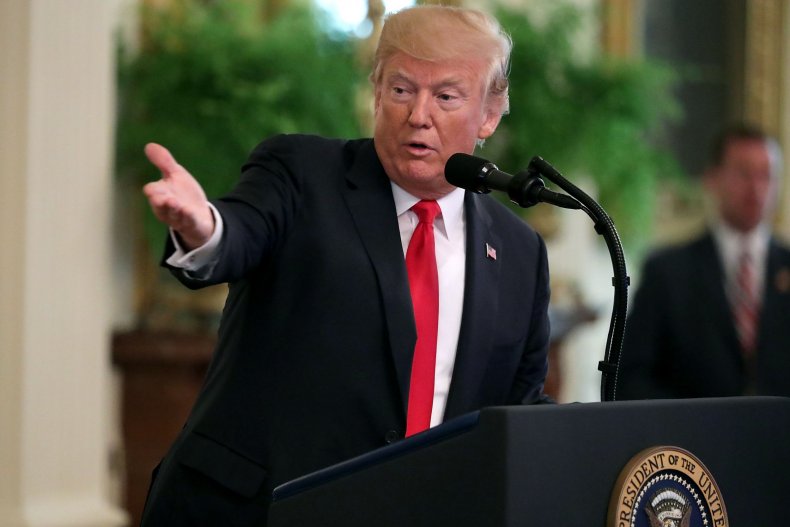 "He was on the campaign," Trump said. "The only reason I gave him the job [was] because I felt loyalty. He was an original supporter. He was on the campaign. He knows there was no collusion."
Sessions recused himself from Mueller's investigation into Russian meddling in the 2016 election and possible collusion between the Trump campaign team and a Russian delegation, including a Kremlin-linked lawyer, last year.
The attorney general made the decision after it came to light that he had held two undisclosed meetings with the Russian ambassador in 2016. "I have now decided to recuse myself," he said at the time, adding: "I should not be involved in investigating a campaign I had a role in."
Hitting out at Sessions' failure to investigate injustices Trump claimed have been carried out against him and his 2016 campaign team, the president lamented having "put in an attorney general who never took control of the Justice Department" in his interview with Earhardt.
"Jeff Sessions never took control of the Justice Department. It's sort of an incredible thing," he said.
The president's criticisms came after he lambasted the attorney general earlier this month for being "scared stiff and Missing in Action." The president claimed the news media "refuses to report" on meetings held between Christopher Steele, the former British intelligence officer who assembled a research dossier on Trump and former Associate Deputy Attorney General Bruce Ohr. "It is all starting to be revealed–not pretty," Trump wrote.