Trump Leading Nationally in First Poll to Show Him Ahead in Over a Month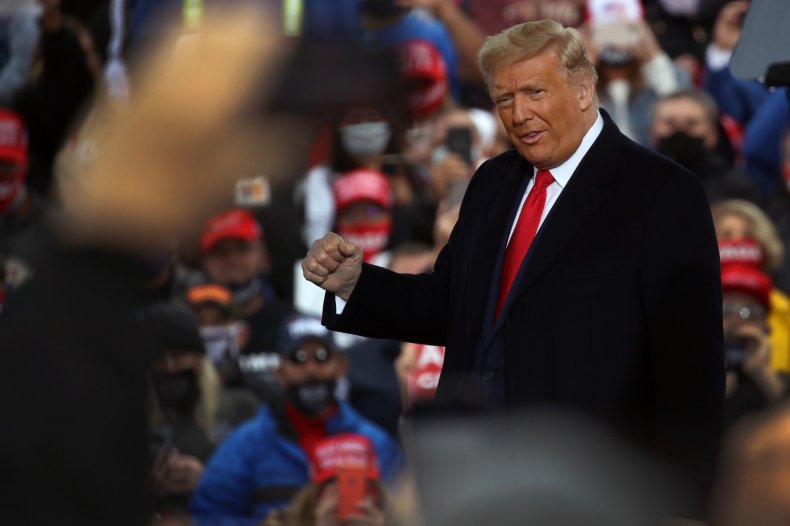 A new poll finds President Donald Trump with a slim lead over Democratic presidential nominee Joe Biden for the first time in more than a month.
The Rasmussen Reports poll released Monday found that Trump was favored by 48 percent of likely voters, compared to 47 percent for Biden. Another 3 percent said they would vote for a third party candidate, while 2 percent were undecided. A Rasmussen poll released on September 16, also giving Trump a 1 point advantage, was the last publicly released national survey to show the president in the lead.
The candidates were statistically tied in the poll since the result falls well within a 2.5 margin of error. The poll was conducted online and over the phone among 1,500 likely voters on October 21, October 22 and October 25. The firm had been releasing weekly polls of the presidential race, but Monday's survey was the first of several daily polls planned to be released until Election Day on November 3.
Rasmussen has a history of giving the president favorable poll results when compared to other firms. A job approval poll released Monday showed 52 percent approving of Trump's performance, compared to 46 percent disapproving. The result is at odds with almost every other recent survey, with polling analysis site FiveThirtyEight's average of approval polls to giving Trump a 42.7 percent approval rating and a 53.5 percent disapproval rating as of Monday night.
Other polls of the presidential election have also shown significantly different results than the Rasmussen survey, with a Monday average of recent surveys giving Biden a 9.4 national lead. Of the polls released on the same day as the Rasmussen poll, Biden's 7 percent edge in an IBD/Tipp survey of likely voters was the next closest to approaching favorable for Trump, with some others giving the former vice president a double-digit lead.
State polling is somewhat less negative for Trump, although Biden is still maintaining a clear advantage. As of Monday, Trump was trailing Biden by an average of 2.3 percent in Florida, 5.1 percent in Pennsylvania, 7.1 percent in Wisconsin and 8.3 percent in Michigan, according to FiveThirtyEight. The president had a 1.5 percent lead in Ohio, while he held an average lead of 1.2 percent in Texas, where some recent surveys have suggested a surprisingly close race.
FiveThirtyEight's election forecast gave Trump a 12 percent chance of winning the election on Monday, just over a week before Election Day. The site gave Trump a 24.8 percent chance of winning eight days before the 2016 election, when he defied polls and many predictions by defeating former Secretary of State Hillary Clinton in the Electoral College despite losing the national popular vote by 2.1 percent. Rasmussen's final national poll of the previous election gave Clinton a 1.7 percent lead.
Newsweek reached out to the Trump and Biden campaigns for comment.