Trump Leads Biden by 1 Percentage Point in Battleground Georgia, Senate Races Tight, New Poll Says
President Donald Trump is leading Democratic candidate Joe Biden by 1 percentage point in the battleground state of Georgia, a new poll found—while races for two U.S. senate seats in the state are also similarly tight.
The Landmark Communications/WSB-TV survey—conducted on October 28 among 750 likely voters—found that 48 percent of people said they would vote for Trump if the election were held that day, compared to the 47 percent who chose Biden. Trump's lead over Biden narrowed in the week since the last poll was conducted. An October 21 survey had Biden trailing the president by 4 percentage points, according to WSB-TV.
With just two days remaining until the November 3 election, recent polls have solidified Georgia's spot as a battleground state this year. Trump won the state's 16 electoral votes by more than 5 percentage points in 2016, beating Democrat Hillary Clinton 50.4 percent to 45.3 percent.
Georgia has been solidly Republican since 1972, with the exceptions of former Presidents Jimmy Carter and Bill Clinton, according to 270 To Win. Polling website FiveThirtyEight is predicting the state could flip again this year, as its rolling average placed Biden ahead of Trump by 1.6 percentage points as of October 31. In a Monmouth University survey conducted from October 23 to 27, its lower voter turnout model showed Biden with a two-point lead over Trump.
More than 50 percent of registered voters in Georgia (3.6 million) have already cast their ballot, according to the U.S. Elections Project. Among those polled, Biden led in voters who had already cast their ballot, but Trump garnered a lot of support among those planning to vote on Election Day.
This isn't necessarily surprising, given that many Republican voters in the country plan to vote in-person on Election Day. An ABC News/Washington Post poll conducted nationwide in September found that the president led by 19 percentage points among those who intended to vote on Election Day, compared to Biden's massive advantage among early voters.
Both presidential campaigns are turning their attention to the surprise swing state ahead of Tuesday in an attempt to persuade last-minute voters. Trump will hold a rally at the Richard B. Russell Airport in Rome, Georgia, on Sunday at 8:30 p.m. Biden's running mate, Senator Kamala Harris of California, will also visit the state on Sunday, but exact details haven't yet been announced.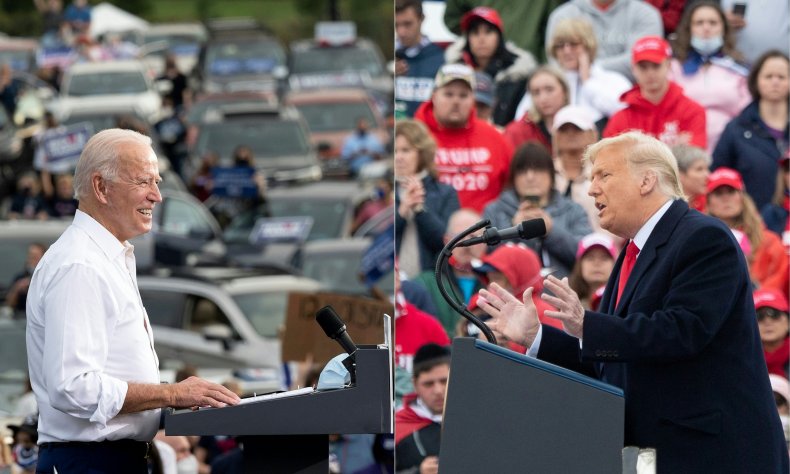 The Landmark Communications/WSB-TV survey also broke down the state's two races for U.S. Senate seats. The first showed Democratic candidate Jon Ossoff virtually tied with the Republican incumbent, Senator David Perdue. Ossoff received 47.3 percent of voters' support, compared to Perdue's 47.2 percent. Shane Hazel, the Libertarian candidate, received 2.7 percent of voters' support, which could be enough to keep either Perdue and Ossoff from reaching 50 percent of the vote needed to avoid a runoff, according to WSB-TV.
The poll would've likely been conducted before Ossoff and Perdue's second debate Wednesday night, where Ossoff slammed the Republican for his handling of the coronavirus pandemic.
"Perhaps Senator Perdue would have been able to respond properly to the Covid-19 pandemic if you hadn't been fending off multiple federal investigations for insider trading," Ossoff said in a clip that's garnered more than 12.7 million views on Twitter. "It's not just that you're a crook, senator. It's that you're attacking the health of the people that you represent."
Perdue's campaign announced on Thursday that the senator would skip the final debate, which was scheduled for Sunday, and Perdue would instead attend the rally with Trump.
A special election for the state's second U.S. senator will take place simultaneously, as former Senator Johnny Isakson announced his resignation in 2019. Senator Kelly Loeffler, a Republican, took his place in January. She received 25 percent of voters' support, according to the survey. Representative Doug Collins, also a Republican, received 23.1 percent of voters' support.
Democratic candidate Raphael Warnock received the most support, at 36.9 percent. Nine percent of voters said they supported Matt Lieberman, the other Democratic candidate, and three percent remained undecided.
Given the tight numbers, none of which have reached the necessary 50 percent, that seat will almost certainly go to a runoff. But which two candidates will be in the runoff is still unclear, according to WSB-TV.