Trump Leads Biden by 10 Points Among Military Households, Poll Finds
President Donald Trump currently holds a 10-point lead over Democratic presidential candidate Joe Biden among military households, according to a new poll.
The poll, which was conducted by Morning Consult, found 52 percent of those who are, or live with, an active-duty service member or veteran saying they would vote for Trump, while 42 percent chose Biden.
Morning Consult surveyed 2,711 likely voters in military households from September 6 to September 8. The poll has a margin of error of plus or minus 2 percentage points.
Across different demographics, Trump's largest lead over Biden among military households comes from white respondents (58 to 36 percent), males (54 to 41 percent) and respondents 45 years old or older (54 to 41 percent).
A separate poll, conducted by Military Times and the Institute for Veterans and Military Families at Syracuse University, found drastically different results among active-duty service members. According to this poll, 43.1 percent of active-duty service members said they'd vote for Biden, compared with 37.4 that chose Trump.
While the poll found Trump leading the former vice president among military households, his support from the group has decreased, as an exit poll from 2016, conducted by Morning Consult, found 57 percent saying they voted for Trump, while 39 said Hillary Clinton.
Additionally, the Morning Consult poll also found more military households having a favorable opinion of Trump than Biden.
According to the poll, 51 percent of respondents said they had a favorable view of Trump, while 47 percent said the opposite. Comparatively, 41 percent said they have a favorable view of the former vice president, while 56 percent said unfavorable.
Among different race demographics, the poll found a majority, 63 percent, of military households saying they have an unfavorable view of Biden, while 69 percent of non-white respondents said the same for Trump.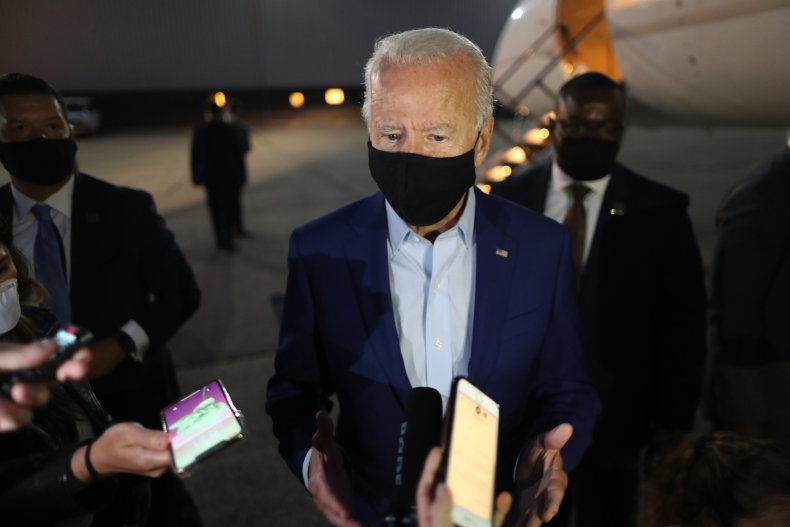 The poll's findings come shortly after Trump faced severe backlash following a report from The Atlantic that said the president criticized service members during private conversations with those close to him. The Atlantic report cited four different sources who stated that Trump said that people who died in wars were "losers" and "suckers."
While Trump leads Biden among military households, the former vice president has maintained the advantage across all U.S. adults.
According to a poll conducted by Monmouth University, 51 percent of registered voters said they'd vote for Biden if the election were held today, compared to 42 percent that chose Trump.
The Monmouth poll surveyed 867 Americans from September 3 to September 8 and has a margin of error of plus or minus 3.6 percentage points.
The Real Clear Politics average of several recently conducted national polls shows Biden ahead by 7.5 points.
Newsweek reached out to Biden and Trump's campaign offices for comment but did not receive a response in time for publication.