Donald Trump Is Less Popular Than Vice President Mike Pence, Latest Polls Indicate
More Americans have a favorable view of Vice President Mike Pence than those who approve of President Donald Trump's work in office, according to new data released Wednesday by the creator of Trump's favorite poll.
Forty-six percent of voters had a favorable view of Pence with 39 percent unfavorable, ScottRasmussen.com found in a poll conducted last week. Pence previously had a 42 percent favorable rating last month in the same poll. While the vice president's image may have improved in the eyes of voters, Trump has experienced a recent decline in his approval ratings across a number of recent polls.
The new poll reflected other recent data on the vice president. Earlier this month, an Economist/YouGov poll indicated a 44 percent favorable and 46 percent unfavorable view of Pence, while a Harvard-Harris poll recorded 42 percent favorable and 41 percent unfavorable ratings in August.
Pence's performance in polls has experienced a significant boost when compared to results several months ago. A Quinnipiac University poll in May showed a 35 percent favorable and 39 percent unfavorable view of Pence. Though Economist/YouGov, which has consistently polled voters on Pence far more than any other pollster, has shown the vice president to have favorable ratings in the low to mid-40s.
Since Trump tapped Pence as his running mate in July 2016, the vice president has averaged a 43.3 percent favorable and 43.7 unfavorable rating, according to RealClearPolitics composite of all polls.
Conversely, Trump has seen a dip in his approval ratings after rising and largely holding steady in the low to mid-40s throughout 2018.
The latest NPR/Marist College and Quinnipiac polls showed a 38 percent approval and 54 percent disapproval rating for Trump earlier this month, while CNN unearthed 37 percent approval and 57 percent disapproval ratings.
However, Gallup found a 40 percent approval compared to 54 percent disapproval of Trump, and Economist/YouGov showed a 43 percent approval and 54 percent disapproval. Rasmussen Reports, which Scott Rasmussen co-founded and later left in 2013, recorded a 47 percent approval and 51 percent disapproval.
Trump is now averaging a 40.7 approval and 53.6 disapproval rating, on the back of damning revelations made by reporter Bob Woodward in his book Fear. Woodward chronicled much of Trump's first year in office with aides quoting top officials, including chief of staff John Kelly and Defense Secretary Jim Mattis, deriding Trump's fitness for office.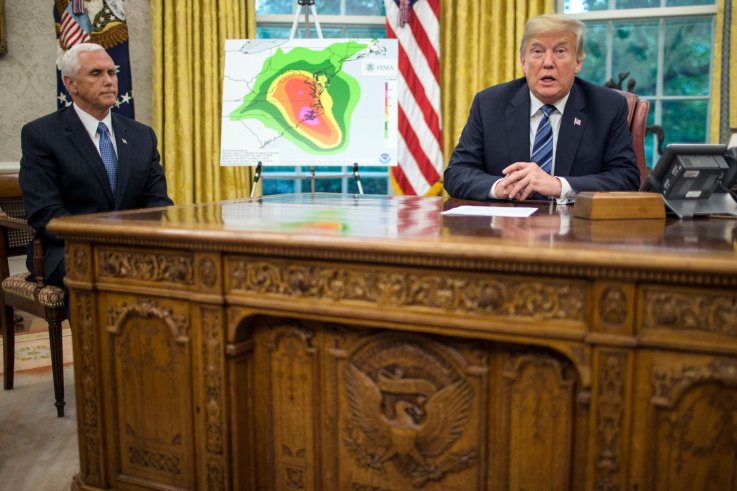 Rasmussen Reports gained notoriety for correctly predicting Trump would defeat Hillary Clinton in 2016 and has found much stronger approval ratings for the president than any other major poll.
Trump often tweets Rasmussen Reports' stronger results, including just last month.
".@Rasmussen _Poll just came out at 48% approval rate despite the constant and intense Fake News. Higher than Election Day and higher than President Obama. Rasmussen was one of the most accurate Election Day polls!" the president tweeted August 31.
The newest Scott Rasmussen online poll drew results from 1,000 registered voters around the country and was conducted between September 6 and 7.
Donald Trump Is Less Popular Than Vice President Mike Pence, Latest Polls Indicate | U.S.