Trump Less Popular With Virginia Voters Than Biden One Week Before Governor's Election
A week before the Virginia gubernatorial election, the biggest test yet of former President Donald Trump's hold on voters, the former president's appeal is trailing behind that of President Joe Biden.
Trump may not be a candidate in Virginia's upcoming election, but his name is on the ballot and Democratic candidate Terry McAuliffe often ties Glenn Youngkin, a Trump-endorsed candidate, to the former president. Polls indicate McAuliffe and Youngkin are neck and neck with only days until the election and the outcome could either solidify Trump's role as the leader of the GOP or raise concerns about Republicans' ability to win in tight races.
Despite recent decreases in Biden's approval rating, the president still appeals to Virginians more than Trump, according to a poll released on Monday from Cygnal, a Republican polling firm. Of the more than 800 voters polled, nearly 48 percent had a favorable view of Biden and about 41 percent had a favorable view of Trump. The poll has a margin of error of about 3.4 points.
However, when it came to their supporters, the two men had nearly equal appeal.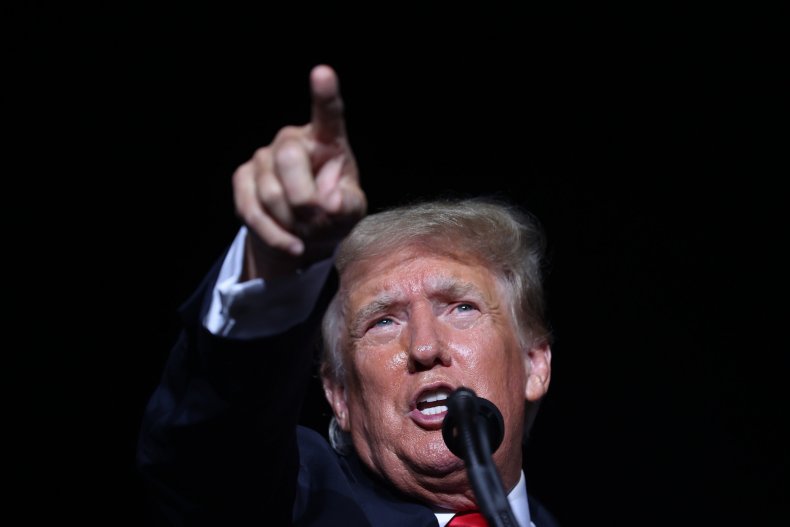 Biden won Virginia in 2020 by a larger margin than former Democratic candidate Hillary Clinton did in 2016. However, Virginia's known for being a state Republicans can win at the gubernatorial level and both parties have poured their resources into the state ahead of the election. A loss for Democrats could spell signs of trouble in the 2022 midterm elections, where Republicans are looking to take back both chambers of Congress, while Youngkin's loss threatens Trump's hold on the GOP.
Cygnal's poll indicated that when it came to both leaders motivating their supporters to vote for their party's candidates, Trump may have an edge on Biden. Ninety-eight percent of Trump's voters plan to vote for Republican candidates during the November 2 election, whereas 91 percent of Biden's voters are likely to back Democratic candidates.
Neither party is likely to persuade a significant portion of the other's voting bloc to cast a ballot for their candidate, but Republicans have a better chance at convincing Biden's voters. The poll found 7.5 percent of Biden's voters planned on voting for Republican candidates in the upcoming election, compared to less than 1 percent of Trump's voters who are planning to vote for Democratic candidates.
"It's all been turned upside down in Virginia politics this year. Seventy-one percent of Independents view McAuliffe negatively, and more Democrats than Republicans are defecting to support the candidate of the other party," Brent Buchanan, CEO of Cygnal, said in a statement.
Even if Biden loses about 7 percent of his support, it might not be enough to give Republicans a victory. Biden won in 2020 with 54.4 percent of the vote. Subtracting 7.5 percent of that support brings him to 46.9 percent, still 2 points higher than Trump's support.
Biden's expected to campaign with McAuliffe on Tuesday and the Democratic candidate has already received support from former President Barack Obama and Vice President Kamala Harris.
While Democrats have cast Youngkin as an extension of Trump, the Republican candidate has tried to present himself as a more moderate figure. Walking a fine line, Youngkin has talked about the need for election integrity without endorsing Trump's election fraud claims.
With multiple polls putting the election as either candidate's for the taking, it's likely going to come down to voter turnout and Trump is known to motivate voters to go to the poll, both in support and opposition to him.