Trump Lexington Rally Live Stream: How to Watch President's Push For Matt Bevin in Kentucky Governor's Race
President Donald Trump's campaign rally in Lexington Monday night comes ahead of the Kentucky's gubernatorial election in which the Republican incumbent appears tied with the Democratic challenger in a state where Trump's approval rating is just over 50 percent.
Trump's rally will begin at 7 p.m. ET at Rupp Arena and will be broadcast by CBS affiliate WYMT, as well as live-streamed by C-SPAN.
The president is making a final push for Republican Governor Matt Bevin as voters head to voting booths Tuesday. Available polling shows that Bevin is tied with Democrat Andy Beshear. Trump's approval rating in the deep-red state is 57 percent. Trump vouched for Bevin in tweets Sunday morning.
"Matt has been a GREAT Governor. Kentucky (I Love You!), please be sure to vote for Matt Bevin on TUESDAY," Trump tweeted.
The president also hinted at his impeachment inquiry by naming House Speaker Nancy Pelosi, who in late September announced the beginning of the process to try to remove him from office. Trump has said he is cooperating with the inquiry, while also saying that House Intelligence Committee Chairman Adam Schiff deserves to be prosecuted.
"Matt will never let you down, and we have to send a strong signal to Nancy Pelosi and the Radical Left Democrats," Trump tweeted. "See you on Monday night, VOTE TUESDAY!!!"
The head-to-head race is not what Trump expected. In August, Trump said "I don't know," regarding whether Bevin would need his help to get reelected.
"He's been a terrific governor. He's really done a good job. In fact, he's done such a good job that some people weren't happy," Trump said at the time. "He had to straighten out the pensions or the state was going to have a lot of problems. And he really has worked very hard."
Trump added, "He loves the state, as I do, and he asked me to come and I'm coming for him and in his honor."
Last week, Trump praised and endorsed Bevin on Twitter and encouraged his supporters to vote for him.
"Governor @MattBevin has done a wonderful job for the people of Kentucky! He continues to protect your very important Second Amendment. Matt is Strong on Crime and the Border, he Loves our Great Vets and Military," Trump tweeted. "Matt has my Complete and Total Endorsement, and always has. GET OUT and VOTE on November 5th for your GREAT Governor, @MattBevin!"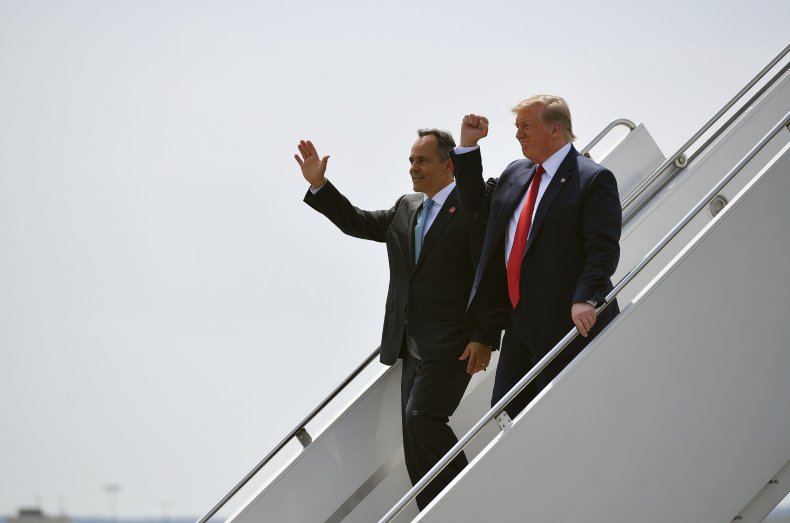 Vice President Mike Pence visited the state Friday to support Bevin.
Two free tickets per person were available on Trump's campaign website on a first- come, first-serve basis.
Trump supporters camped outside Rupp Arena as early as Saturday, WKYT reported.
The president last visited Kentucky in August when he spoke to veterans in Louisville.