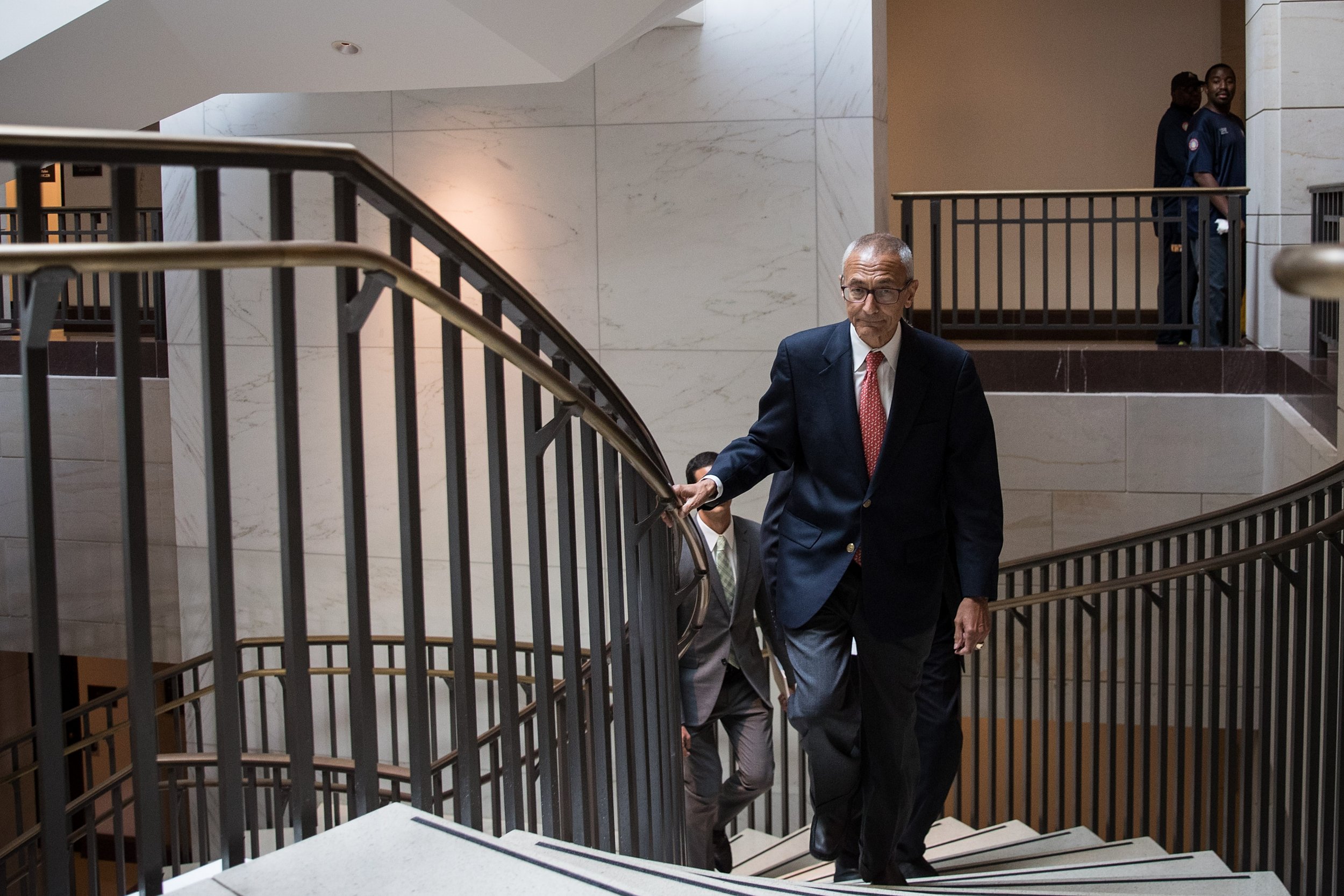 Hillary Clinton's former campaign manager, John Podesta, on Tuesday morning accused President Donald Trump of running a "big lie campaign" centered on the investigation into Russian meddling in the U.S. election.
Podesta, who in July told the president to "get a grip," appeared to be responding to Trump's accusations against him and his brother, Tony Podesta, on Twitter earlier Tuesday morning.
Formerly a chief of staff under President Bill Clinton, Podesta first pointed out how Russian President Vladimir Putin directed a hack of his emails.
"Not bad enough that I was the victim of a massive cyber crime directed by the Russian President," he tweeted to his 185,000 followers in the first of what was to be a three-tweet series. As of yet, he has not posted the third tweet.
He then lambasted Trump for what he said are lies: "Now I'm the victim of a big lie campaign by the American President."
Podesta's posts came just hours after Trump said the "fake news media" was "working overtime," and attempted to distance his administration from a former campaign manager, Paul Manafort, and a former campaign foreign policy adviser, George Papadopoulos. The president called Papadopoulos a "proven liar" and said: "Check the DEMS!"
Two hours later, Trump turned to the Podesta brothers, stating that what Tony Podesta knew was "earth shattering," though he did not explain what information he was referring to.
Trump has been chastised many times for allegedly attempting to distract his supporters from the Russia investigation by pointing fingers at his predecessor, Barack Obama, and at his former election opponent, Hillary Clinton.
The founder of a lobbying firm called the Podesta Group, Tony reportedly stepped down from his role Monday morning, the same day Manafort, along with former Trump campaign official Rick Gates, were hit with tax evasion and conspiracy charges by Special Counsel Robert Mueller, according to Politico.
As Mueller and his team probed Manafort's finances, it discovered the Podesta Group was one of several firms hired by Manafort to conduct a public relations campaign for a Ukrainian nonprofit. The group claimed it thought it was working for a European think tank that was not linked to a political party.
Manafort had previously worked for a pro-Russian Ukrainian president who was eventually ousted by his people and sought asylum in Russia.
Tony Podesta announced he was leaving the company during a meeting Monday and told those in attendance he "needs to fight this as an individual, but doesn't want the firm to fight it," an unidentified source told Politico.
John Podesta and other members of the Democratic National Committee had their emails hacked last year by the Russians, and they were later slowly released by leak site WikiLeaks beginning in July 2016. The site's founder, Julian Assange, has repeatedly denied the emails were provide to WikiLeaks by the Russians.