Trump 'Lied,' Union Leader Slams President's Unkept Promise To Bring GM Factory Back to Lordstown, Ohio
A local union leader in Lordstown, Ohio slammed President Donald Trump in comments to CNN aired Tuesday morning, saying the president had "lied" and could not be trusted.
Despite a recent deal between unionized factory workers and General Motors (GM), the auto manufacturer has kept its Lordstown plant shuttered, forcing many local workers to leave the town in search of new opportunities. At an Ohio rally in 2017, Trump specifically instructed factory workers not to sell their homes, promising that factories would reopen or be replaced with new facilities. Now, local officials in Lordstown say the village has lost $1 million since March.
"Pretty much anything that man says is unrealistic to me," Bill Adams, vice president of the United Auto Workers Local 1112, told CNN. Asked about Trump's promise to save jobs in the area, Adams responded rhetorically: "How'd that work out?"
"It didn't," he answered his own question. "He lied," the union leader asserted.
Doug Grant, a former GM worker, told CNN that he wanted to give Trump "a chance," even though he had not voted for the president. "I thought if he could do something, fine, we'll take any avenue of help we can to keep the facility open."
"Right now we're living the worst," Grant said.
GM announced last November that it would "unallocate" numerous North American facilities, including the factory in Lordstown. That one closure resulted in more than 4,000 job losses in the small town. The factory had previously cut 3,000 jobs in the years leading up to the shutdown. At the time of the announcement, Ohio Representative Tim Ryan, a Democrat, slammed the president for failing to "keep his word" to the community. He said Trump was "asleep at the switch and owes this community an explanation."
Despite some local frustration directed at Trump, others in the community still support the president.
Bob Meyer, a disabled retiree who spent 17 years working for General Motors, told The Boston Globe that he voted for Barack Obama twice but now believed Trump was the best answer to fix the area's economic woes. He criticized left-wing Democratic pro-worker candidates Senators Elizabeth Warren and Bernie Sanders as "smoke and mirrors."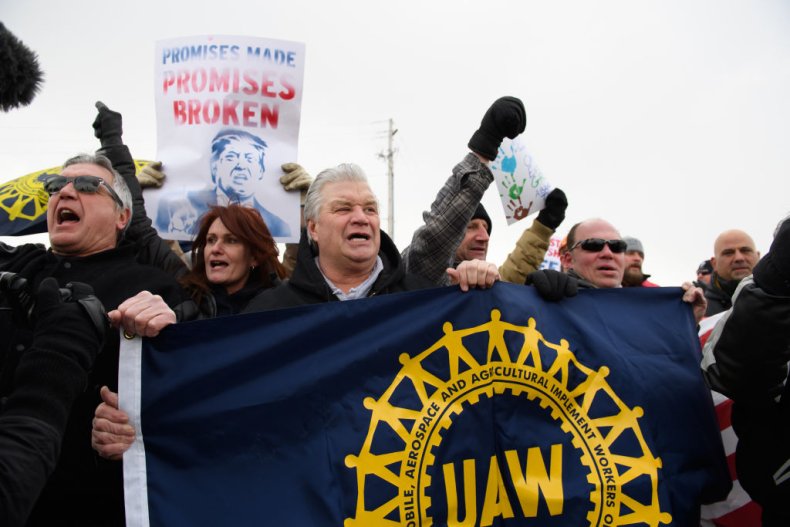 Lisa Himes, another former GM worker, told The Globe that Trump didn't deserve the blame. "I know that he was for us. He's for the working people," she said.
After an increase in manufacturing jobs following the Great Recession in 2008, several Midwestern states are now seeing a decline in factory jobs, while growth has slowed nationwide. According to Market Watch, Michigan and Ohio are both six months deep in a steady job decline, while Indiana and Wisconsin also have fewer factory jobs than they did during the same period last year.