Donald Trump Praises Queen as Beautiful 'Inside and Out,' and Reveals They Discussed Brexit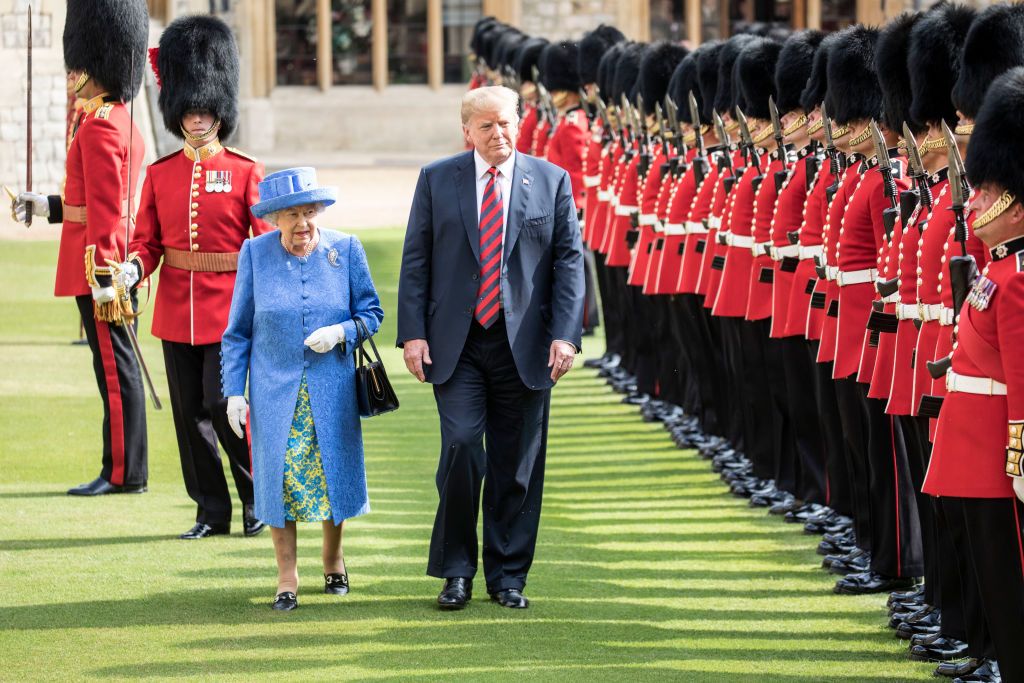 U.S. President Donald Trump has praised Queen Elizabeth II, who he described as beautiful "inside and out" following his meeting with her Friday.
In an interview with British journalist and former Celebrity Apprentice winner Piers Morgan on board Air Force One, the president opined on meeting the British monarch.
"She is an incredible woman, she is so sharp, she is so beautiful, when I say beautiful - inside and out. That is a beautiful woman," said the president, in the Mail on Sunday interview.
Asked if he felt the queen had liked him, Trump said: "Well I don't want to speak for her, but I can tell you, I liked her. So usually that helps. But I liked her a lot."
"Just very elegant. And very beautiful. It was really something special," Trump said of the meeting. "Up close, you see she's so beautiful. She's a very special person."
Trump and First Lady Melania Trump met the Queen at Windsor Castle on Friday, and he has faced criticism in some quarters for not following protocol and leaving her waiting for his arrival. His scheduled half an hour tea with her ran over its allotted time.
The interview was conducted on Air Force One at Stansted Airport, as Trump prepared to fly to his Turnberry resort in Scotland, for two days of golf ahead of his summit with Russian President Vladimir Putin in Helsinki on Monday.
Since the Queen was crowned in 1953, there have been 13 U.S. presidents, and barring Lyndon Johnson, she has met them all.
When asked if he had discussed the U.K's Brexit negotiations with the Queen, Trump replied "I did. She said it's a very - and she's right - it's a very complex problem, I think nobody had any idea how complex that was going to be... Everyone thought it was going to be 'Oh it's simple, we join or don't join, or let's see what happens.'"
He said his mother, Mary Ann Trump, who died in 2000, was a great admirer of the Queen.
He told Morgan: "I was walking up and I was saying (to Melania) 'Can you imagine my mother seeing this scene? Windsor. Windsor Castle.'
"She's a very special person. And the way she's conducted herself for so many years. And she's got a lotta years left," he added.
In the interview, Trump also claimed when asked about the hundreds of thousands who took to the streets of London on Thursday and Friday to protest against him that some were were actually protesting in his favor.
"Some of them are protesting in my favor, you know that?' Trump insisted. 'There are many, many protests in my favor."
There were two arrests Saturday at a small pro-Trump protest in London that joined with a protest in support of jailed far-right activist Tommy Robinson, London's Metropolitan Police said.
Trump also renewed his criticism of European immigration policy in the interview: "'I said Brexit was going to happen for a specific reason: immigration. I think the people of the U.K. want to have who they want in their country, and I think what's happening all over Europe is very sad. I just see what's happening, the crime is through the roof in some places that have never had crime."