Trump Uses Same Line on Rudy Giuliani He Did With Michael Cohen and Stormy Daniels Payments Last Year
When asked to comment on the arrest of two associates of his personal lawyer Rudy Giuliani, President Donald Trump resorted to the same line he used when he was questioned about hush payments his former personal attorney Michael Cohen made to a woman with whom he'd allegedly had an affair.
"You'll have to ask Rudy Giuliani," Trump said on the White House lawn on Thursday, responding to a question from a reporter about the two men who were arrested in a campaign finance scheme.
When Trump's Stormy Daniels scandal broke in early 2018, the president responded to questions about his alleged affair with the adult film star whose real name is Stephanie Clifford by saying, "You'll have to ask Michael Cohen."
Cohen is now serving a three-year prison sentence for crimes that include fixing payments leading up to the 2016 presidential election to silence women who claimed they had affairs with then-candidate Trump.
Meanwhile, Giuliani has come front-and-center in Trump's Ukraine scandal around his efforts and Giuliani's involvement in asking Ukraine's president to investigate 2020 Democratic front runner Joe Biden for corruption.
Trump has denied any wrongdoing in his request to Ukraine to probe Biden, but the plot has thickened.
On Wednesday night, Florida businessmen Lev Parnas and Igor Fruman, two Soviet-born associates to Giuliani, were arrested on Wednesday on charges of playing a role in funneling a Russian donor's contributions to Trump's re-election campaign. Prosecutors believe that Parnas and Fruman assisted Giuliani in his attempts to push Ukraine to launch an investigation on Biden.
Besides saying, "You'll have to ask Rudy Giuliani," Trump before the media on Thursday denied knowing the two men.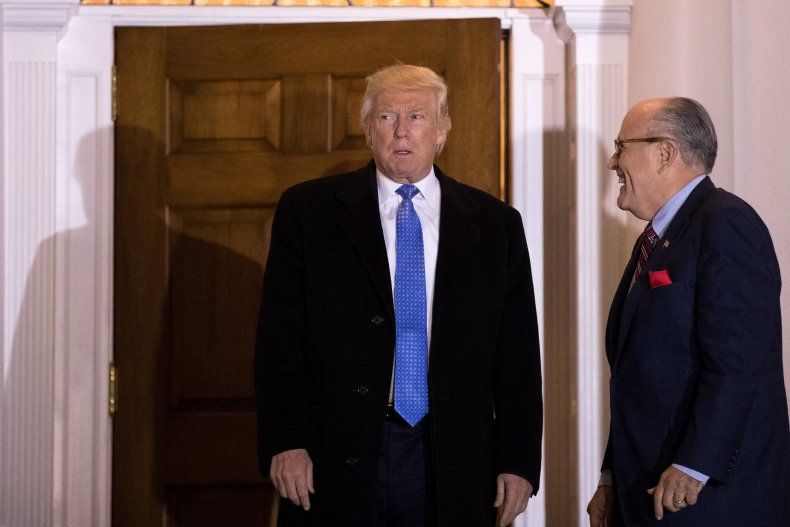 "I don't know these gentlemen," Trump said. "It's possible I have a picture with them because I have a picture with everybody, I have a picture with everybody here. But somebody said there may be a picture or something at a fundraiser or somewhere but I have a pictures with everybody. I don't know if there's anybody I don't have a picture with."
The president reiterated: "I don't know about them, I don't know what they do. But I don't know, maybe they were clients of Rudy. You'll have to ask Rudy, I just don't know."
Trump has a habit of repeating his lines. He called special counsel Robert Mueller's probe into Russian interference and possible collusion with his 2016 campaign a "witch hunt," and is now calling the Ukraine scandal a "witch hunt."