Trump on Little Rocket Man Kim Jong Un: 'I Think That May Be My... Best Nickname Ever'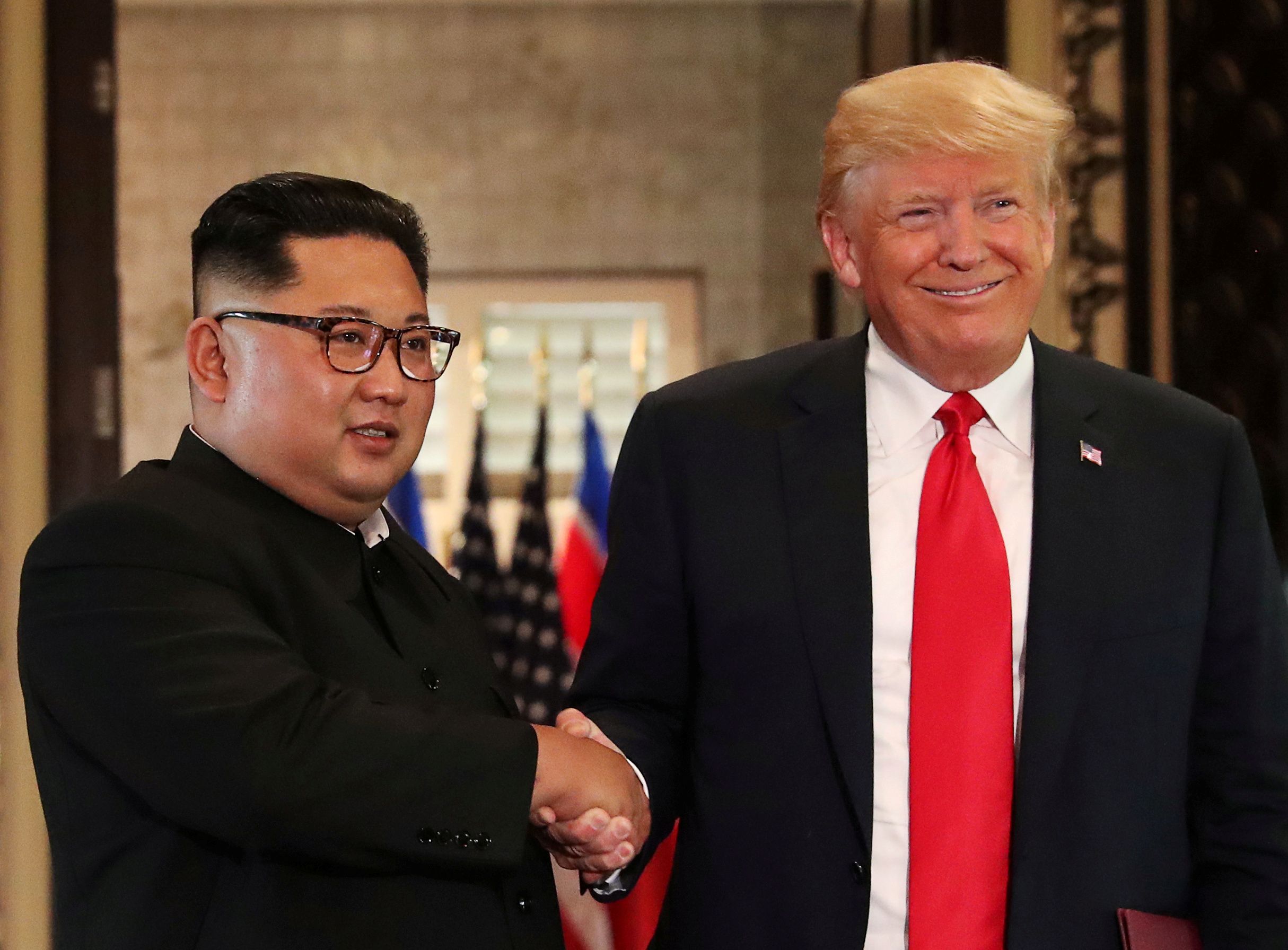 The term "Little Rocket Man" coined by President Donald Trump to describe the North Korean leader may have had some fearing it would provoke World War III—but it was one that the U.S. president was especially proud of.
That is according to the book Fear: Trump in the White House byWashington Post journalist Bob Woodward, which describes how pleased the president was with the moniker he used to describe Kim Jong Un after Pyongyang had carried out missile tests.
After a series of belligerent exchanges with North Korea, he tweeted that former Secretary of State Rex Tillerson was "wasting his time trying to negotiate with Little Rocket Man."
The book outlines how Trump told the then staff secretary Rob Porter that the tweet "may be my best ever."
When Porter asked whether such a tweet might provoke Kim, Trump is said to have replied: "It's leader versus leader. Man versus man. Me versus Kim."
The book also describes how Trump nearly provoked Pyongyang into conflict when he expressed his wish to withdraw troops from South Korea because of the $3.5 billion per year cost of having them there.
Woodward told CBS that Trump had drafted a tweet saying he would pull the family members of the 28,000 Americans stationed there. But back-channel communications with North Korea showed that would be considered as a sign the U.S. was preparing to wage war.
"In that moment there was a sense of profound alarm in the Pentagon leadership that, my God, one tweet and we have reliable information that the North Koreans are going to read this as 'an attack is imminent,'" Woodward told CBS.
There has since been an apparent rapprochement between the U.S. and North Korea after a historic summit in June in Singapore, after which Pyongyang returned the remains of U.S. soldiers killed during the Korean War. It has also returned U.S. prisoners and suspended nuclear and missile testing.
However, some experts have cast doubt on North Korea's commitment to denuclearization.
"I think it's highly unlikely that denuclearization will happen at all, let alone in a one-year timeline," Beatrice Maneshi, an Iranian-American global security and development consultant based in the Netherlands, told Newsweek in July. "It's important to remember there is currently no agreement in place, only a general mutual agreement."
White House press secretary Sarah Huckabee Sanders said this week that the U.S. "is open to and are already in the process of coordinating" another meeting after Trump received a letter from Kim.