Trump Responds to Hillary Clinton 'Lock Her Up' Chants: 'Some Things Just Take a Little Bit Longer'
At a rally in Pennsylvania Thursday, almost two years after the 2016 election, President Donald Trump appeared to suggest that he still intends to see his defeated opponent Hillary Clinton put in prison.
As has been an almost constant presence at Trump rallies since the days of his campaign, the crowd in Wilkes-Barre sprung into chants of "lock her up" in reference to Clinton and an investigation into her using a private email server while secretary of state.
Just the mention of Clinton's name Thursday led the crowd, who were ostensibly there to back Republican Senate candidate Lou Barletta, to spring into passionate cries that she should be behind bars. Trump started laughing as the chant began but then responded by suggesting their urgings may not be in vain.
"No, no, no, they only want to hurt Republicans, they don't want to do anything," he said, before adding: "But, you know what, it's all changing folks, it's all changing. Some things just take a little bit longer. You look at some of the criminal actions and crimes, they only want to go after Republicans."
The White House did not respond to a request for clarification on Trump's views about imprisoning Clinton.
Trump has previously been even more explicit about wanting to see Clinton in jail.
"I will say this, Hillary Clinton has got to go to jail," he told supporters during a rally in June 2016. Later, in a debate with the former first lady, Trump told her the specific steps he would take in order to make that happen if he became president.
"If I win, I am going to instruct my attorney general to get a special prosecutor to look into your [missing email] situation," Trump said, "because there has never been so many lies, so much deception."
Clinton was exonerated by the FBI following an investigation.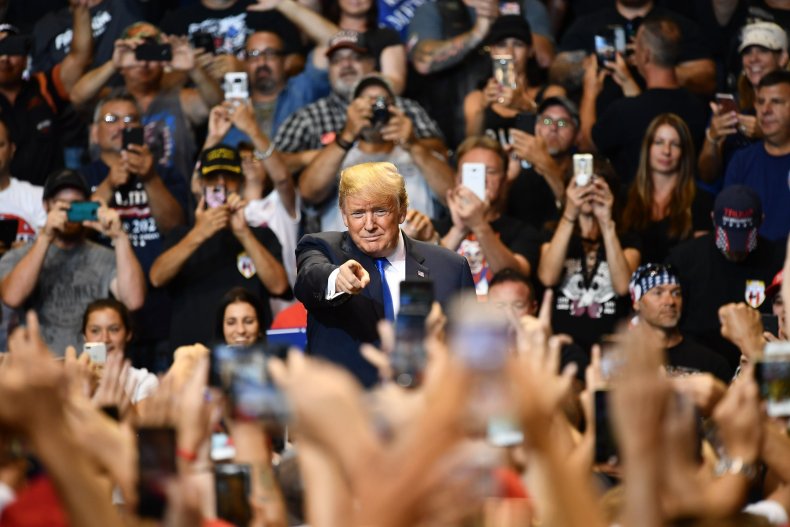 As his presidency has been dogged by an ongoing investigation into his campaign's links to Russia during the campaign, Trump has repeatedly sought to cast attention onto crimes he has claimed, without evidence, were committed by Clinton and Democrats.
"There was no Collusion, except by the Democrats!" Trump tweeted in May, seemingly referring incorrectly to a dossier compiled on Trump's Russian ties by a former British intelligence agent and in part funded by the Clinton campaign.
Trump has repeatedly derided the investigation into Russian interference during the 2016 election as a "hoax." He did so again at Thursday's rally, despite top national security officials outlining the seriousness of the ongoing threat Russia posed just hours earlier.