When Donald Trump Came Home to Long Island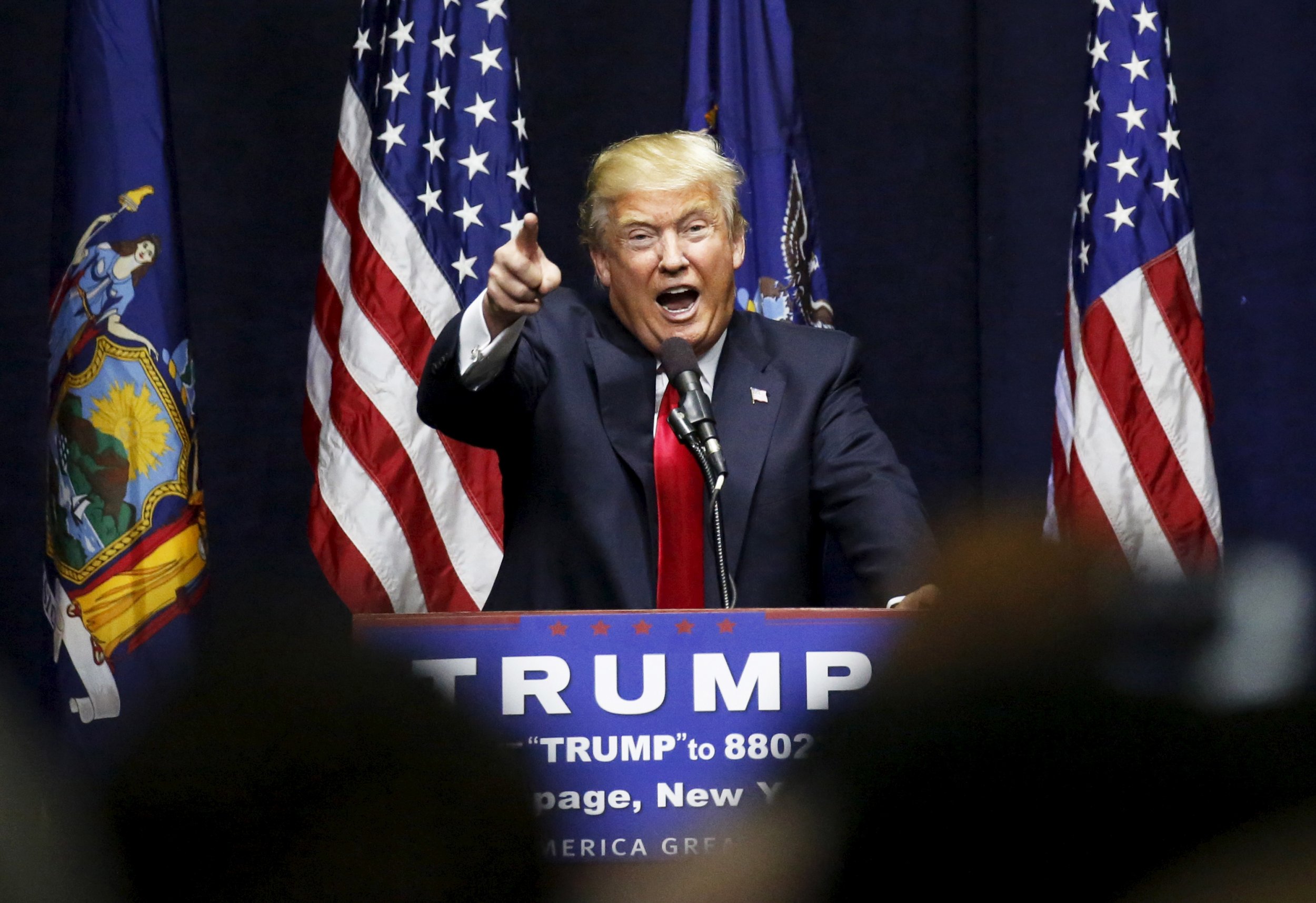 Inside the cavernous concrete film studio where a Spider-Man movie was filmed, the hometown hero got a superhero's welcome from what he said were 15,000 people inside and another 5,000 outside. The press vultures would later estimate the crowd at 8,000 to 10,000, but he had already warned the assembled to watch out for that trick. "I love you, I love you," the crowd shouted at him. The favorite son crooned back, sounding ever so slightly Sinatra: "I love you too. I looove these people."
Donald J. Trump and his entourage had rolled into Long Island and right up to the venue. The other 10,000 people at the event were herded on an extended and inexplicable perambulation around the entire structure—a length of football field on each side—after leaving their cars. They had walked in a biting wind to the venue, a former aerospace factory building and hangar turned movie studio on the edge of Bethpage, New York.
Trumpians had started waiting for the shuttle buses three hours before the 7 p.m. event on Wednesday night. A lone protester stood on a car roof in a strip mall lot across the street from them, silently holding up a sign that read, "YOU ARE MORONS." Every few minutes, the crowd jeered in his direction and sometimes someone suggested he needed to be punched in the face or worse, but no one was moved to act. On the way to the venue, they passed a blinking highway sign, decked out for the night with the words "FREE SPEECH ZONE."
By 7, the audience was inching across a great bay doorway, big enough to drive a jet through, and passing through the metal detecting arcs, submitting their bags to be searched and phones to be turned on and off, as leashed German shepherds held in heel by men and women in black barked and crouched on their haunches nearby.
After a few short speeches from county Republican dignitaries, Trump's eldest daughter, Ivanka, who had left her week-old baby, Theodore, back in Manhattan, went to the podium and introduced the man himself. In blue suit, white shirt and red tie, he took the mike.
"Driving over here, I passed through Queens—I love Queens, I grew up in Queens—and I remembered I used to get here at 2 in the morning to play a round of golf in Bethpage." Cheers. "Uh-huh, some of you know what I'm talking about."
Perhaps spurred by memories of his adventures on the course, he then offered his very familiar lament: "We never win anymore! We don't win on trade, we don't win on health care, with our military. We are going to start winning again!"
Stomping and cheering all around.
Two men stood among thousands in the center of the space, jostled ever tighter together as the room filled with men and women, young and old. They were different in almost every way: goths in Metalhead T-shirts; women in fringed leather; college kids in red, white and blue shorts and Uggs; their moms and dads; commuters in city business dress; and blue-collar workers. Except that nearly all were white.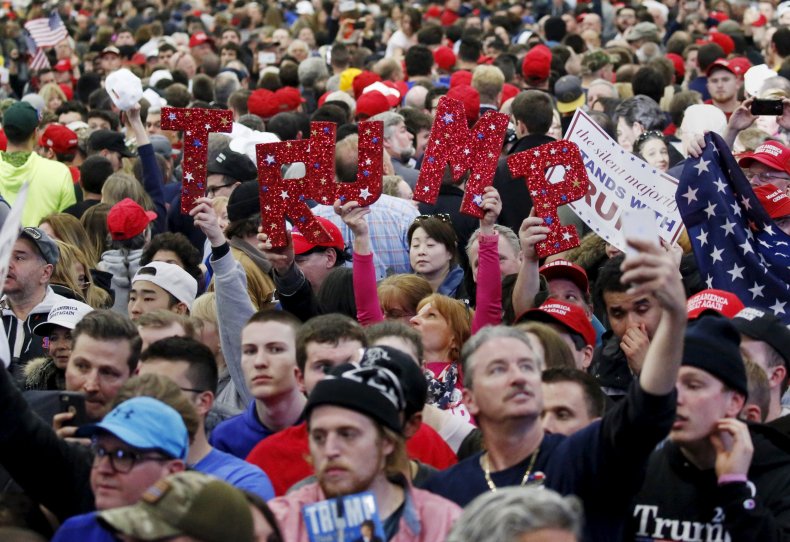 The two men, in their mid- to late 50s, talked to a reporter squeezed beside them, even though Trump would remind everyone, as he always does, that the journalists—most of whom had been confined inside gated pens on each side of the room—"are the worst."
They would talk but didn't want their names used, so we will call them Jack and Ed. Both work or worked in the financial industry, in Manhattan. Jack is tall and could easily see over the heads of the crowd to the podium set before six American flags. Ed, like almost everyone else in the room, was forced to hold his iPhone to catch a tiny, fleeting glimpse of the speaker. Ed lamented that the two giant screens on either side of the stage were being put to use only to show pre-speech video clips of people like Karl Rove ("Boo!") and Megyn Kelly ("Boo!) rather than the speakers. He would have liked to have seen Trump's face, enlarged on a huge TV screen, as per usual, rather than reduced to the almost invisible figure far, far in the distance beyond the bobbing crowd.
"We're not Neanderthals," Jack said, getting that out of the way first. "We're not 'white privilege.' I went to the poor man's Ivy League: City University of New York."
Their issues were primarily economic. "Take the train from New York down to Washington, what do you see?" Jack demanded. "Empty factories. Those used to be productive factories. Those jobs are gone. What kind of idiots travel back and forth from Washington to New York and don't see what they've done?"
A Mexican wall was a pretty good idea, they reckoned, but both men said they'd been more personally affected by outsourcing to India and the H-1B visa program that the financial industry has used since the '80s to import workers—in their case, low-cost tech consultants.
Ed said he had participated in his mega-company's (he wouldn't name it) foreign worker training programs, beginning in the 1990s. He said he was instructed to fill out the visa forms for trainees and to always check the box indicating the company had tried and been unable to find suitable employees in the U.S., even though that was not true. "Of course we could," he said. Then Ed himself was laid off. "I had to train my replacement or give up my severance," he said.
He then went to work as a consultant for a major computer company, which rented his services out for about $2,000 a day and taking their cut. But he said that Indian consultant companies got wind of that work and undercut his venerable employer, and the clients started outsourcing. "They would give clients 10 people to do my job for the same price."
Jack interrupted: "Did you know that your tax dollars pay for universities that actively court foreign students? There should be no foreign students in our universities until every single American who wants to go has had a chance to turn it down. How many American students are in Indian or Chinese universities?"
Neither man was much worried about Trump's competition. "He has an excellent chance of winning, and if he doesn't, we should start a nationalist party," said Jack, who called himself "an independent who always votes." He added, "If the Republicans steal the election from him, I'm done. The Republicans are no different than the Democrats. They're all in it for the skin."
Of course, out here Trump would flick at the memory of 9/11, and he elicited a round of cheers when he mentioned "our incredible police and firefighters," many of whom live in towns on Long Island and work in the city. "We all lived it," he said of the towers coming down. "And I've got this guy lookin' at me with scorn in his face, talking about 'New York values.'" The crowd booed. "Lyin' Ted. Lyin' Ted," Trump repeated, reminding the audience of his moniker for Ted Cruz. "I made that up, myself," he added.
At least two protesters made it inside the building. Lonely were the brave. Whatever it was that they said fell on deaf ears in the raucous room. If and when they spoke up, they were instantly identified like viruses by the white cells of the crowd, which chanted ever louder to pin them in place as guards moved in. "Be gentle, be gentle," Trump exhorted as one was being removed. He then snickered, "When I'm like this, they say Trump is getting weaker!"
Someone in the crowd shouted, "Take his shoes!"
Grumman Studios is located on the Northrop Grumman campus. The building once served as an aerospace and defense factory (and was integral to the Apollo missions). It is a ghostly manifestation of how the business of spinning fantasy has replaced brick, mortar and heavy lifting as a source of jobs—and, some would say, politics too.
Bethpage, a town of 16,429 (94 percent white), was slammed hard by defense downsizing. Northrop Grumman once employed 25,000 people, and those job losses took down another 100,000 area jobs, according to Nassau County Republican Party Chairman Joseph Mondello. The town's median income is $70,000.
Standing in that hangar-turned-movie-studio, Trump spoke to folks a lot like who he was, when looking across the bridges and tunnels from Queens over at the Oz of gleaming towers and its fashion models. The crooning superhero promised, as is his wont, to Make America Great Again. "We're gonna rebuild our military! We're gonna make it bigger and better than ever! We're gonna be tough, we're gonna be vigilant, and...we're not gonna be politically correct all the time!"
They cheered. The candidate and entourage departed, in a flurry of security. And then the people trudged back out into the cold for the long walk to their cars.