Trump Could Give Ice $967M Budget Increase, Despite Calls for Agency to Be Abolished
The Trump administration's budget for fiscal year 2019 is set to include a $967 million increase for the U.S. Immigration and Customs Enforcement Agency (ICE), despite calls for the agency to be abolished.
President Donald Trump's proposed budget includes $8.3 billion in discretionary funding, in addition to a $525.6 million in budget authority for mandatory fees, which brings the agency's total estimated spending authority to $8.8 billion.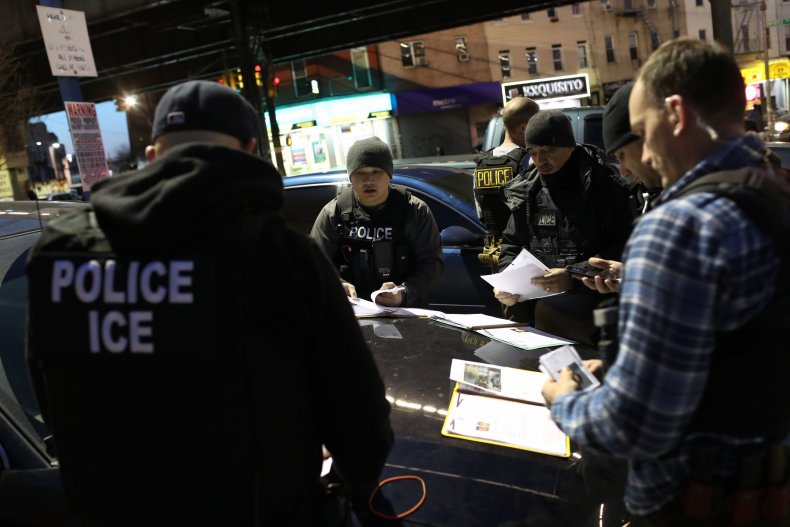 In a joint statement, ICE and the Department of Homeland Security said the increase in funding was "critical for ICE to meet its mission needs."
"Simply put, the men and women of ICE need the requested resources and tools to do their work," read the statement, co-authored by Matthew Albence, executive associate director of enforcement and removal operations, and Derek Benner, the deputy executive associate director of Homeland Security Investigations.
"The FY19 Budget will support current efforts and enable ICE to invest in much needed areas," the statement continued. Funds will target "immigration enforcement, criminal investigations, dismantling transnational criminal organizations, workforce expansion and training and the information technology."
Related: More 2018 candidates are calling to abolish ICE under President Trump
The agency also said the budget, if funded by Congress, would "provide additional resources, tools and personnel needed" to implement the series of executive orders Trump signed. Albence and Benner said the orders "laid the policy groundwork" for ICE to "carry out the critical work of securing our borders, enforcing our immigration laws and ensuring that individuals who pose a threat to national security or public safety cannot enter or remain in the United States."
One of Trump's first actions after taking office was signing an executive order that effectively gave immigration agents a green light to arrest and detain any undocumented immigrant in the U.S.
Under the Trump administration, a crackdown on undocumented immigrants has seen ICE detaining people in sweeping arrests across the country, including targeted operations that have seen hundreds of people arrested in the span of days.
"Aliens who illegally enter the United States or who overstay or otherwise violate the terms of their visas have violated our nation's laws and can pose a threat to national security and public safety," Albence and Benner said. "This is particularly true for aliens who engage in criminal conduct in the United States."
The proposed boost in funding comes amid calls for ICE to be abolished, with a number of 2018 by-election candidates adding their voices to the chorus and including the push to shut down ICE in their campaign platforms.
"We don't need ICE. They were created in 2003. It's time to abolish ICE," said Democratic candidate Randy Bryce, a 53-year-old army veteran running for the Wisconsin first Congressional district seat currently held by House Speaker Paul Ryan, who has announced he will not be seeking re-election.
"After Donald Trump's election, ICE began an unprecedented crackdown on immigrant communities," Bryce said in a Twitter post. "Instead of going after violent criminals, they've targeted immigrants indiscriminately."
"ICE as it presently exists is an agency devoted almost solely to cruelly and wantonly breaking up families," Dan Canon, a civil rights attorney running for Congress in Indiana's ninth district this year, told The Nation last month. "The agency talks about, and treats, human beings like they're animals. They scoop up people in their apartments or their workplaces and take them miles away from their spouses and children."
Bryce and Canon are joined by a number of Democrats who have signed a petition that has reached just over 7,215 signatures, demanding ICE be abolished.