Trump Campaign Poll Shows Bernie Sanders, Joe Biden Beating President in Key 2020 States: Report
A new survey conducted for Donald Trump's re-election campaign reportedly showed Democratic candidates Joe Biden and Bernie Sanders defeating the president in key 2020 states.
According to The New York Times, the president's campaign hired Republican pollster Tony Fabrizio to survey voters from key battleground states ahead of the upcoming election.
The poll showed that the former vice president, who only recently announced his candidacy, would easily defeat Trump in key states. It also showed Sanders defeating the president, but much less decisively than Biden.
The results arrived amid reports that Trump was most worried about the possibility of facing Biden in the general election. Republican strategists told The Times that they wished Trump would stop his attacks on Biden. They argued that the name-calling only helped to elevate the former vice president above the other 21 Democrats in the race for the Democratic Party's nomination.
Trump repeatedly refers to Biden as "Sleepy Joe" on Twitter, likely a backhand reference to Democrat's age. Biden, at 76, is one of the older candidates in the race; Trump is 72 years old.
The president also attacked Biden as "weak" on trade in the midst of the country's intensifying trade war with China. In a tweet last week, Trump claimed China sincerely hoped Biden or another Democrat would get elected so it could "continue to ripoff the United States."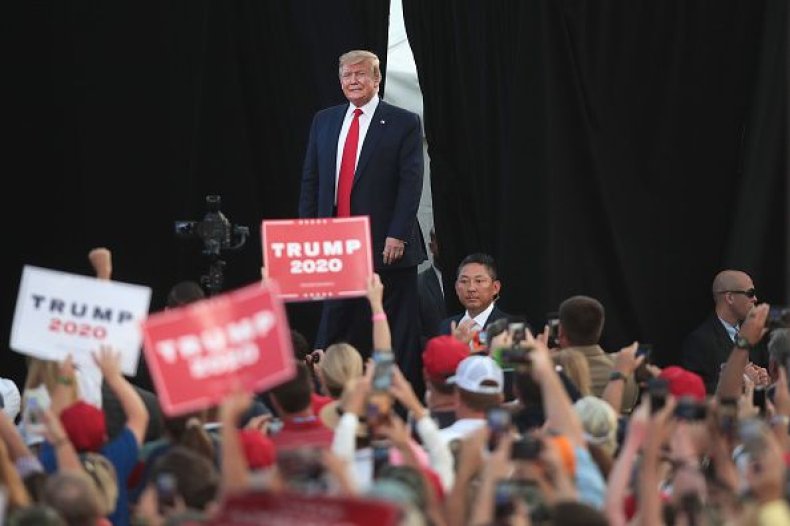 Trump's attacks on Biden took a turn when the president compared the former vice president's candidacy to his own successful 2016 campaign.
"I look at it like my race," the president told Politico last week. "If you remember, from the day I came down the escalator until the end of the primaries, I was in the number-one position. I was center stage every debate. And, you know, nobody came close."
Since announcing his presidential bid three weeks ago, Biden has consistently scored at the top of most national polls, despite being one of the last Democrats to enter the crowded primary field.
But after after predicted that Republicans in Congress would want to start working with their Democratic colleagues once Trump was no longer president, he was criticized for being out of touch.
"The thing that will fundamentally change things is with Donald Trump out of the White House, not a joke, you will see an epiphany occur among many of the Republicans," Biden told reporters in New Hampshire.