Trump Loses Russian Warrior Status as Cossacks Threaten to Burn His Effigy
U.S. President Donald Trump's entry into the White House was so welcomed by a clan of Russian warriors, they made him an honorary member.
His pledge to cut NATO funding and strengthen ties with Moscow pleased the Irbis Cossacks of St. Petersburg and they granted him this special status.
But this has been stripped after Trump's latest broadside against Russia, which he has warned to "get ready" for U.S. missile strikes on Syria in the wake of a suspected chemical weapons attack near Damascus blamed on Moscow.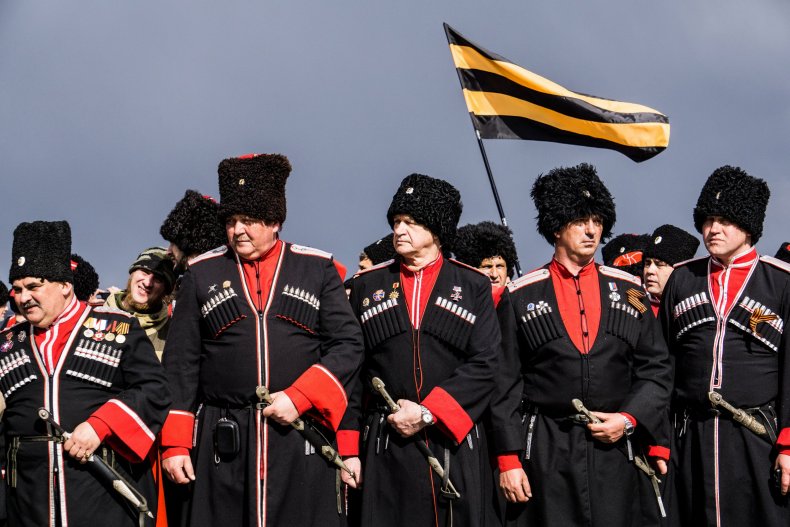 The leader of the Cossack group, Ataman Andrey Polyakov, said they felt disgust at his "insults" against the Russian state.
Polyakov told Rosbalt.Ru: "When the U.S. presidential elections were held in 2016, the State Duma celebrated Trump's victory with champagne and Vladimir Putin congratulated him. Against a backdrop of euphoria, we made Trump an honorary member of our Cossack group.
"Given that Trump was supposed to meet with Putin in his home city of St. Petersburg, we invited the new American president to visit us. But then political events began to unfold in a way that we didn't like. Realizing that we were mistaken, we have decided to demote Trump, and to exclude him from our organization in disgrace," he said.
He said his clan would soon burn an effigy of Trump, adding: "We'll douse it in gasoline and burn it with the American flag."
The Cossacks' heritage goes back centuries in Russia, Ukraine and other parts of the former Soviet Union. It is a military order that often works with the police to maintain security.
Their stripping of Trump's honor is the latest sign of the extent to which ties between Washington and Moscow have slumped. A number of Russian officials and companies were sanctioned last week and Washington continues to blame Moscow for complicity with Bashar Assad's forces in the attack on Douma, near Damascus.
White House spokeswoman Sarah Sanders said a final decision on military strikes had not been taken but Russia and Syria were responsible for the incident.
China has urged the U.S. not to take military action against Assad and says he must be given the opportunity to explain. Russia has said it would respond militarily to any American-led attack on Syria.