Trump Loses Senior Support, Biden Winning in Florida, Pennsylvania, North Carolina, Latest Poll Shows
President Donald Trump is facing major problems attracting senior voters he won in 2016, particularly women over age 65, allowing former Vice President Joe Biden to expand his lead in the battleground states of Florida, Pennsylvania and even North Carolina.
A new poll released Thursday evening finds Trump has been unable to close the gap with Biden in several key swing states he won in the 2016 presidential election, due in large part to his failure to win over seniors and Latinos. The latest Hill/Harris battleground poll shows Biden leading Trump 51 to 46 percent in Pennsylvania, 50 to 47 percent in Florida and eking out a slight advantage over Trump in North Carolina. Coronavirus pandemic concerns among elderly women and a failure to attract more Hispanic residents in the South were cited as major factors behind Trump's lagging numbers just days before the November 3 election.
In 2016, Trump enjoyed a significant 9-point advantage nationally over Hillary Clinton among seniors over age 65, 53 to 44 percent—a lead he has since lost primarily among older women.
Biden is holding a steady 10-point lead over Trump among Latinos across all three states, 52 percent to 42 percent, according to this newest survey.
"In Florida, Trump has a strong Latino vote for a Republican but has problems with senior women concerned about the [coronavirus]," said The Hill pollster and political strategist, Mark Penn. "Joe Biden's position in key swing states going into the final week suggests that Trump has so far been unable to generate enough momentum to close the gap."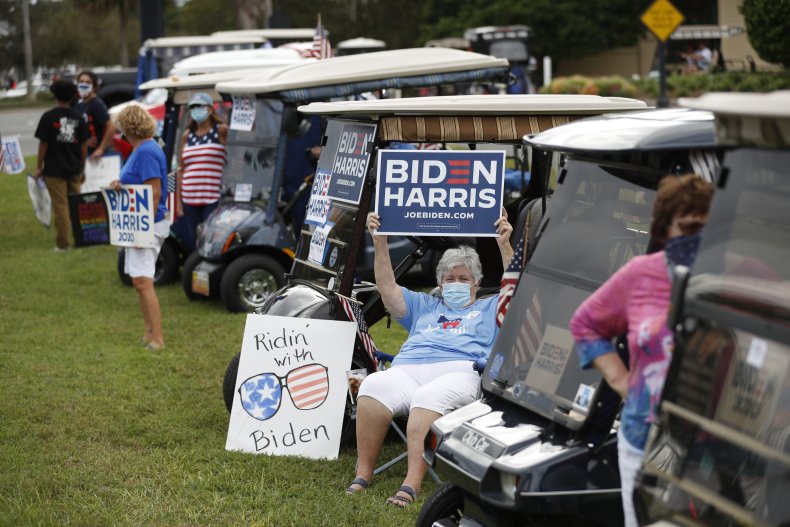 The Biden campaign is pressing hard to maintain a lead among Florida Latino voters while simultaneously picking off 2016 senior voters—particularly women—who voted for Trump four years ago. Biden told a crowd in Tampa Thursday that he will "shut the virus down" as both he and former President Barack Obama have been on a campaign blitz across the state ridiculing the Trump administration's pandemic response.
A majority of Florida voters, 55 percent, say Biden will do a better job of handling the COVID-19 pandemic than Trump, who 45 percent said the same of in the poll conducted among 1,148 likely Florida voters this week. The Biden campaign has put forward aggressive campaigning in Pennsylvania and North Carolina suburbs, although Trump maintains very strong support among rural voters in all three states.
Trump won North Carolina by about 3.5 percentage points, or fewer than 200,000 votes, in the 2016 presidential contest with Democratic nominee Hillary Clinton.
The overwhelming majority of polls released over the past few weeks show Trump trailing in key Midwest and battleground states he narrowly won four years ago—potentially dooming his campaign should these numbers not turn around with five days left until Election Day.
A separate SurveyMonkey and Axios survey released Thursday showed Biden is 9 points ahead of Trump in Michigan and the Democratic nominee leads Trump by 12 percentage points in the neighboring Midwest states of Minnesota and Wisconsin.
Although Biden may be expanding his support among older U.S. voters in Pennsylvania, North Carolina and Florida, two of those states are seeing unprecedented levels of voting from the youngest Americans. North Carolina last week joined Florida and Texas in leading the country for the most youth ballots cast in early voting as of last week.
"This is really a must-win state for Trump. Biden can lose this state and still be OK," Andy Jackson of the conservative Civitas Institute told Fox News Thursday of North Carolina's importance in the 2020 election. "The Trump campaign has been putting more effort here because they have to."
Newsweek reached out to both campaigns for additional remarks about the newest polls Thursday evening.