Trump Loses Support at CPAC as DeSantis Gains Steam
Former President Donald Trump's hold on the Republican Party may be slipping, a sign that he could be vulnerable to a challenge for the 2024 GOP nomination for president.
Some prominent Republicans thought the Capitol riot would be a nail in Trump's coffin and pushed the party to move past him. However, Trump, who's been teasing a presidential run since leaving office, still commands a loyal following, although he's seen a decrease in support in the year he's been out of office.
A straw poll from the Conservative Political Action Conference (CPAC) on Sunday put Trump at the top of the pack for the GOP nomination for president in 2024. While it echoed the same end results of last year's straw poll, Trump's support dropped from 70 percent in 2021 to 59 percent this year.
Florida Governor Ron DeSantis is still significantly less popular as a candidate than Trump, but he saw his level of support increase from 21 percent in 2021 to 28 percent in 2022.
An informal survey of attendees, the straw poll isn't a scientific way of measuring the temperature of a broader pool of Republicans. Trump once again headlined CPAC and the roster of speakers includes some of his strongest supporters. So, it's likely that attendees would find Trump as an attractive candidate, giving him better odds of coming out on top.
Despite the unscientific nature of the straw poll and Trump's slight decrease, the impact Trump has on the GOP can't be underestimated. Polls regularly put Trump as a top contender for the nomination and while he hasn't officially entered the race, he's already started knocking his potential competition.
Along with regularly criticizing former Vice President Mike Pence, Trump's started to turn up the heat on DeSantis, who's consistently backed Trump.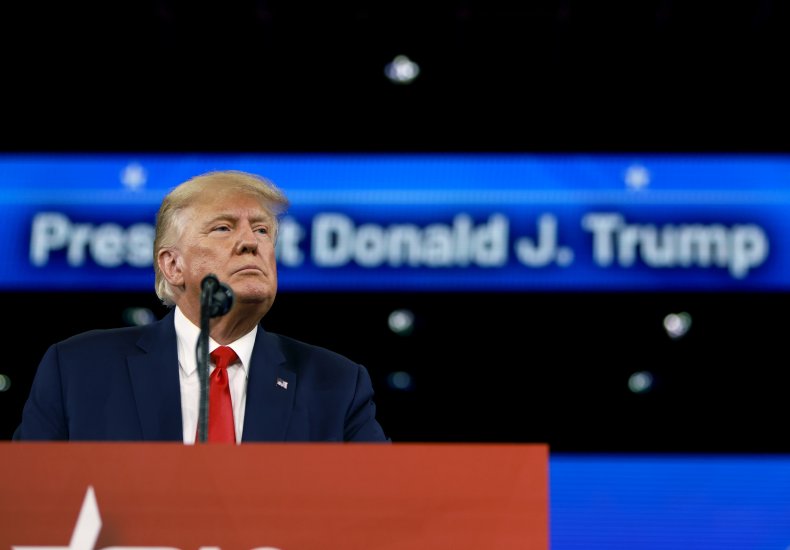 In October, Trump dismissed DeSantis' chances at becoming president, telling Yahoo! Finance that he'd "beat him like I would beat everyone else." Trump added that he expected "most people," including DeSantis, to drop out of the race if he decides to run.
Without mentioning DeSantis by name, Trump's criticized "gutless" politicians who won't share if they got a booster dose of the COVID-19 vaccine. DeSantis has said publicly that he is vaccinated against COVID-19, but hasn't confirmed or denied getting the booster dose.
Both politicians have dismissed the reported tension between them as "fake news" or a "fabricated" media story. However, the Trump team has reiterated that DeSantis has the former president to thank for his position of power in Florida.
Eric Trump, the ex-president's son, told Candace Owens on her YouTube show that he remembered campaigning for DeSantis "back in the day." He added that Trump pushed "very, very hard" for DeSantis who "barely" won the election and implied that without Trump, DeSantis would have lost.
Trump's given increasingly more signals that he plans to run for president in 2024. He's stated that he won't run if a doctor advises against it and in January, called himself the 45th and 47th president of the United States.
While it seems Trump is gearing up for another White House bid, some Republicans doubted if he'd even have a role to play in the party. Even some of the president's staunchest allies criticized his handling of the Capitol riot, and former United Nations Ambassador Nikki Haley told Politico last year that she didn't think Trump would be "in the picture."
"I don't think he can," Haley said. "He's fallen so far."
Trump's a divisive player in the Republican party, pitting those who support him against those who don't—whom he labels "RINOS" or "Republicans in Name Only." Some Republicans fought Trump in 2020, and a group of former Trump officials are reportedly discussing how to thwart his 2024 chances. CNN reported the group of officials includes John Kelly, Trump's former chief of staff, and Alyssa Farah Griffin, former assistant to the president, and Stephanie Grisham, former White House press secretary. All three have been publicly critical of Trump.
"We all agreed passionately that letters and statements don't mean anything," Miles Taylor, a former Trump official, told CNN. "The two operative words are 'electoral effects.' How can we have tangible electoral effects against the extremist candidates that have been endorsed by Trump?"
Trump's unlikely to make any formal announcements about a presidential run until after the 2022 midterm elections. He's vowed to help candidates who espouse his America First agenda win their respective elections, and if Trump-back candidates sweep the midterms, it's likely to embolden Trump to launch another campaign of his own.