Trump Losing to Biden by 7 Points in Key Swing State Pennsylvania, New Poll Shows
With less than two weeks until Election Day, Democratic nominee Joe Biden holds a 7-point lead over President Donald Trump in the key battleground state of Pennsylvania, according to the latest Muhlenberg College/Morning Call poll, released Friday.
The former vice president drew support from 51 percent of likely voters in the state, while 44 percent backed the president's re-election. However, given the poll's 5.5 percent margin of error, the results show that Biden's lead is not totally decisive.
The poll also shows that a slight majority, 51 percent, of likely voters say that Trump shouldn't be re-elected, in part because of his poor judgment during the coronavirus pandemic. Of those who plan to vote for Trump, about 79 percent said they are enthusiastic about voting for him, compared with the 51 percent of Pennsylvanians who plan to vote for Biden. The poll surveyed 416 likely voters in Pennsylvania between October 13 and 20.
According to recent polls, Biden holds an average 6.2 percentage point lead over Trump in the state, FiveThirtyEight reported on Friday. The former vice president's favorability in the state has grown in the past few months, with a Muhlenberg College/Morning Call poll in August showing him with a 4-point lead. Back in February, the two not yet nominated candidates were tied, according to Muhlenberg College/Morning Call's survey at the time.
A week before the 2016 presidential election, then-nominee Hillary Clinton led Trump by 6 points in a head-to-head matchup in Pennsylvania and 4 points when third-party candidates were included. Trump ended up defeating Clinton in the state by less than 1 percentage point.
Pennsylvania has been in focus for months as the two candidates have campaigned heavily to win the swing state and secure its 20 electoral votes. According to Muhlenberg College/Morning Call's latest survey, the top three concerns of Pennsylvania voters are the economy, the coronavirus pandemic and health care.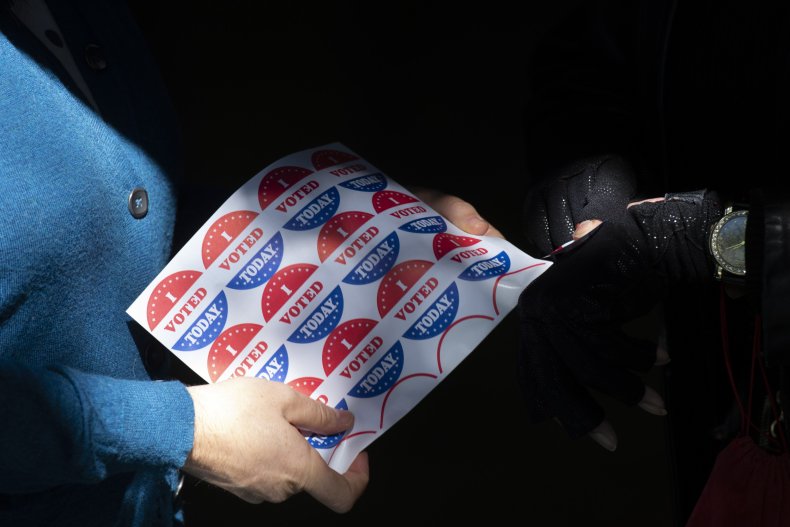 The state was mentioned several times during Thursday's final presidential debate, mostly with regard to coronavirus shutdowns and fracking.
"Take a look at what is happening in Pennsylvania, where they have had it closed," said Trump, who insisted that Democratic-run states have created the national economy's downturn because of their shutdowns. He said that states with Democratic governors, including Pennsylvania, New York, California and North Carolina, "have shut down so tight, and they are dying."
As of July 3, all 67 counties in Pennsylvania are in the "green phase" of the state's three-phase reopening plan. This third phase allows most businesses to operate at 75 percent capacity, and school districts can decide whether to offer in-person instruction.
During the debate's discussion on climate change and fracking—a key issue in Pennsylvania—Trump asked Pennsylvanian voters to remember that "what [Biden] is saying is he is going to destroy the oil industry."
In response, the former vice president noted that his policy will not ban fracking and said he will "make sure we can capture the emissions from fracking" and "capture the emissions from gas" over time.
A Suffolk County/USA Today poll conducted this month shows that 42.8 percent of Pennsylvania voters don't believe Biden will ban fracking, while 38.8 percent believe he will.