Trump Is Losing to Democratic Frontrunners in Key Swing State Minnesota: Poll
A new poll shows President Donald Trump losing his 2020 re-election bid to every leading Democratic candidate in the key swing state of Minnesota.
A Star Tribune poll released on Monday found that the trio of leading candidates for the Democratic nomination, former Vice President Joe Biden, Vermont Sen. Bernie Sanders and Massachusetts Sen. Elizabeth Warren, all defeated Trump in head-to-head matchups. The survey also found Minnesota's Amy Klobuchar besting Trump in the swing state despite being less successful in national polling.
Biden had one of the biggest leads over Trump of any of the Democratic candidates, according to the poll. Fifty percent of voters backed the former vice president compared to the 38 percent who supported Trump.
Fifty-one percent of voters said they'd choose Warren over the president. But Trump did have slightly more support from voters (40 percent) when matched up against Warren than with Biden. Sanders came in third among Democratic candidates, with 49 percent of voters backing him as opposed to the 40 percent who would support Trump.
But it was Klobuchar who was shown beating Trump by the widest margin of any Democratic candidate, 50 percent to 38 percent. The Minnesota senator has a national polling average of just 2 percent. Candidates need to average at least 3 percent support in four DNC-approved polls to move on to the next debate.
The Star Tribune poll was conducted from October 14 to October 16. It consisted of 800 registered voters and has a margin of error of 3.5 percentage points.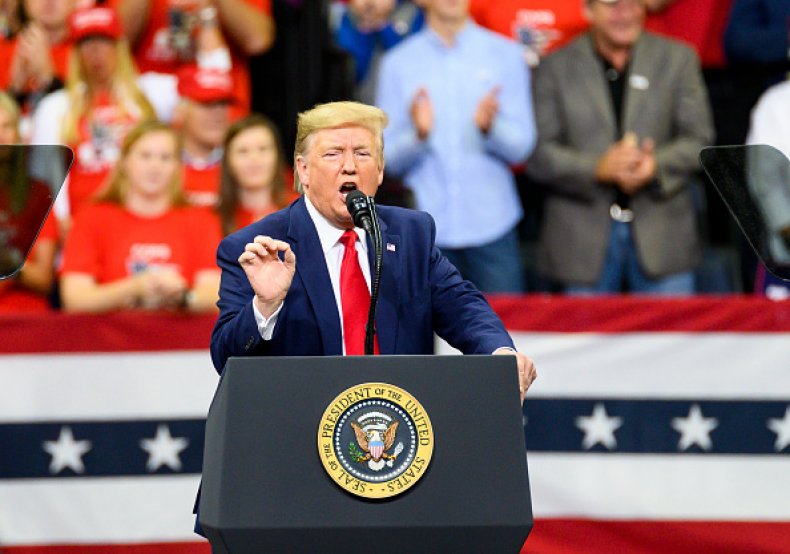 Trump was just in Minneapolis, Minnesota earlier this month for a 2020 campaign rally. During the event, the president slammed polling that showed him in danger of losing to his Democratic competitors.
"Now, the do-nothing Democrat con artists and scammers are getting desperate," Trump said. "Thirteen months, they've got to move fast because they are not beating us in the polls and they know it. Despite the phony polls that you see all the time."
Trump added that he "knows polls very well" and that polls are "no different than crooked writers."
But his hold on the presidency has become even more uncertain after the House of Representatives launched an official impeachment inquiry against him last month. The inquiry came as a result of reports that Trump pressured a foreign country to investigate Biden and his son Hunter.
Trump has waved off the impeachment inquiry as a "Democratic witch hunt" and has claimed that no other president in U.S. history has been treated so badly. But polling shows that a growing number of Americans support removing him from office. According to a recent Gallup survey, 52 percent of U.S. adults now support Trump's impeachment.